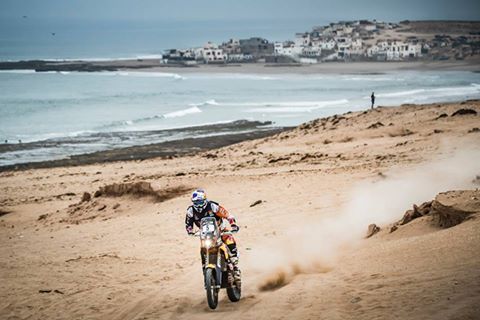 The Australian rider leads the final round of the 2016 FIM Cross Country Rallies World Championship.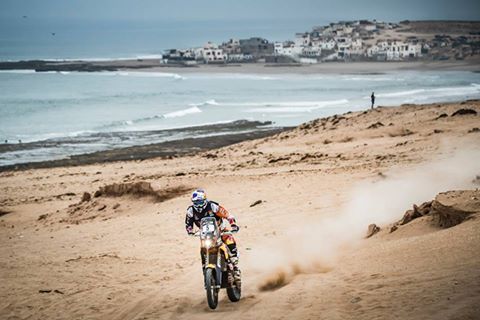 By Hayden Gregory
Following victory in Sunday's seven kilometre super special, Price elected to start in 11th place for the opening stage. Passing on navigation to the leading riders, Price timed his run to perfection, storming home on his KTM 450 Rally to claim victory in the 240km stage.
"Stage one was good and there was a couple of tricky bits and the dust made it a bit difficult when we caught some riders in front," said Price. "But we got through well and I only made a couple of small errors with the navigation. But I think it was more to do with the dust and trying to keep my eyes on the road instead of looking at the road book."
Price acknowledged that the second stage will prove more challenging.
"It's going to be difficult and we're going to make sure we look after the bike and the tires, and on day three we can charge a bit harder," he added. "We'll just take it nice and easy and make sure we finish in one piece and start day three feeling healthy and with a good bike."
The 2016 Dakar champion led home Kevin Benavides in second place with his Red Bull KTM teammate, Sam Sunderland in third.
"Today was pretty good," Sunderland shared. "I started in 12th and that was my decision after the prologue. I had Toby in front of me and I knew I would have a bit of clean air because he would be pushing hard," Sunderland said. "We both caught the Yamaha rider (de Soultrait) after only a few kilometers and I caught his dust a bit and made a small navigational error. When you have to stop for a speed zone it breaks your rhythm. It can be 3-4 km at 30 km/h, so that side of it was tough."
Australia's Rod Faggotter made his debut for the Yamalube Yamaha off Road Factory Team placing 17th.
"It's been a learning day. I got to lead out right from the start, which made things a lot more interesting," Faggotter said. "My navigation was good and just before the end of the first special stage Hélder caught up with me and I let him pass. Right after the start of the second special Botturi passed me as well. Despite a small fall just before the end I crossed the line without any major problems. Overall, I'm learning a lot racing among the best riders in the world. As for tomorrow, I'm looking forward to being the cat and not the mousse in the game for the top."

Stage two of the Morocco Rally involves a 554km route, 291 of which are timed specials.
2016 Cross-Country Rallies Monday, October 3rd 2016
Stage 1 OiLibya Rally du Maroc
1 Price Toby AUS KTM Factory Racing Team KTM 1:31'20
2 Benavides Kevin ARG Team HRC Honda +1'06
3 Sunderland Sam GBR Red Bull KTM Rally Factory Team KTM +1'34
4 Brabec Ricky USA Team HRC Honda +2'53
5 Goncalves Paulo POR Team HRC Honda +3'18
6 Walkner Matthias AUT KTM Factory Racing Team KTM +4'26
7 Quintanilla Pablo CHI Husqvarna Factory Rally Team Husqvarna +5'03
8 Pedrero Joan SPA Sherco TVS Rally Factory Sherco +5'06
9 Botturi Alessandro ITA Yamaha Motor Europe Yamaha +5'16
10 de Soultrait Xavier FRA Yamaha Racing Yamaha +5'55
11 Rodrigues Helder POR Yamaha Motor Europe Yamaha +6'26
12 Svitko Stefan SLO Slovnaft Team KTM +6'32
13 Van Beveren Adrien FRA Yamaha Motor Europe Yamaha +6'41
14 Metge Adrien FRA Sherco TVS Rally Factory Sherco +8'54
15 Renet Pierre-Alexandre FRA Husqvarna Factory Rally Team Husqvarna +10'30