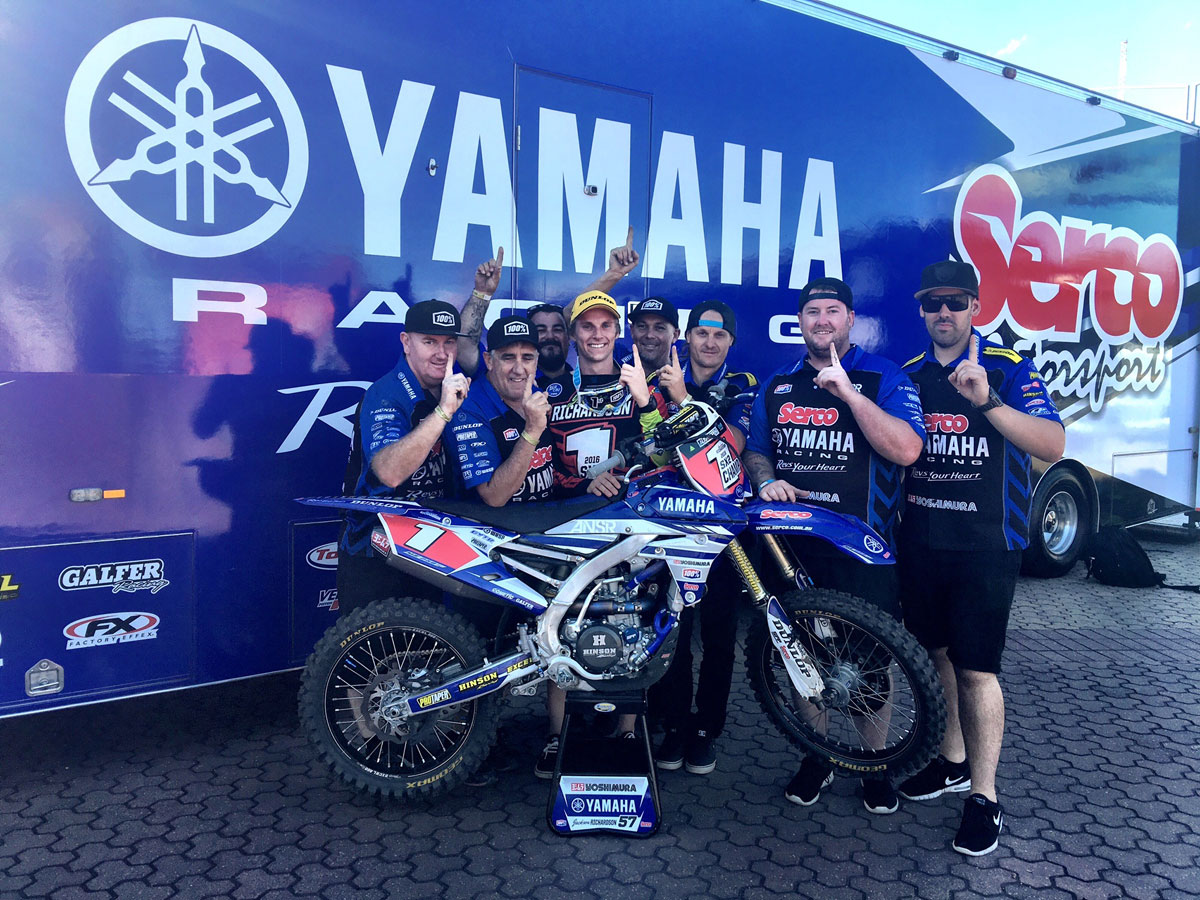 Serco Yamaha's Jackson Richardson snatched a remarkable SX2 championship victory after a drama filled final two rounds of the Australian Supercross Championship were conducted over the weekend.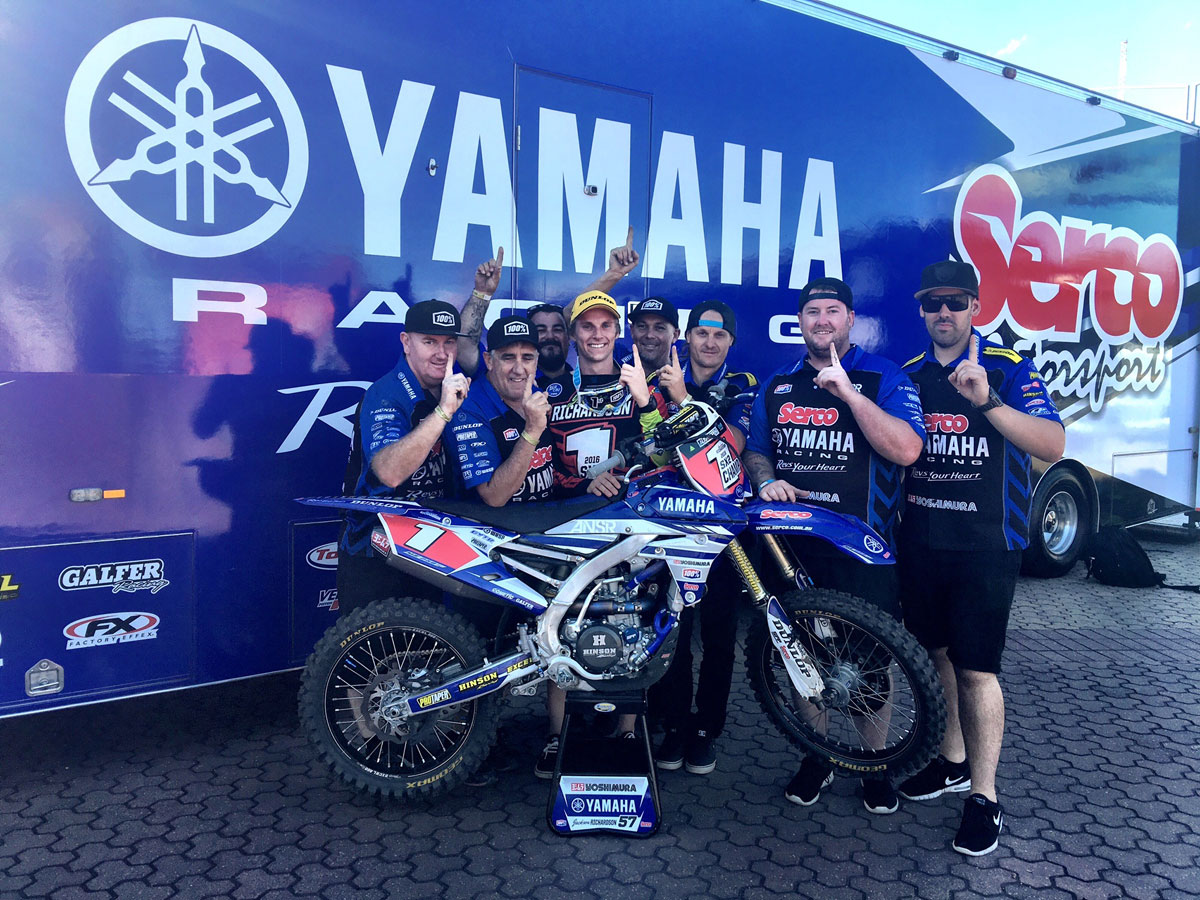 Press Release
Richardson cleared the finish line jump on Sunday evening in second place and clearly unaware of the situation as the last 15 seconds of the race had caused chaos in the points.
Entering the final round, Hayden Mellross held the lead, some seven points clear of Richardson and US Import just a handful of points behind in third.
When the SX2 final blasted off at Qudos Arena in front of a huge crowd, Richardson was caught mid pack while his championship rivals were at the front, with Faith taking control of the 15 lap SX2 final. Richardson ruthlessly charged his way forward and moved into third place with a handful of laps remaining and seemed resigned to the fact that he didn't have the time to catch the fast flowing duo out front and second place in the championship was the best he could do.
Then on the final lap with less than 15 seconds of track to cover, Mellross' bike came to a stop. He was unable to get it going and Richardson rode by and crossed the finish line unaware of what had happened to Mellross or the championship situation.
With Faith taking the race win, Richardson in second and Mellross unable to finish the race, there was an awkward silence in the staging area as points were quickly tallied.
Word then came through the Richardson had in fact won the championship, three points ahead of Faith and the Serco Yamaha team hugged in celebration with Richardson clearly emotional about his championship success.
"I couldn't believe it when they said I had won it," Richardson begins to explain. "I saw that Hayden was on the side of the track on that last lap but I thought he maybe just crashed and that he would get going and would get the championship but obviously something major happened and he was unable to get his bike going.
"I'm devastated for him and it can be a cruel sport sometimes. He is a great guy and an awesome rival and I know he will win championships in the future.
"We came into the last two rounds nine points behind. I made a couple up on Saturday Night and all I wanted to do is just keep fighting and not give up on it. We had some luck in the end but it's awesome to win this championship.
"I can't thank the Serco Yamaha team and everyone at Yamaha enough for giving me this opportunity. It was a last minute deal but the team has been great and riding the YZ250F is amazing. My family at home for all the years of support and we have worked hard for this so it feels unreal.
"I still can't believe I won,'' he ends emotionally.
Standing trackside while all the drama unfolded was team manager, Gavin Eales, who was rattling every points scenario through his head trying to work out the results as the riders sat blank faced in front of him.
"I'm so proud of my team and the work we have done over the past couple of months," beamed Eales. "We had a terrible motocross season but we were determined to turn it around and it's awesome to rebound with this championship.
"I feel terrible for Hayden, he rode like a champion all weekend and he was desperately unlucky to not get it done tonight.
"But at the same time, congratulations to my guys for never giving up. We had three riders in this years' championship and even though Wade and Wilson missed rounds, we still finished with 1-5-6 in the championship because everyone did their job."
Teammate Wilson Todd put together another impressive weekend of racing, making the 12 rider final on both nights of racing and went on to take 5-8 results. Despite missing the opening round of the championship due to a hand injury, Todd clawed his way back to sixth place in the series and gained valuable experience.
It was Todd's first time racing under the bright lights and huge crowds of Qudos Arena but he showed plenty of maturity in his racing, highlighted with racing wins during qualifying on both nights on the tight and intense Aus-X Open circuit.
"It was an awesome weekend of racing and it was cool to see so many people come out and support supercross over the weekend," Todd said.
"The track is a lot smaller than anything I have raced on before but I loved racing it and I learned a lot about how to ride these tighter tracks.
"I finished up sixth in the championship which isn't too bad considering I missed a round and it's good to get through the series with no other major injuries. Thank you to the Serco Yamaha team for their support this year," he ends.
The Aus- X Open was the last race commitment for the year for the Serco Yamaha team and will now take a well-earned break before starting preparations for the 2017 season.