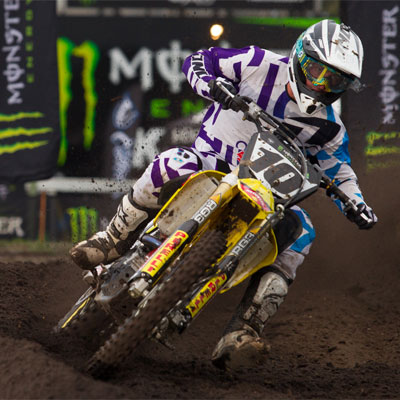 Second overall at Wonthaggi's third round of the Monster Energy MX Nationals, has helped Matt Moss climb to second in the MX1 championship standings aboard the Motul Pirelli Suzuki RM-Z450.

The multiple-time national MX2 champion enjoyed his best round of the season on a chilly day in southern Victoria on Sunday, 5 May, qualifying on Super Pole to commence the round and taking home the five points that went with it.
From there he soldiered on to fourth in moto one and third in the second for the runner-up position overall, moving from fifth in the standings to second after three of 10 rounds. After claiming fifth at the opening two stops, Moss has momentum on his side as the halfway point approaches.
"Today went good from the start, we qualified good in the session and then managed to convert that to Super Pole, which was nice," Moss reflected. "I've been practicing that a lot, trying to get my single laps fast without making mistakes and it played into my favour today. Results like this gets the whole team going and it's a boost.
"In the first race I just got a terrible start and was around 15th when I crossed the line on the first lap, but I got all the way back to fourth and I was happy with that. In the last race I holeshotted, and just concentrated on riding smoothly for the whole race. All in all, the ball's rolling and we're moving forward – I'm happy. I've been trying to hold myself back, making sure I can go the distance on the 450, so we'll keep building from here."
Motul Pirelli Suzuki teammate Cody Cooper endured another mixed round on board his factory RM-Z450, qualifying eighth before racing to a solid second in the opening moto. Eighth in moto two was a frustrating finish to the round for the two-time New Zealand champion, resulting in fifth for the round. He now sits fourth overall in the championship.
It was another promising performance for Cooper, however he's motivated to improve his qualifying and moto two performances in the lead-up to round four in a fortnight's time. The opening moto also saw Cooper pocket the $100 Suzuki Holeshot Award – a new incentive across all categories in the MX Nationals for 2013.
"The day started off slow, but we changed the fork setting and it was awesome for moto one. I was able to start strong and finished second, so that was a positive start to the round," Cooper said. "I got another good start in the second moto and went backwards. The track changed a lot between motos, but I don't want to make excuses – I just didn't ride well in that race. From here we need to improve for Broadford and get some momentum back."
Team manager Jay Foreman was satisfied with landing two riders inside the top five, a credible result in the hotly contested premier class of Australian Motocross. His focus at this point is to maintain consistency while applying added pressure on the fellow championship title threats.
"Matt was really impressive in qualifying and those points he picked up in Super Pole were what sealed him second overall," Foreman explained. "He was also consistent in both motos and will gain a lot of confidence from this weekend. Cody was also strong in moto one, but we just need to keep that form going through the day to get him back on the podium. Overall we are happy with this round."
The MX Nationals, Australian Motocross Championship, will now take a single weekend off before resuming at Broadford's State Motorcycle Sport Complex in Victoria on Sunday, 19 May.
2013 MX Nationals, Australian Motocross Championship
Round Three – Wonthaggi, VIC
MX1 Round Results:
1. Todd Waters 73
2. Matt Moss 63 (Motul Pirelli Suzuki)
3. Adam Monea 62
4. Lawson Bopping 59
5. Cody Cooper 55 (Motul Pirelli Suzuki)
6. Kirk Gibbs 50
7. Ford Dale 48
8. Daniel McCoy 44
9. Tye Simmonds 42
10. Robbie Marshall 41
MX1 Championship Standings:
1. Todd Waters 214
2. Matt Moss 170 (Motul Pirelli Suzuki)
3. Lawson Bopping 168
4. Cody Cooper 160 (Motul Pirelli Suzuki)
5. Billy Mackenzie 159
6. Tye Simmonds 140
7. Adam Monea 133
8. Ford Dale 133
9. Kirk Gibbs 126
10. Daniel McCoy 122