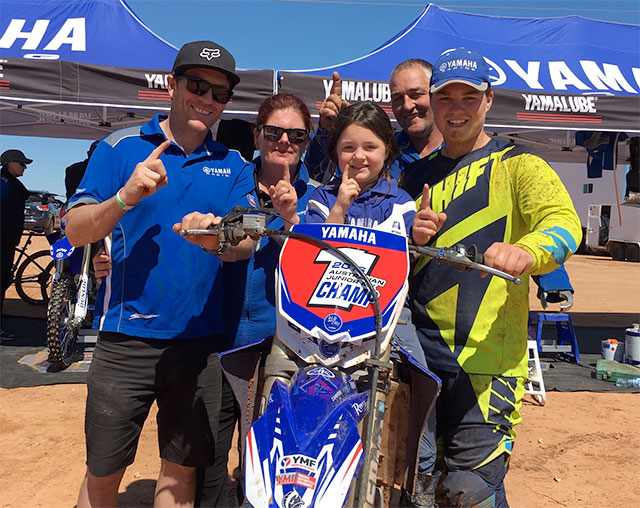 Yamaha Junior Racing's Cody Dyce has won the 2016 Australian Junior Motocross Championship in the 15 years 125cc division.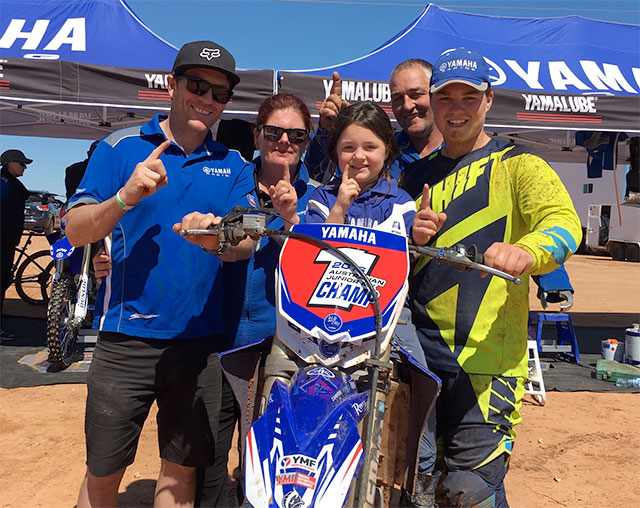 Press Release
In a week that challenged all competitors that saw track conditions change from dust to mud and back again as well as wind that cut like a knife, it was the Victorian based Dyce that rose to the occasion and claimed another national championship mounted on Yamaha's YZ125.
The week started roughly for Dyce who struggled to find his mojo in the heat races but still managed to qualify through to the finals and was determined to turn things around as the action heated up later in the week.
In an eventful three race final for the championship, Dyce put together an unbeatable 2-1-1 results to lock down the championship and stamp his authority in the highly competitive class. Dyce had to fight off all his rivals who pressured him through the final days but it was the young Victorian that stood tall and took the win.
He ably backed that up with a third place finish in the 15 years 250cc class. A fall in the first final made his chances of a class victory extremely tough but he continued to fight on and finished with 7-2-5 results to take third and get on the podium for the second time during the week.
"It's been a long week here and I'm glad to get a championship in my final year of racing juniors," said a relived Dyce. "There are 10 riders that are good enough to win this class this year so it was tough and I really had to focus on doing my job in the finals.
"I got great starts on my 125 and I just got to the front as fast as I could and put in my best laps. It was an awesome feeing to come across the finish line in the last 125 race and know that I won after missing last years' championship due to injury.
"Thank you to so many people who have helped me during the course of the year. Cameron Taylor and all of our Yamaha Junior Racing team sponsors, my family who are behind me all the way and everyone else, thank you so much. It's a nice way to leave juniors and move into senior racing next year," Dyce ends.
Yamaha Junior Racing was well represented in the 15 years classes with all three riders entered finishing inside the top seven in both the 125 and 250cc divisions. New South Wales' Michael Driscoll took fifth place on his YZ125 and finished sixth in the 250 class, while Queensland's Jake Williams finished seventh in the 125cc and fifth on his YZ250F in a great showing from the YJR crew.
Driscoll was on song early in the week taking several heat race wins but was unable to get those all-important starts in the finals and it hurt his results.
Williams started the week trying to come to terms with the track but improved as the week went on and proved a very consistent competitor in the finals with two top seven results.
The teams 13 -14 year old competitors of Thomas Larwood and Levi Rogers had a mixed bag of results throughout the week but both never gave up and continued to fight until the end. Larwood claimed 19th on his 125 but rode to a solid seventh place finish on his YZ250F.
Rogers showed impressive speed all week and qualified sixth on his 125 but when the finals came, Levi crashed in each moto when he was trying to move his way forward. A big fall on his 250 also hurt his chances of a good result but he then went on to improve in each of his final motos to finish with 6-5-4 results to take 12th overall.
The YJR teams were also injury ravaged for the event with Liam Andrews going down heavily in the lead up to the championship and was unable to compete.
Alex Larwood was a favourite in the 12-13 years 85cc class and started the week with blazing speed but a fall in the last heat saw him chip a bone in his elbow and had to withdraw from racing.
Western Australia's Kai Stephen also suffered a nasty injury when he fell in the second turn and was then hit bike another bike which caused a deep cut on his neck and back of his head. Kai was transported to Adelaide Hospital where he received treatment and will make a full recovery.
"On behalf of Yamaha Motor Australia, I want to thank to riders, families and supporters of our YJR program who again have had a very successful year," states Yamaha Motorsport Manager, Ray Howard. "It is a huge commitment these families and riders make and all their effort and enthusiasm doesn't go unnoticed at Yamaha.
"Congratulations to Cody on an outstanding week and finishing his junior racing with a national championship. He adds to the long list of recent winners on the YZ125 who have included Hunter Lawrence, Mat Fabry, Jed Beaton, Dylan Heaton, Joel Wightman, Joel Dinsdale and Shaun Redhead as champions since 2009.
"We look forward to 2017 and again supporting and developing Australia's emerging talent via our Yamaha Junior Racing program," Howard ends.
15 years 125ccc
1st Cody Dyce – 102 (YJR – YZ125)
2nd Caleb Gothues – 95
3rd Morgan Fogerty – 90
4th Liam Walsh – 73
5th Michael Driscoll – 73 (YJR – YZ125)
6th Riley Dukes – 72
7th Jake Williams – 72 (YJR – YZ125)
8th Mitchell Outrim – 72
9th Jy Roberts – 69
10th Jye Dickson – 59
15 years 250cc
1st Taj Marshall – 99
2nd Riley Dukes – 90
3rd Cody Dyce – 82 (YJR – YZ250F)
4th Trent Collins – 77
5th Jake Williams – 70 (YJR – YZ250F)
6th Michael Driscoll – 69 (YJR – YZ250F)
7th Brodie Ellis – 68 (Yamaha- YZ250F)
8th Thomas Bell – 67
9th Jy Roberts – 62
10th Caleb Grothues – 60