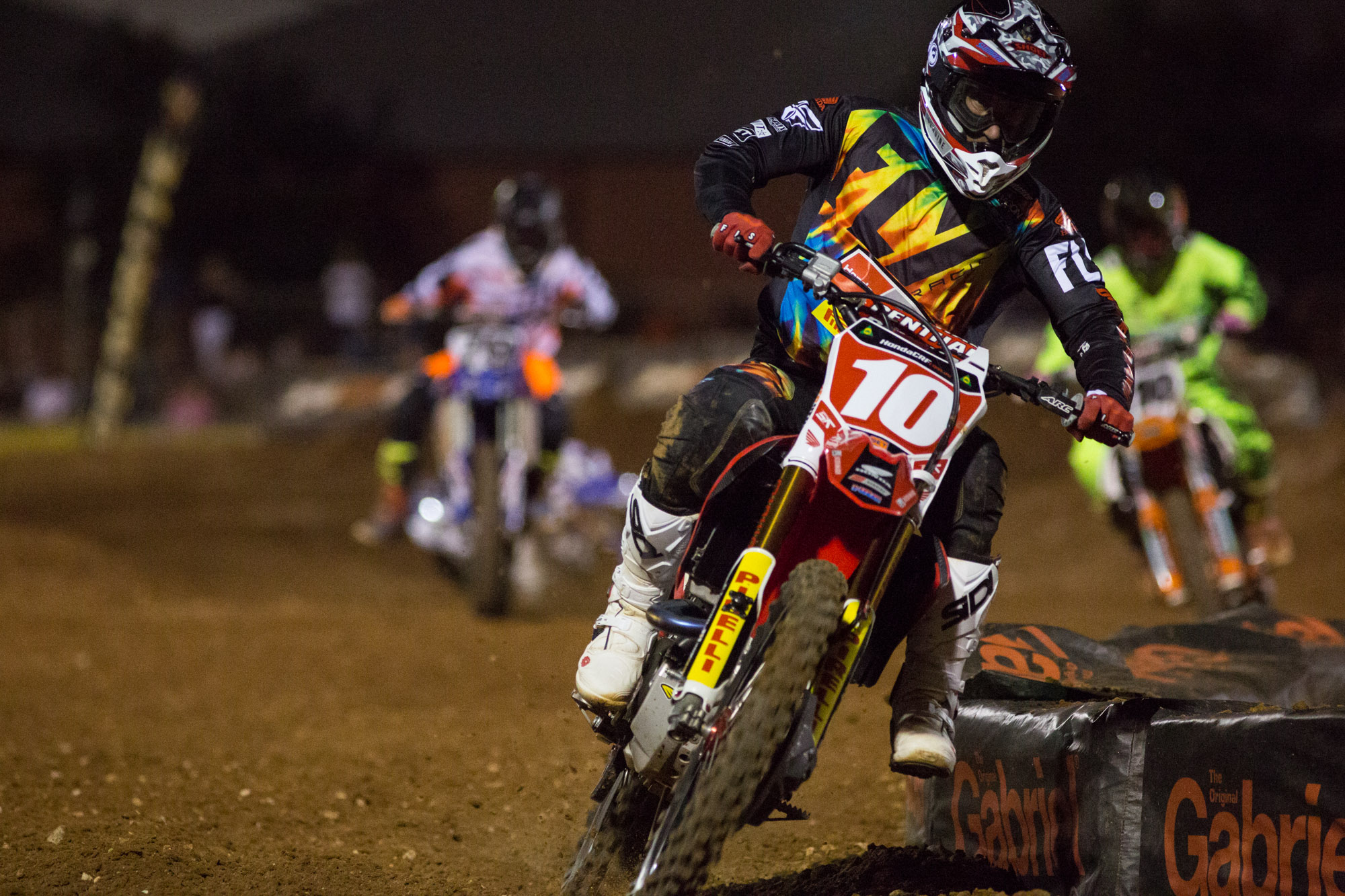 The American dominated the third round of racing at Wayville, with a start to finish victory.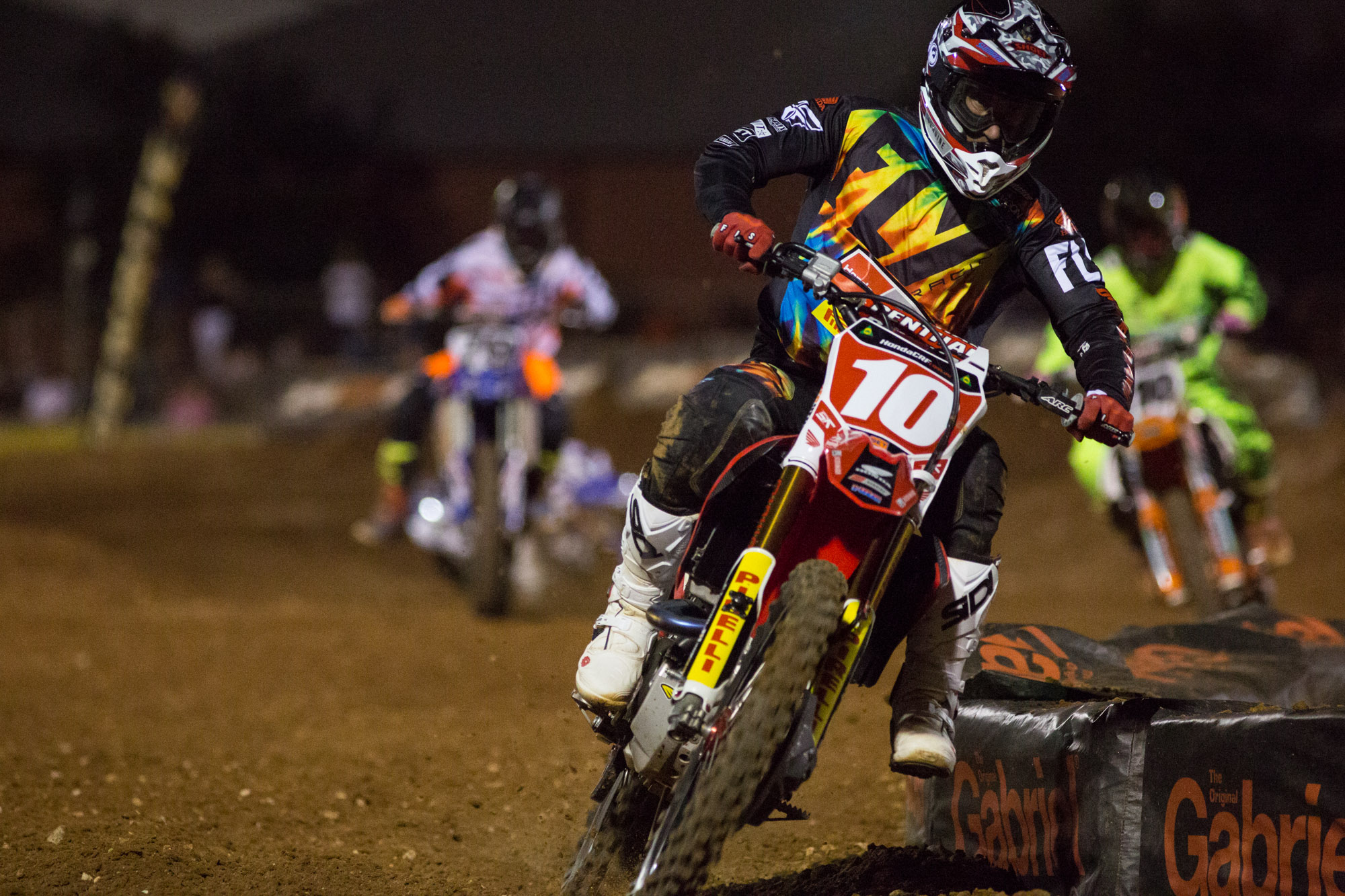 By Hayden Gregory
Honda Genuine Racing's Justin Brayton continues to star in the premier class securing his third consecutive victory in the Australian Supercross Championship. The US rider had a mixed start to the day, recording the fastest time in qualifying before finishing his heat race back in sixth place.
In the main event, Brayton kicked straight into gear, claiming the holeshot before cruising to a comfortable victory. CDR Yamaha's Dan Reardon finished in second place with KTM stand in rider Kyle Peters taking out third.
In SX2 racing, DPH Motorsport's Hayden Mellross also extended his championship lead with a determined ride. Mellross recorded a clean sweep for the night going unbeaten in both qualifying and heat races. Gavin Faith captured second place for the round with Serco Yamaha's Wade Hunter landing third.
Round four of the 2016 Australian Supercross Championship heads to Avalon, Victoria next Saturday the 5th of November.
SX1 Results
1 Justin BRAYTON
2 Daniel REARDON
3 Kyle PETERS
4 Wil HAHN
5 Jay MARMONT
6 Dean FERRIS
7 Kade MOSIG
8 Jesse DOBSON
9 Jay WILSON
10 Adam ENTICKNAP
SX1 Championship Standings
1. Justin BRAYTON 75 Pts
2. Dean FERRIS 57 Pts
3. Wil HAHN 56 Pts
4. Daniel REARDON 52 Pts
5. Jay MARMONT 45 Pts
6. Kade MOSIG 44 Pts
7. Kyle PETERS 38 Pts
8. Jay WILSON 37 Pts
9. Adam ENTICKNAP 36 Pts
10. Luke WILSON 35 Pts
SX2 Results
1 Hayden MELLROSS
2 Gavin FAITH
3 Wade HUNTER
4 Wilson TODD
5 Jackson RICHARDSON
6 Dylan WILLS
7 Kyle WEBSTER
8 Tomas RAVENHORST
9 Joshua CACHIA
10 Joel WIGHTMAN
SX2 Championship Standings
1. Hayden MELLROSS 69 Pts
2. Jackson RICHARDSON 59 Pts
3. Wade HUNTER 58 Pts
4. Gavin FAITH 47 Pts
5. Joel WIGHTMAN 38 Pts
6. Geran STAPLETON 36 Pts
7. Dylan WILLS 35 Pts
8. Jordan HILL 34 Pts
9. Wilson TODD 31 Pts
10. Tomas RAVENHORST