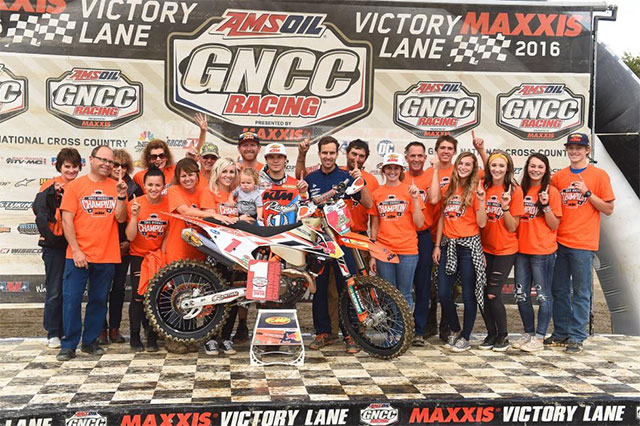 The FMF/KTM Factory rider has wrapped up the 2016 title in the penultimate round.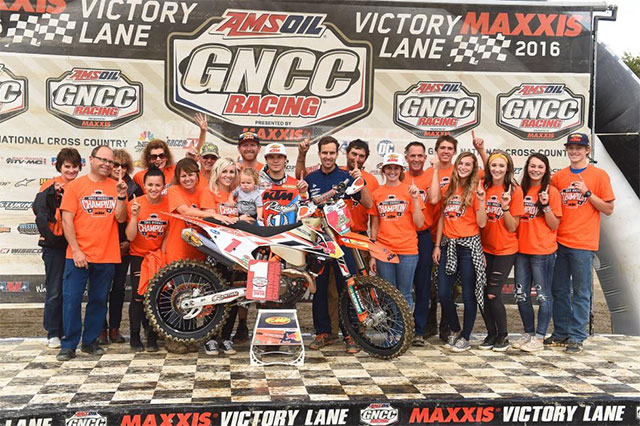 By Hayden Gregory
As riders hit the Powerline Park track, Australia's Josh Stang captured the All Balls Racing XC1 Pro Holeshot Award followed by Jordan Ashburn and Ricky Russell.
Championship leader Kailub Russell started mid way through the pack before quickly working his way into the race lead. Strang attempted to keep the champion in his sights but soon also fell into the clutches of Thad Duvall.
With less than two miles left in the race, Strang suffered a damaged radiator forcing an early exit from the race. The withdrawal allowed Ricky Russell to move into the final podium position.
Out in front Kailub Russell would celebrate not only another round victory but also his fourth consecutive GNCC Championship title, wrapping up the series with a round to race.
"I didn't get off to the greatest of the starts, but I made some moves and got into the lead early on," said Kailub Russell. "I pulled a gap and tried to settle into a pace since it was so slick, but it wasn't fast enough. Thad and Josh was able to catch up and we rode together until Thad went down. I was so focused on the task at hand that I didn't realize he went down until I got the pit board a few miles after that. It feels good to get the win and the National Championship."
Duvall enjoyed another strong race keeping in touch of Russell to finish in second place.
"I felt good the whole race. I was on the edge of winning, but I wanted to leave it all on the track," said Duvall. "On the last lap I reached the hill climb around the five-mile marker and we took a new line and I just couldn't make it over the log at the top. Once I fell I was stuck and by the time I got out I realized there wasn't anyone real close by so I just maintained my pace to hold onto second." 
Ricky Russell was pleased with another podium result as his confidence continues to rise.
"I rode a little tight the first few laps and then was able to loosen up," said Ricky Russell. "I can't complain with another third place finish. We've been making some changes and they definitely are working. I'm completely confident in my setup and can come out here and do what I know I'm capable of doing."
Australian Josh Strang maintains second place in the championship ahead of Trevor Bollinger, Jordan Ashburn and Duvall.
Polaris Ace Powerline Park GNCC – St. Clairsville, OH
XC1 Pro Event Results:
Kailub Russell (KTM)
Thad Duvall (HSQ)
Ricky Russell (SUZ)
Jordan Ashburn (KTM)
Grant Baylor (YAM)
Steward Baylor Jr. (KTM)
Chris Bach (HON)
Cory Buttrick (KTM)
Russell Bobbitt (KTM)
Andrew Delong (HSQ)
*Overall National Championship Standings:
Kailub Russell (316)
Josh Strang (236)
Trevor Bollinger (166)
Jordan Ashburn (161)
Thad Duvall (155)
Steward Baylor Jr. (148)
Ricky Russell (141)
Craig Delong (137)
Grant Baylor (132)
Layne Michael (122)
*Indicates that the Overall National Championship Standings will determine the 2016 National Champion.