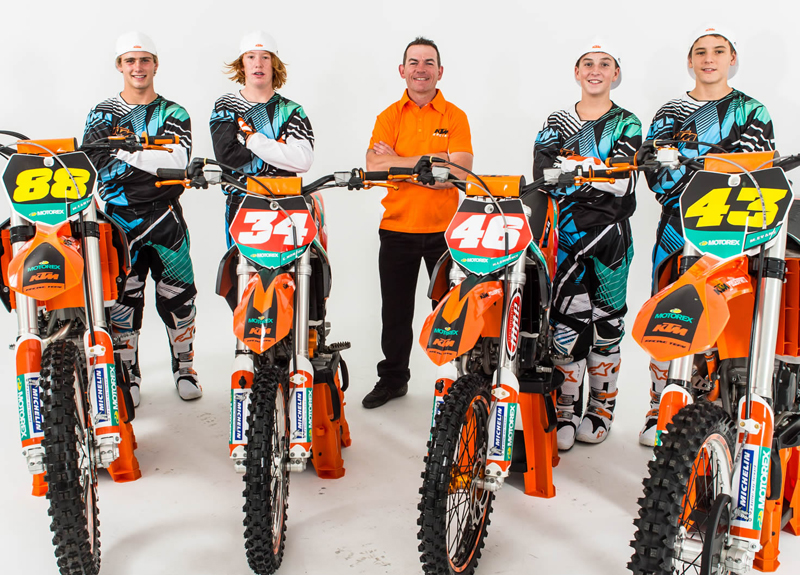 KTM Australia has reaffirmed its commitment to the sport of motocross in Australia by aligning its 2013 junior squad – the Motorex KTM Junior Racing Team – with the 'in-house' racing strategy of its senior teams.
Media Release – 21/02/13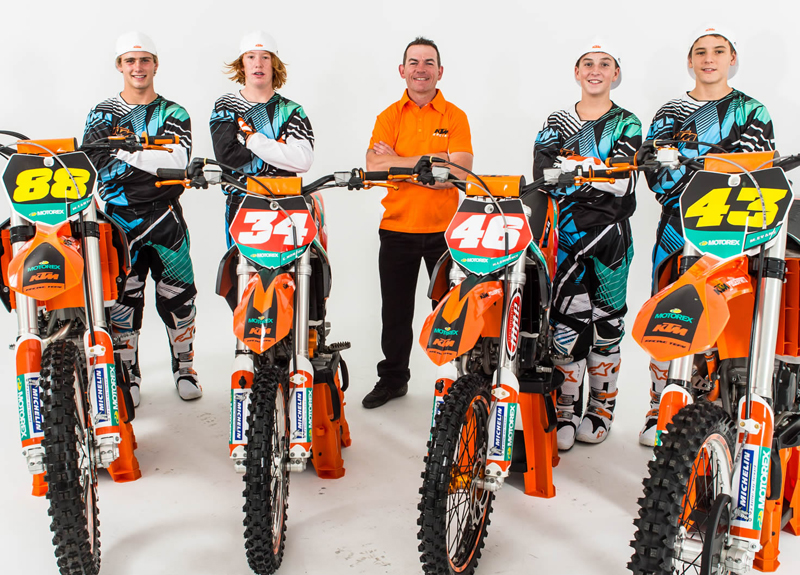 KTM's junior teams have long been breeding grounds for the future of the sport, as former KTM Junior Team racers and 2013 MX1 contenders such as Brenden Harrison, Tye Simmonds and the Motorex KTM Racing Team's own Todd Waters all illustrate.
General Manager and former World MX Championship competitor Jeff Leisk confirms that junior development has always been an important part of KTM's philosophy. "With KTM we're fortunate to have a range of motorcycles where a young rider can go from a KTM 50SX Mini right through to MX1 on a KTM450 SX-F" says Leisk, "on bikes that are ready to race."
"As part of our commitment to junior racing we're bringing the team into line with the philosophy of our senior teams, where we race exactly what we sell. They'll use KTM's top-quality Power Parts components and be dressed in KTM Power Wear technical and casual gear, and with three riders aboard our brand-new KTM85SX, we know we've given them a great chance."
The Motorex KTM Junior Racing Team will again see experienced champion-builder Glenn Macdonald at the helm, in his sixth year as KTM Junior Team Manager. The Team is one of the most successful Aussie junior teams of recent times, having amassed an incredible tally of 37 state, national and world titles in just 5 years, and Macdonald has a fresh bag of targets on the radar in 2013.
"We've got a fantastic lineup of riders this year," said Macdonald, "with more of an ability to focus on the classes where we need to be."
The team consists of four riders, all former national champions, including 2012 Australian Junior Motocross vice champions Callum Norton and Wayde Carter, Queensland Champion Mitchell Evans who finished an impressive 9th overall at the FIM World Junior Motocross Championships in Bulgaria, and new signing and multiple Aussie title-winner Hunter Lawrence, who steps from dealer support up to the national squad.
Macdonald will also manage senior racer and two-time Australian Women's Champion Kristy Gillespie, who will soon shoot for a record eighth-consecutive Victorian Championship.
"Even though I'm only 24 I'm starting to feel like one of the old girls on the scene these days!" laughed Gillespie. "I'm ready to go again, I had a good break over Christmas with lots of waterskiing and gardening then got back into it with a fair bit of gym and lots of running and swimming training which I've always loved. Don't be surprised if you see me doing some off-road racing this year as well."
Gillespie's Victorian championship campaign kicks off next month at the Blue Rock track at Moe.
Motorex KTM Junior Racing Team lineup:
• #88 -Wayde Carter – 15 years 125 and 250/ 4 stroke
• #43 -Mitchell Evans – 13-14 years 85cc, 125 and 250/ 4 stroke
• #46 -Hunter Lawrence – 12-13 years 85cc, 13-14 years 125
• #34 -Callum Norton – 12-13 years 85cc, 13-14 years 125
Motorex KTM Racing Team Womens competitor:
• #1 -Kristy Gillespie – Womens National