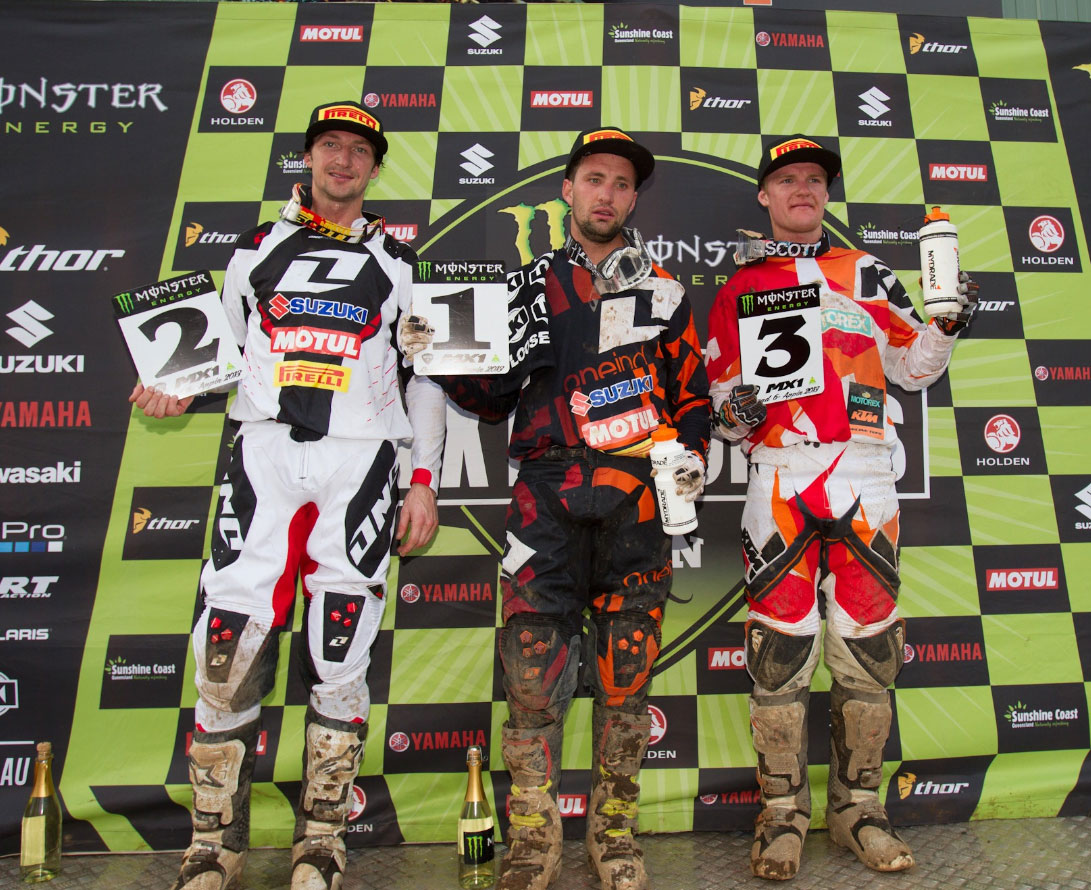 Motul Pirelli Suzuki teammates Matt Moss and Cody Cooper have claimed their second 1-2 finish in succession during the sixth round of the MX Nationals, Australian Motocross Championship, at Appin in New South Wales on Sunday, 14 July. The result also marked the team's third straight overall victory.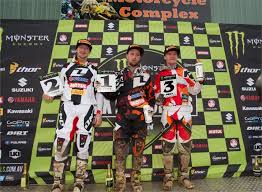 Following a six-week hiatus, the MX Nationals resumed at the Macarthur Motorcycle Club and it was Moss who opened the weekend on top with the fastest lap time in regular qualifying. Cooper stepped up to claim the number one position in Superpole qualifying, setting a positive tone for the round's racing.
Moto one saw Moss ride his RM-Z450 to a controlled victory, leading from the early stages and extending his advantage throughout the 30-minute duration. A mid-pack start forced Moss to fight back in moto two, in which he eventually climbed to third and secured the round victory overall.
"I'm happy with my form and to win the overall, but I'm really disappointed with that second race," Moss explained. "The Motul Pirelli Suzuki team went 1-2 and of course I'm really happy with that, but after spending some time in America where the tracks are a lot more wide-open I struggled a bit in the tight stuff. We'll keep working on these little things and come out swinging for Hervey Bay."
Moss has now moved to within four points of the series lead in the second half of the season.
Coming off a victory at Conondale's fifth round, Cooper also continued his form at Appin, however a number of mistakes in the opening moto resulted in eighth position. He recovered to dominate the second leg, which boosted him to second overall for the round – partly thanks to his five points amassed in Superpole.
"My day started off good in winning the Superpole, but it was a little up and down during the motos," Cooper commented. "It was a good day all in all though for the whole Motul Pirelli Suzuki team and I'm really happy with the result overall. I felt really good in moto two and I was able to race to the victory."
The reigning two-time New Zealand Motocross Champion is fourth in the standings, setting his sights on a position in the top three and 45 points in arrear of current leader Todd Waters.
"It was another great result for the team and we couldn't be happier," team manager Jay Foreman said. "Matt really took advantage of a recent trip to America and his speed is exceptional, while Cody again proved in moto two that when he puts the pieces of the puzzle together he's a very difficult rider to beat. These results bode well for the final four rounds of the season."
The MX Nationals, Australian Motocross Championship, will continue at Hervey Bay in Queensland on Sunday, 28 July.
2013 MX Nationals, Australian Motocross Championship
Round Six – Appin, NSW
MX1 Round Results:
1. Matt Moss (Motul Pirelli Suzuki) 65 
2. Cody Cooper (Motul Pirelli Suzuki) 63 
3. Kirk Gibbs 63 
4. Lawson Bopping 54 
5. Adam Monea 53
6. Billy Mackenzie 51 
7. Jay Marmont 50 
8. Jake Moss  (Campbell Mining Suzuki) 49 
9. Cody Mackie 47 
10. Todd Waters 44
MX1 Championship Standings (after six of 10 rounds):
1. Todd Waters 376 
2. Matt Moss (Motul Pirelli Suzuki) 372 
3. Billy Mackenzie 340 
4. Cody Cooper (Motul Pirelli Suzuki) 331 
5. Lawson Bopping 320 
6. Kirk Gibbs 293 
7. Adam Monea 285 
8. Jake Moss (Campbell Mining Suzuki) 279 
9. Tye Simmonds 273 
10. Jay Marmont 241