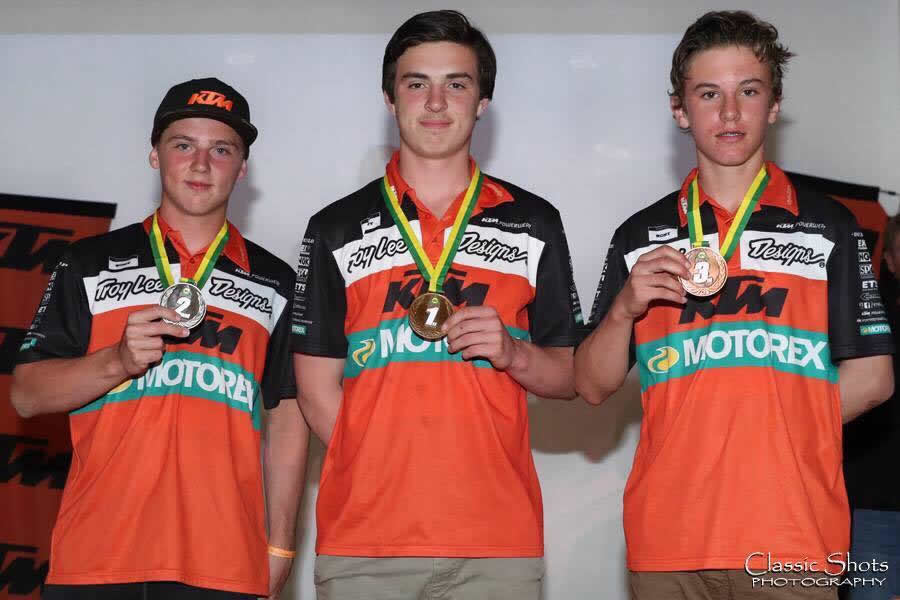 For the fourth year running, KTM Australia's sponsorship of the Australian Junior Motocross Championships has yielded a spectacular show of racing excitement and pointed to the promising future.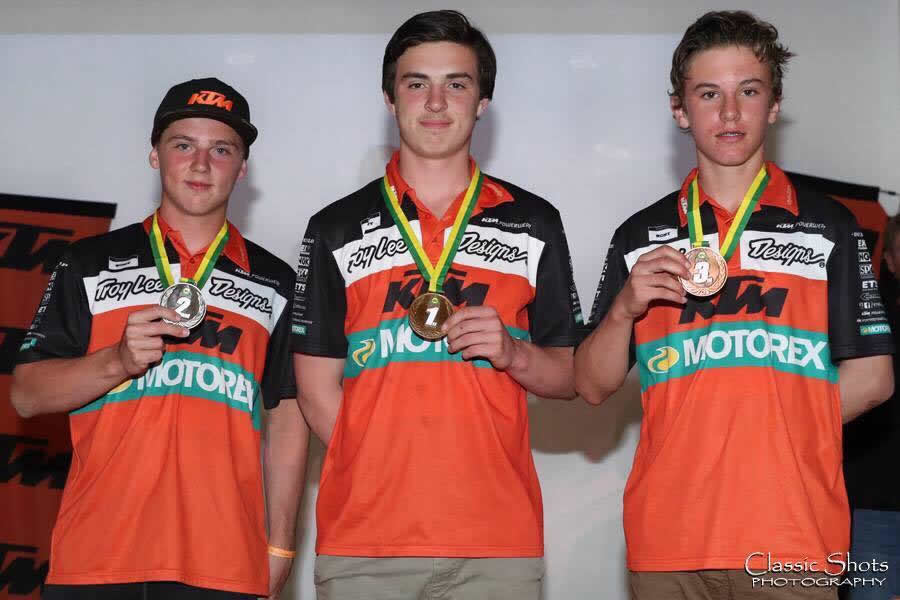 Press Release
The Riverland club and its fantastic volunteers battled weather conditions so fierce that they warranted the cancellation of an entire day's racing, yet still presented a challenging Renmark track worthy of deciding Australia's newest crop of champions.
The event, which attracted around 600 bikes and approximately 450 riders, again took on a distinct shade of orange as KTM Australia poured a mountain of effort and energy into the development of the nation's motocross future.
The KTM Technical Services squad was again there in full swing providing setup advice and backup, with vastly experienced Racing Team Technicians Mick Carusi and Christian Horwood willingly sharing their vast knowledge and experience with KTM owners.
With backing from Kessner Motorcycles, the KTM Spare Parts Service provided general consumables all week long to keep the young tackers in the fight and hard on the gas.
KTM continued the clear dominance of Australian junior motocross that it has shown in recent years, both in terms of the number of KTMs behind start gates, and the number of KTM riders standing on podiums.
KTM Junior Motocross Racing Team rider Mason Semmens led the way for the Factory Team, taking his first ever Australian junior championship, and then rapidly backing it up with his second.
"It feels awesome," Semmens said. "I was really happy winning one, but to come away with two is just awesome. I put a lot of work into it, did heaps of training both on the bike and off, a lot of sand riding too, and it's paid off. It wasn't easy. I won the first three finals on my 250, but then I crashed in the fourth, went back to about third-last but rode back up to fourth. So I had about a two-point lead going into the last race so I knew I had to win. In the 125 me and my teammate Rhys were tied coming into the last race so I had to win that one too. It was hard work, but it worked out, so, happy as."
Semmens led not one, but two KTM Factory Team trifectas, winning both the 13-U15 years 125cc and the 13-U15 years 250cc ranks ahead of teammate Rhys Budd and Regan Duffy.
In the 9-U11 65cc ranks, the KTM Junior Motocross Racing Team's young Queenslander Noah Smerdon secured his third consecutive Australian championship.
"It's devastating," Budd said. "In one way it's a really good finish, but I worked really hard for that win, so it's devastating not to be able to get a title this year. It was not a happy moment at the time. Other than that it was a good fun week and I'm still pretty happy to have two podiums. I almost holeshot every race, so some good starts really helped – I was always in the top three. Next year will be my last one in juniors, so the goal is definitely now to finish off with a win before we head up to seniors."
In the 15 years 125cc category Caleb Grothues added another national championship podium to the factory team's tally, leading home Evolution KTM's Morgan Fogarty in third.
"We started the week with both my KTM 125 and 250 running absolutely mint – it's always a good start when it's like that," said Grothues. "I qualified 2nd on the 125 and 5th on the 250, which I was happy with. The track this year was all about getting a start and getting out front in those first few laps. It was quite a basic track but it got rough and chopped out really fast, I had three fairly good results to come away with 2nd overall on the 125, unfortunately on the 250 I had a shocking second moto due to a crash. Apart from that I felt right at home on both my bikes all week!"
The dealer-backed Orange riders were also on fire, Talia O'Hare powering to a pair of championships for Mandurah City KTM – the U16 Female 85cc and U16 Female Lites categories.
KTM mounted Queenslander Zachary Watson took first place in the 11 years 65cc category, while Dubbo City KTM's Blake Fox won the 85cc 9-U12 class.
KTM Estonia's Meico Vettik gave the Australian championships a distinct international flavour, the world number two accounting for the 85cc 12-U14 class on his Kessner Motorcycles machine.
Starting its second consecutive three-year contract as major backer of the Australian Junior Motocross Championships, KTM Australia will sponsor the event through to 2018, with next year's KTM Australian Junior motocross Championships taking place at Horsham in Victoria.
KTM National Brand Manager Tam Paul was quick to congratulate all riders and the people that made the event possible given the miserable conditions.
"The club had a lot of challenges from the weather; there were cyclonic winds and some of the track was under water at one point," Paul recalled. "The whole week was very difficult in that respect. We had one complete day rained out which is no small obstacle to people running the program. A considerable amount of track work took place over the course of the event.
Weather aside, there was some great racing, and a really challenging track – it's quite a challenging surface with the South Australian red dirt like they have at Hattah.
After our rebuilding year last year it was a good one for our team with three championships and five other podiums. Mason was our standout rider, claiming two championships, closely followed by Rhys Budd who finished second in both of those classes, and then Regan Duffy gave us our KTM clean sweep twice! Noah Smerdon won his third consecutive Australian 65cc championship, and then Caleb got second on the 125. We're very happy we were well represented across all classes. I'd also like to thank our key partners, Motorex, TLD and Dunlop tyres."