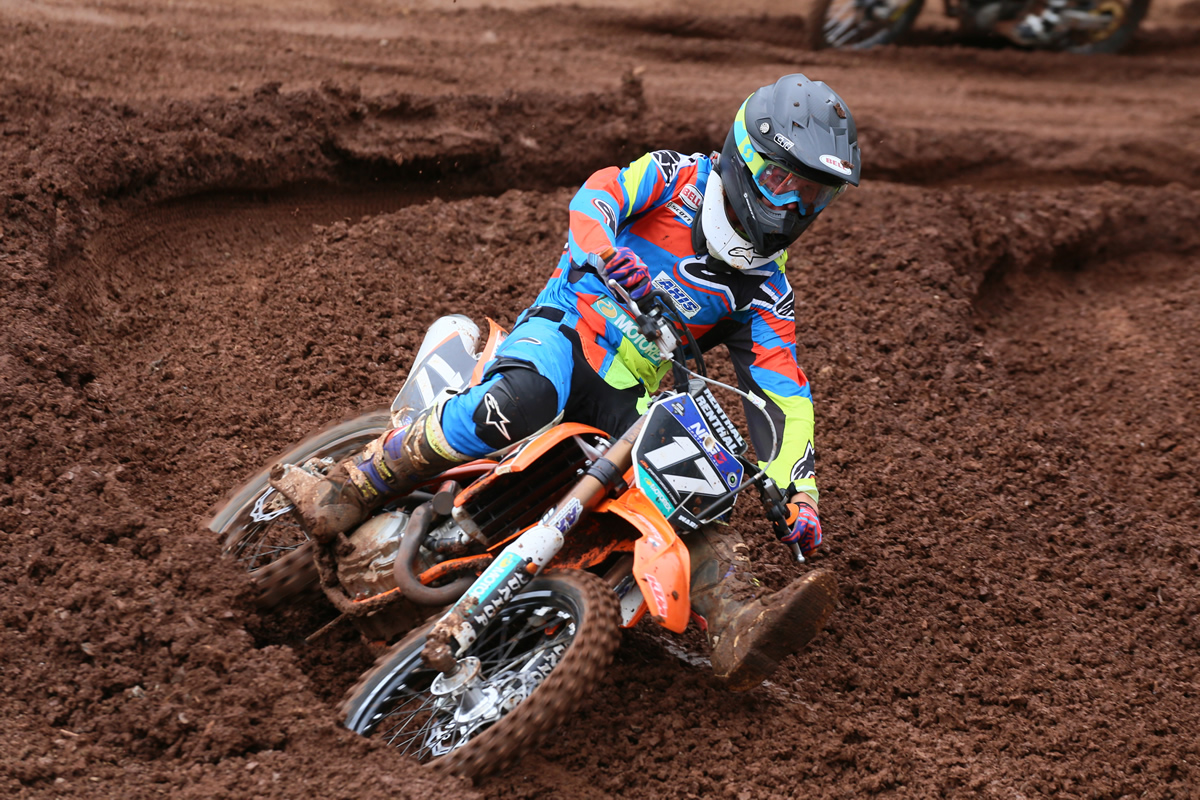 Youngster Caleb Ward has impressed on his debut ride in the national premier class.
By Hayden Gregory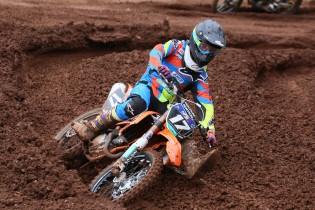 Ward finished the 40th running of the prestigious Mountain Man event in second place just six points behind champion Kade Mosig. Despite only having his KTM 350 SX-F practice bike, Ward showed maturity well above his years and great consistency registering 2,1,2 results in three consecutive motos.
The championship came to a head in a 30-minute final race. Ward kept on the back wheel of Mosig for the majority of the moto, but unable to make the pass he finished as runner up. Luke Arbon rounded out the final podium in third.
"It was good to race against Mosig who is obviously a top 450 guy," Ward said. "In the last moto we sort of played a bit of cat and mouse – he sort of pulled a bit on me at the start, and then I was sort of matching him for ages. I made a few mistakes in the middle and he gapped me a little bit more. I waited and waited because I didn't know how well I would last on the big bike in the long moto and then right at the end I put in a big charge and managed to get onto his back wheel but I got held up by lappers on the last lap so that was a bit unfortunate, but it was a really good day.
"Obviously he is on a factory Yamaha and I was just on my practice bike, which was pretty much stock. It's still faster than my factory 250 but I'm really happy with my speed and how I felt on the 350. I love it here. We had a national here this year and I did really well, and obviously this weekend track was prepped awesome and there were some ruts that sort of suited me. I really enjoyed it."
In the 125cc class, KTM Toowoomba rider Kerrod Morrissy posed a huge challenge for MX2 regular Luke Arbon, finishing 1,2,3, in the three motos. The result left Morrissy just seven points shy of the title, with Arbon escaping for the overall.
"It was a really good day for me," Morrissy stated. "It started off pretty well with a race win and then in the second race I got a pretty bad start, and I knew Arbon was out front so I had to work really hard I got back to second so I was super pumped. It all came down to the last one, and I crumbled under the pressure a little bit I think, and couldn't get around the boys good enough. The track was on point though, and the other boys rode absolutely awesome.
Today I rode a stock standard 2016, just pulled straight out the crate. We didn't actually do anything to it so the thing absolutely flies. I love the KTMs, they handle really good out-of-the-box and that's why they are a ready-to-race bike."
Mountain Man Motocross, championship points:
1. Kade Mosig 137, 2. Caleb Ward KTM 131, 3. Luke Arbon 116, 4. Joel Milesevic KTM 104, 5. Daniel Mcentee 98
125cc Gold Cup, championship points:
1. Luke Arbon 102, 2. Kerrod Morrissy KTM 95, 3. Isaac Ferguson 92, 4. Sam Liekefett 77, 5. Damien Harrison 74