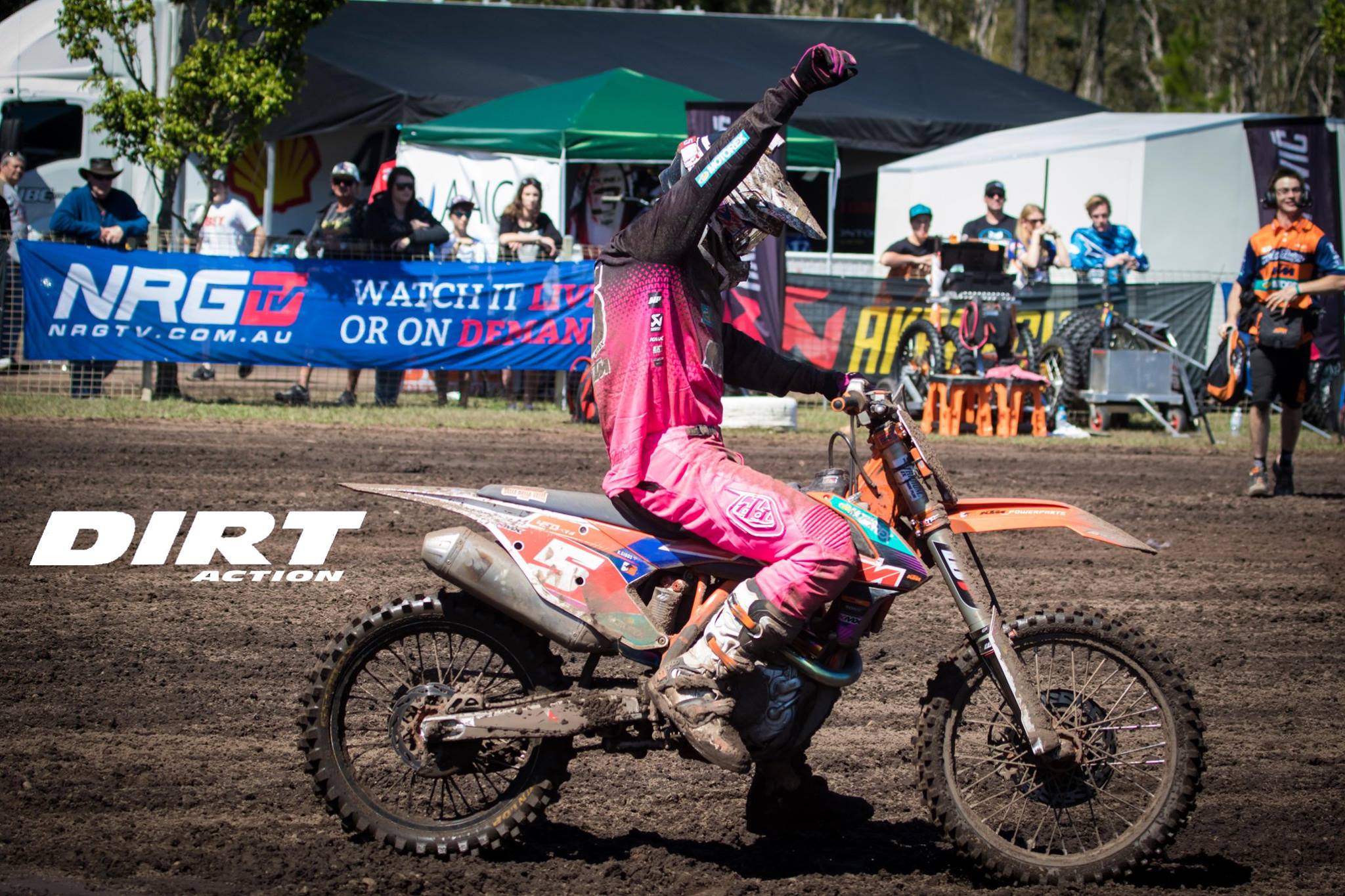 KTM Motocross team rider Kirk Gibbs has wrapped up the 2015 MX1 National Championship following a 3-7 result in Coolum.                                                                        
Story by Hayden Gregory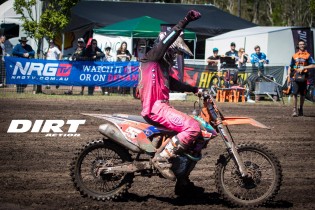 The Queensland based rider handed KTM its first Premier class national championship since 2002, following an incredible year in which he held the red plate from race one.
Gibbs arrived in Coolum with a 61-point lead over CDR Yamaha's Kade Mosig. Mathematically, he knew the result could be put beyond doubt with a strong performance in moto one. The equation was simple, if Mosig was to win moto one, Gibbs would simply need to finish 20th to secure the championship.
As the 450's lined up for round ten, the crowd roared in sync with the engines. All eyes were on Gibbs number five machine when the gates dropped. It was KTM teammate Luke Styke who gained the holeshot for an early race lead, with Gibbs slotting into second and Ben Townley in third.
When the dust settled all three riders were able to maintain their lead on the pack. Behind them in fourth position, a Dan Reardon crash allowed Kade Mosig to move in on the action. As the halfway point arrived, the top four positions remained and Mosig needed a miracle if he had any hope of chasing down the title.
The last few laps saw a tussle between the top three with positions changing as they passed the chequered flag.  Former champion Townley scored the race win, while Styke edged out Gibbs for second place. Third place was more than enough for Gibbs to wrap up the 2015 MX1 Championship with a race to spare.
"It's been such a long time coming, and it's so hard to explain because you put so much time and effort into it, and this year has felt so long for me," he said.
"I made sure I came out swinging this year, and had a really good pre season, and that showed at round one when I took 1-1 results.
"Getting this championship is really unexplainable. When I had that injury a little doubt did enter my head, but we fought through and I'm just so happy that I was able to get this done. It's an amazing feeling and to win an Australian MX Nationals championship is a dream come true.
"I wouldn't be here without the people who support me. It takes a massive team and it's an amazing feeling having so many people believe in you, and I'm so happy to be able to finally repay them with a title."
Lining up for moto two, the pressure moved to the remaining podium positions with Gibbs KTM teammate Luke Styke pressing for a top three finish.
Penrite Honda's Cody Cooper took out the holeshot while Mosig stalled his bike early on. This caused the Yamaha rider to fall back in the pack, and jeopardise his championship second place.
Leader Cooper was rounded up by Townley and Monea who begin their own battle for the final race win. As the finish line was crossed Monea secured race honours edging out Townley and NPS Energy Kawasaki's Dylan Long in third. Championship leader Gibbs cruised to a seventh place finish, enjoying a leisurely pace in his final moto.
KTM teammate Luke Styke had a difficult second race with a fifth place result.  Finishing on equal points with Adam Monea, Styke was devastated to hear that he would relinquish third place in the championship on a countback.
"I was pretty gutted to go from second in the championship to fourth in the last two rounds," Styke said. "The first one was great, I holeshot and led the whole race until the last two laps when Townley got past me. But in the second, nothing was clicking. I didn't have any flow so I just pumped up and just rode like a squid, and I paid for it. But I guess equal third in the championship isn't too bad. Anyway, I hope I can get some good results in supercross and just keep moving forward. I won the MX2 championship in 2013, so I can ride it, and it's pretty fun."
In wake of a fantastic season, KTM Motocross Racing team manager Rob Twyerould could not hold back his elation with his team's success.
"I'm over the moon," he said, "it's just been an amazing year, and the culmination of three years with Kirk working his way up through the championship to finally win it, it was brilliant. I think through the whole year, he only conceded five points to his nearest rival, so, an absolutely amazing job.
"The first race was fantastic for us today, but the second was a little tougher. Stykesy struggled a little bit with his fitness, but ended up tied in the championship for third only to lose it in a countback. For a first-year rider in MX1 that's an amazing effort! He is incredibly hard on himself but I'm really proud of him; he was a big part of Gibbsy's result as well because it worked so well with Kirk and the whole team."
Monster Energy MX1 round ten overall points:
| | |
| --- | --- |
| 1st | Ben Townley – 67 |
| 2nd | Adam Monea – 61 |
| 3rd | Luke Styke – 58 |
| 4th | Kirk Gibbs – 54 |
| 5th | Dylan long – 53 |
| 6th | Kade Mosig – 53 |
| 7th | Lawson Bopping – 52 |
| 8th | Daniel Reardon – 46 |
| 9th | Hamish Harwood – 44 |
| 10th | Ross Beaton – 39 |
Monster Energy MX1 championship:
| | |
| --- | --- |
| 1st | Kirk Gibbs – 647 |
| 2nd | Kade Mosig – 586 |
| 3rd | Adam Monea – 577 |
| 4th | Luke Styke – 577 |
| 5th | Lawson Bopping – 523 |
| 6th | Daniel Reardon – 510 |
| 7th | Dylan long – 497 |
| 8th | Cody Cooper – 425 |
| 9th | Kale Makeham – 384 |
| 10th | Jesse Dobson – 382 |