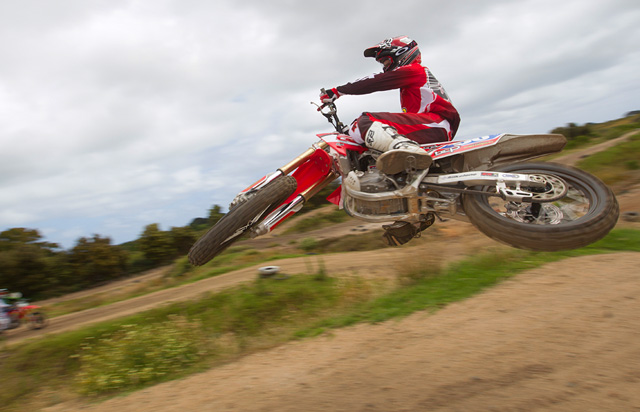 Former national Motocross/Supercross champion Lee Hogan has formed a brand new and exciting development team under the name of 'BCP Honda Fox Racing' starting January 2012.
| | |
| --- | --- |
| | Geran Stapleton will contest the Pro Lites class |
| | |
The talented two rider team will feature the recently crowned 2011 Monster Energy Super X Champion in the Junior Development class Billy Jackson who steps up to the Under 19's division for 2012.
"It's always a bit tough stepping up out of the junior ranks and scoring yourself a team ride in your first year, so when my dad and I spoke with Lee regarding the new team we were over the moon at the prospect," said Jackson.
"I worked really closely with Hoges leading up to and during the Monster Energy Super X series and we communicate really well together. I'm definitely looking forward to working with him and of course being back on the Honda machine is awesome!"
Along-side Jackson will be the fast finisher of 2011 Geran Stapleton who decimated the field at the final round of Monster Energy Super X in the Under 19's class on his Honda CRF 250R while netting himself a solid second place in the Championship. Stapleton will step up to the super-competitive Lites class for 2012.
"I would have really liked to win the Under 19's Championship this year, but I'm really happy with my finish of the season and the momentum we will carry into 2012," said Stapleton.
"I know the Lites class will be a massive challenge but I can't wait to give it my best shot. I'm heading over to New Zealand and the USA during the off season for some races and will hopefully gain that little bit more experience." Stapleton added.
"Billy's a great kid and I look forward to having him as my team-mate next year. Lee Hogan has coached me since I just stepped up onto an 85cc right up until now so I'm wrapped to be able to continue our association."
The two rider, newly formed development team will tackle all National Motocross and Supercross events under the watchful eye of team principal Lee Hogan.
"I'm looking forward to the new challenges of running the team," said Hogan.
"I've got two sensational riders to work with that I have coached for many years now. We've got great support from Honda Motorcycles, Fox Clothing and Fuchs Silkolene Oils along side many other supporters that you need to piece a team together."
| | |
| --- | --- |
| Billy Jackson will be gunning for Under 19's success in 2012 | |
| | |
Honda's General Manager for Motorcycles Tony Hinton sees the importance of developing our up and coming talent rising through the ranks.
"Honda values being part of the development of rider talent in Australia. To have Billy Jackson and Geran Stapleton is exciting for the newly formed BCP Honda Fox Racing and will ensure the team is in a strong position going into 2012," said Hinton.
Along with Honda, Fox clothing are part naming rights sponsor for the newly formed team and Mick Sinclair, Team Manager of Fox Australia is happy to be on board.
"We have supported Hoges in his racing and the BCP Program for nearly 15 years now," said Sinclair.
"Of course we are stoked with the idea of supporting his new team. And with young, up and coming riders such as Geran Stapleton and Billy Jackson we couldn't be happier."
BCP Honda Fox Racing will receive additional support from some of the most reputable companies in the industry including:
Fuchs Silkolene Oils, Dunlop Tyres, Pro Circuit , Alpinestars, Dirt Action Magazine, Oakley Eyewear, MXTVvGiant Bicycles, Loui Garneu Cycle clothing, NineTwo Decals, Top Line, Hammerhead, Zeta, EK Chains, AFAM Sprockets, Bicycles Inc.
Along-side the newly formed BCP Honda Fox Racing Team, Lee Hogan's Building Champions Program will continue it's reputable team of elite level coaches and national level riders for 2012 with Jades Oates once again managing the riding schools side of the business while doing selected events around Australia.
After a successful 2011 nudging top 10 nationally in the ultra competitive open class, Tim Vare will once again be BCP backed for 2012, hoping to break that elusive top 10 in both Supercross and Motocross.
While 2011 has seen one of our most complimented coaches on the team Ryan Mitchell rise to a new level, we welcome him to the team as a full time team rider/coach for the year aboard Honda machinery and Fox riding gear.
For more information on our BCP riding schools or to keep up to date with results from our new BCP Honda Fox Racing Team please log onto www.leehoganracing.com.au
Main Photo:Billy Jackson (R) and Geran Stapleton (L)
BCP also unveiled a new corporate team logo with the race team announcement