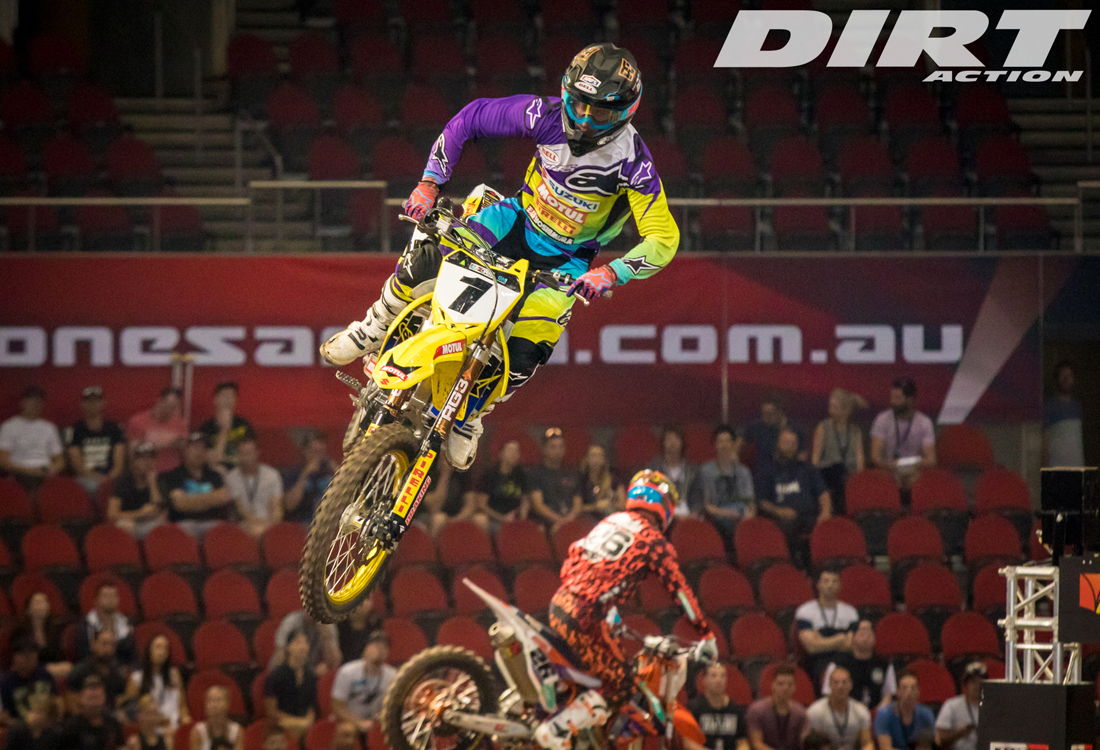 Riders Matt Moss and Kale Makeham experienced mixed fortunes at the AUS-X Open both succumbing to injury on the second day.
By Hayden Gregory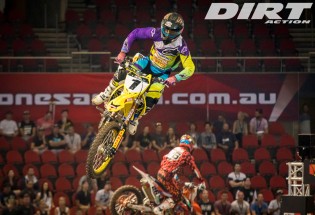 Matt Moss was the fastest rider of the day on Saturday, recording the quickest times in practice and qualifying before going on to take out the first heat from Australian legend Chad Reed.
Entering the round placed second in the championship, Moss had it all to gain as he looked to win back to back supercross titles. Unfortunately it wasn't to be as a series of crashes left him in the hands of RaceSafe officials.
The crash left Moss with a DNF falling to third in overall championship standings, now nine points behind Kade Mosig. The 2014 champ was also forced to sit out Sunday's event with a heavily corked leg.
"The day could not have gotten off to a better start, we were the fastest in practice and qualifying and I was feeling great." Moss commented.
"The heat race win in front of that massive crowd was an amazing feeling and at that point I knew if everything went to plan we could take the win later in the night when it counted."
"Obviously things didn't go to plan in the main event, that second crash left me pretty beat up and unable to continue.
"I banged my head pretty bad, but that is feeling all right now. The leg is still very sore at the moment, I will have physio every day this week and will hopefully be ready to race on Saturday."
"The championship is out of reach for us now, but it would be great to finish my time with the team with a round win and we are still in a position to finish second in overall. There is still a lot to race for at the last round." Moss added.
Team mate Kale Makeham also succumbed to injury on the second day however it wasn't before a standout performance on Saturday. Makeham recorded his best result of the series, qualifying for the final before coming in at eighth place.
Kale was unable to participate on the Sunday after he re-aggravated an ankle injury which he picked up in Bathurst at round one.
 "What a great event that was," Makeham said at the conclusion of the AUS-X Open. "It felt great to finally come away with a solid night of racing and race in front of a sold out crowd.
"This season has certainly been a struggle with my ankle, but to come away with an eighth place finish on Saturday was a positive step forward.
"Another big bonus for the weekend was having RC (Ricky Carmichael) pitted in with us all weekend, to be have the opportunity to see how he goes about things and to listen to him talk between races was a great experience."
With only six days until the final round of competition the pair is focused on treating their injuries to ensure they make gate drop at Melbourne.
"That was one of those weekends where things didn't pan out they way we had hoped, but that is racing sometimes," Team Motul Suzuki team manager Jay Foreman commented.
"Matt once again showed that he is a world class rider with his pace early in the day and his heat race win on Saturday.
"Things didn't go his way in the main event and that second crashed knocked him around quite a bit and he had no choice but to sit out Sunday's event.
"I was good to see Kale make it through Saturday and come away with a solid result.
"Both riders will have treatment during the week with the aim of lining up next weekend for the final round.
"As for the event, the whole weekend was fantastic and the racing especially the 450 main event on Sunday was brilliant to watch. It was just a shame that Matt was not able to be out there, adding him to the mix up front would have made the racing even better again." Foreman concluded.
.