Mitch Evans heads the pack.
By Hayden Gregory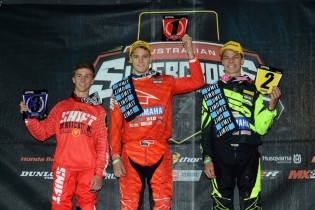 The Energy Logistix third round of the 2015 Australian Supercross Championship will host the SXD young guns after some time off since their first meeting in Bathurst.
The riders aged 16-19 have the chance to gain invaluable experience during these national events as they compete before the SX1 and SX2 classes. The SXD series will take place during four of the main six supercross rounds.
Heading into the second round GYTR Yamaha riders Mitch Evans and Jordan Hill lead the pack finishing first and second respectively at Bathurst. It was a great start for Evans who was competing in his first ever supercross race.
"I think I like this whole Supercross deal!" enthused Evans after the Bathurst meeting.
"I liked the night time atmosphere and while the track at Bathurst was pretty tough and got rutty in places, you just had to watch your lines and stay focused.
"It was so good to get the win and start the Championship with both myself and Jordan on the podium for GYTR Yamaha."
Unfortunately for second placed team mate Jordan Hill, he will be out of action this weekend following a practice crash which left him with bruised ribs and a bruised sternum.
Following Adelaide's round of competition the SXD class will continue at Jimboomba X Stadium on November 21st before coming to a finish in Victoria, Knights Stadium on December 5th.