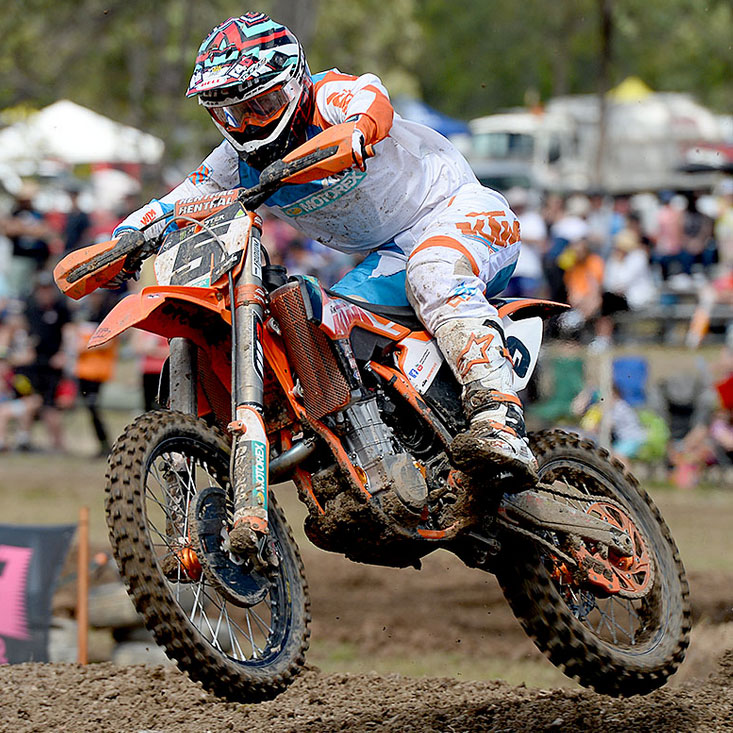 Moss in Pole position heading into final round
FOR IMMEDIATE RELEASE
24 August 2014: Gladstone, Queensland
KTM Motocross Race Team's Kirk Gibbs has taken round honours in the Monster MX1 class at round nine of the 2014 Monster Energy MX Nationals at Gladstone in Queensland.
Gibbs chalked up a second and a third from his two motos to finish one point ahead of CDR Yamaha rider Billy Mackenzie (fifth and first) and another point clear of Adam Monea (National Pump Monster Energy Kawasaki) and Jacob Wright (CDR Yamaha).
But despite the win, Gibbs was only able to shave three points from Team Motul Suzuki Matt Moss' championship lead.
In the exciting Go Pro Superpole fastest lap shootout, the big guns of Moss and Kirk had to settle for fourth and fifth place in the top-five.
It was Wright who backed up his Superpole win at Raymond Terrace in round eight, clocking the fastest lap time with at 2:08.411 to take the maximum points on offer and take first pick of the start gates.
In the opening race of the day, Moss shot out in front to take the holsehot, before Mackenzie zipped past to take the race lead.
Wright also got an ideal start, and while he was third heading into the opening corner, the young 19-year old shot through to move into second shortly after.
It was a great opening lap for Mackenzie, but his lead didn't last long – just after passing the finishing line he was overtaken in front of the mechanics area by Wright, and within the next two laps he was also passed by Gibbs and Moss.
Wright then showed his local crowd why he is billed as one of the top young talents in the MX Nationals paddock – putting a clear gap between himself and Gibbs who was in second.
Gibbs was also working hard, and before long he had created a significant gap of his own from third placed Moss.
Mackenzie appeared to be struggling in fourth and was forced to work hard by Monea and Kade Mosig (DPH Yamaha).
Jake Moss was having problems in the race and found himself back in 21st position at one stage, before moving up into 16th by the halfway mark.
On the 10th lap Monea made a pass on Mackenzie and moved into fourth, while Wright had the tricky task of weaving through lapped riders with 10 minutes still remaining.
From that point on though, the top-five positions remained as they were with Wright claiming top spot on the podium from Gibbs and Moss.
Monea finished in fourth from Mackenzie, while DPH Yamaha pilots Mosig and Sam Martin battled their way to sixth and seventh respectively.
Jake Moss finished the moto in 12th.
In the second race it was Mackenzie who again shot into a lead on the opening lap, after a great burst of speed gave him the holeshot.
Mackenzie was closely followed by Gibbs, race one winner Wright and Monea – the Kawasaki rider moving into third on the opening lap.
Wright's fairytale day had it's first glitch on the opening lap when he fell back to 10th spot, while Jake Moss, Jay Marmont (CDR Yamaha) and Matt Moss settled into fourth, fifth and sixth.
Matt Moss passed Marmont on the second lap to move into fifth and after three laps, the top five riders were all two seconds apart.
Gibbs and Monea exchanged positions several times throughout the next few laps, jostling for second position and giving the crowd one of the best individual battles of the day.
Monea eventually pulled away from Gibbs and headed for Mackenzie while Matt Moss passed brother Jake on lap five and zeroed in on his main rival Gibbs in third.
By the 20-minute mark of the 30-minute moto, the gap between Matt and Jake in fourth and fifth was out to over 15 seconds.
Up front, Mackenzie rode the perfect race and was never really challenged – taking out the race win in emphatic fashion.
Gibbs chipped away at Monea over the last few laps of the race, and made a huge play for second spot on the final few corners.
It looked like the KTM pilot would pass flying over the jump heading into the last turn, but as they reached the line it was Monea who managed to hold on for second place – Gibbs having to settle for third.
Matt Moss finished the race in fifth position while brother Jake finished in sixth.
In the overall championship standings, Matt Moss is 37 points ahead of Gibbs heading into the final round at Coolum.
Mackenzie is a further 44 points behind in third.
For a full list of results, visit www.mxnationals.com.au.
The final round of the 2014 Monster Energy MX Nationals takes place in Coolum on 30 -31 August.
MX1 CLASS:
MX1 Superpole:
1) Jacob Wright  – 2:08.411  (5 points)
2) Jake Moss – 2:09.875  (4 points)
3) Adam Monea – 2:10.213 (3 points)
4) Matt Moss – 2:23.806 (2 points)
5) Kirk Gibbs – 2:33.546 (1 point)
Round Results:
1) Kirk Gibbs 62 (32, 30)


2) Billy Mackenzie 61 (26, 35)
3) Adam Monea 60 (28, 32)
4) Jacob Wright 60 (35, 25)

5) Matt Moss 58 (30, 28)

6) Hayden Mellross 46 
(23, 23)
7) Jake Moss 45 (19, 26)
8) Sam Martin 45 (24, 21)
9) Jesse Dobson 44 (22, 22)

10) Brock Winston 40 (20, 20)

Overall Championship Standings:
1) Matt Moss 713
2) Kirk Gibbs 676
3) Billy Mackenzie 632
4) Adam Monea 615
5) Jake Moss 528
6) Jacob Wright 525
7) Kade Mosig 500
8) Hayden Mellross 472
9) Sam Martin 436
10) Brock Winston 415
– ends –
Image: Jeff Crow / Explorer Media
Media Enquiries:

Andrew Weiss

0402 447 783

andrew@eskimomediagroup.com.au

www.eskimomediagroup.com.au