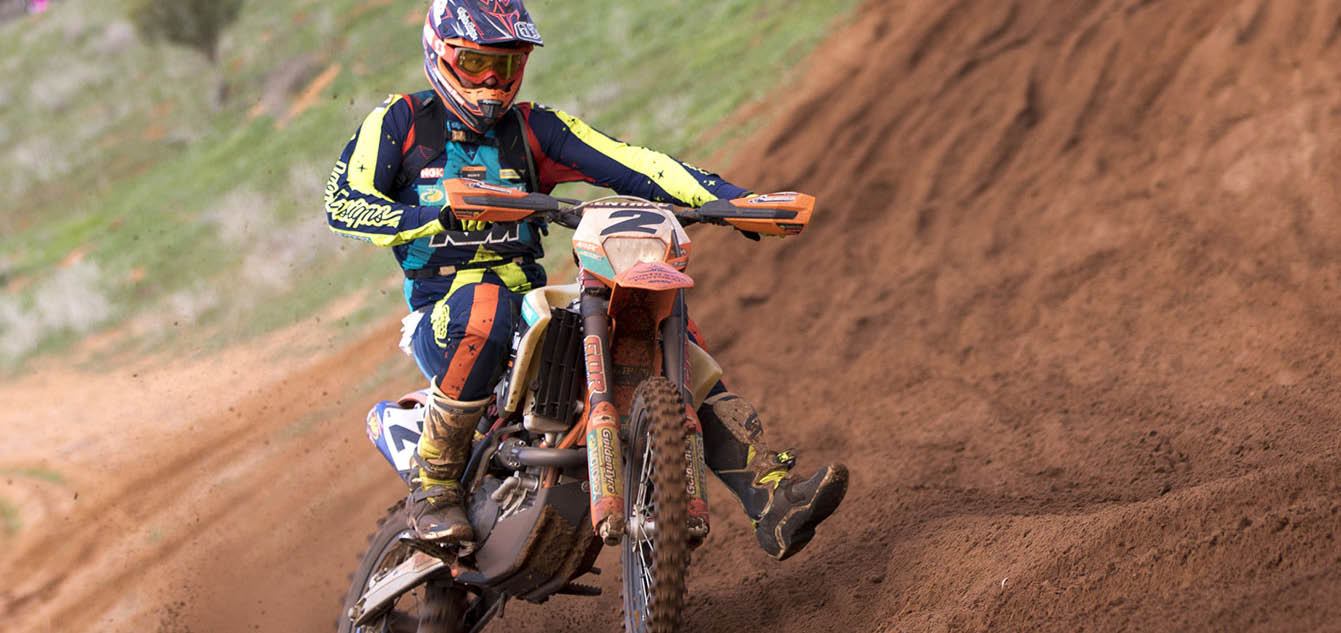 KTM secure the Finke/Hattah double for the third year running.
By Hayden Gregory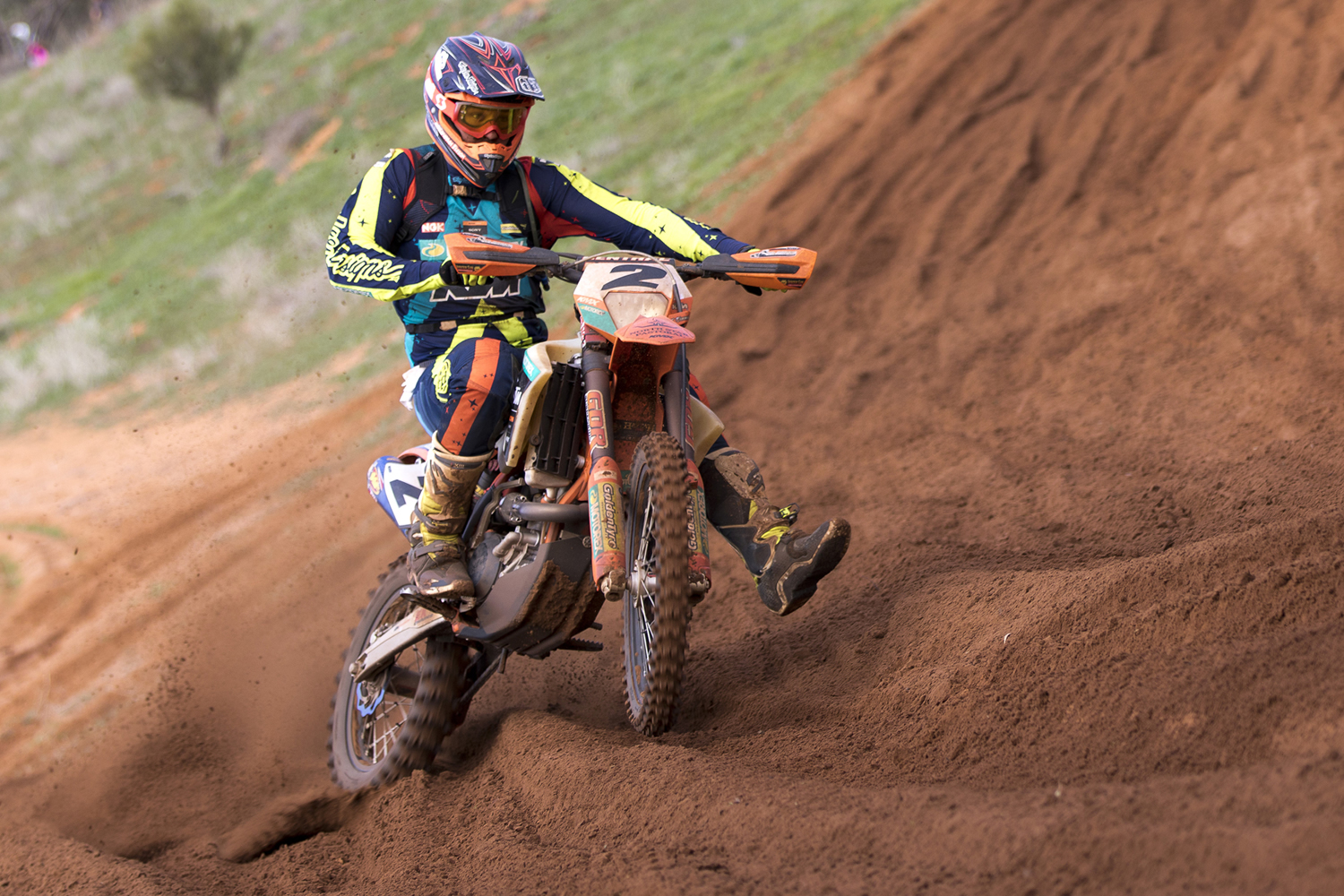 2016 Finke runner up Tye Simmonds produced a fantastic ride to take out the challenging and historic Hattah Desert race. An intense battle with team mate Daniel Sanders set up a grandstand finish with the pair trading blows for the majority of the four hour contest.
The defining moment came late in the race when Sanders went down, all but handing Simmonds an unassailable lead.
"I hit a tree on my last lap and my hands are pretty torn up but I'm over the moon," Simmonds exclaimed. "It was a hard one today; I definitely worked for every minute of the four hours, but it's definitely the biggest one I've achieved so far.
"It was on all day with Chucky, I had a bit of a game plan and by the fourth lap I realised it wasn't going to work. I wanted to try and outrun him and get out of there, but we probably swapped for the lead 8 to 10 times over two laps. The first time he passed me he was screaming his head off, I sort of got a bit of a kick out of that, it was funny! But to have that many good clean passes, it was good racing, and for it to come down to the wire that close, it was an awesome finish for us two boys and the team. But then I nearly had mishap and he did have one, and I managed to scoot away. It wasn't a big win, but 12 seconds, we'll take it."
Sanders was extremely pleased with second place and glad he could share the battle with his KTM team mate.
 "Tye blew past me a couple of minutes in, and I sat on him for a couple of laps" Sanders recounted. "As soon as the lappers came into play on the third lap, we passed each other about 10 times, it was sick. I had good fun with him, it was pretty funny, he'd get screwed up by a lapper and I'd come past him, giggling. Then on the fourth lap he had a big moment and just saved it and then I hit the same thing after him and cartwheeled and lost him.
"I still had a bent front end on the fifth and sixth lap and I couldn't get my head around it, but I pulled the gap down in the last two laps and got down to 12 seconds, so it sort of my fault I lost it. But that's racing, and it was a good experience and good fun out there. The whole team did good. The 500 was amazing, we pulled away from third place to we were 11 minutes clear.
"I'm happy for Tye, and 1,2 is pretty good, it's just unfortunate that Triggy had a little problem and lost his position or we would have had a 1, 2, 3. It was a good race, and good for the crowd too, I'm pretty sure everyone enjoyed it."
The KTM team almost achieved a podium clean sweep with Nathan Trigg placed in third right up until the final lap when his bib mousse rear tyre failed. It was a disappointing way to bow out of contention with benefactor Beau Ralston claiming third for the race, 11 minutes behind the leading duo.
KTM Off-road Team manager Ben Grabham was full of praise for the effort shown by his boys in such a gruelling race.
"Hattah is always a tough one," he said. "Probably the biggest one for numbers, since there was something like 650 riders. She's a big weekend, with scrutineering on Friday night, and a short, sharp prologue on Saturday, and then into it Sunday.
"Our weekend started great. Chucky showed some amazing speed winning prologue, and Tye in second set the boys up with a good starting position. It's a big old slog out there over the four hours that they race. Our boys pretty much checked out from lap one, and they always had over a five-minute lead back to third which made for an exciting battle and some pretty intense fuel stops at the tent! I'm pumped for Tye; definitely his biggest win, and he deserves it because Chucky is one of the fittest riders I know – he had a few get-offs, but Tye probably had to work harder than he ever has to get this and I couldn't be happier. The preparation and effort that Mick and all the boys put in was unreal.
"We actually looked like we had the 1, 2, 3 happening again with one lap to go, and poor Nathan Trigg had a rear mousse let go on him, and limped home on a rim in 11th place. It was just a freak thing, but it stopped us from an otherwise perfect run."
Hattah Desert Race Outright:
1. Tye SIMMONDS KTM500EXC 4:06:28.673
2. Daniel SANDERS KTM500EXC 4:06:41.133
3. Beau RALSTON 4:17:11.530
4. Glenn KEARNEY 4:23:45.385
5. Peter BOYLE 4:30:50.831