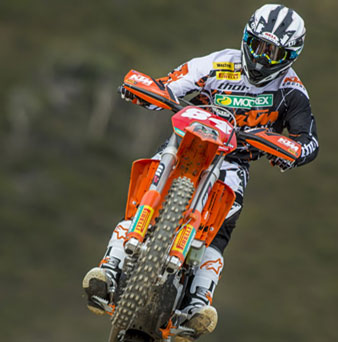 The new-look Motorex KTM Off Road Racing Team got its 2013 season off to a flying start with back-to-back round wins at the first round of the Yamaha Australian Off-Road Championship at Bulahdelah, NSW.
Media Release – 17/03/2013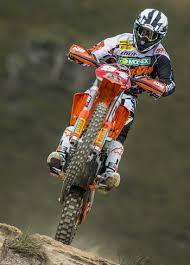 The 12-round, 7-month championship is designed to reveal Australia's fastest off-road racer and KTM pilots Chris Hollis and Toby Price have already served notice to the field, winning rounds one and two outright (respectively) and dominating their respective classes on both days.
KTM450EXC-mounted Hollis' outright win came ahead of Price in Saturday's 3-Hour Cross Country, while Price turned the tables on Sunday, launching his KTM500EXC to a narrow overall victory across Sunday's five 12-minute sprint races.
The team's E1 rider Ben Burrell fell afoul of the brutal humidity on Saturday, fading to third in class and ninth outright, but not before spectacularly elevating himself as high as second in class and 4th outright in the middle stages of the race.
Manager of the Motorex KTM Off-Road Racing Team and six-time Australian champion Brad Williscroft was very pleased with the efforts of his charges.
"What an awesome way to start the season," said Williscroft. "The track this weekend was pretty brutal, and the humidity really added to the difficulty. Chris was in great form and all his fitness work really paid dividends in the hot conditions when a lot of other top guys hit the wall. Benny Burrell was having a great race on Saturday until the cramps set in and still managed third in E1. Today he was still suffering the effects and couldn't find his best, but Toby and Chris were really firing to win all five of the sprint races between them. There are a few teams raising the game this year and we wanted to step up as well. Chris and Toby are really pushing each other and we're looking forward to an awesome year."
Toby Price – "It was a great way to start the season for the Motorex KTM team. I got a decent start on Saturday but then the jet lag set in half way through and I started to cramp a little bit and finished second behind my team mate Chris Hollis who was on fire and going really, really well. My team made a great effort to get the bikes ready for Sunday and we came out with a win, although that last sprint was really tight! With just six seconds lead going into the final if I would have had one slip up anywhere the day would have been done. The 500EXC is working awesome and I had to try hard to keep in front of Chris.  It should be a good battle this year. The gap between us in that first sprint today was less than 1 second – that's one bit of wheel spin up a hill and you lose!"
Chris Hollis – "We had a challenging track to start on this weekend with a combination of roots, rocks, mud and technical sections, together with fast treed sections and water crossings – it was very mentally demanding with the hot conditions. I got out front early and was able to ride my own race and focus on keeping smooth. I got through the mud okay each time and did my own thing. It's great to get that first win. I felt fast coming in but the other guys are always an unknown and you never know until that first round. But I backed myself and just tried to do my best and it all worked out pretty good. It was a good off-season and all the fitness and testing paid off. The bike was really good – just awesome up the hills and with the geometry and suspension settings I've chosen the handling is just spot-on."
Ben Burrell – "The results were up and down for me this weekend, but I learned a lot and will come away better for the next one. I was going really well in the cross country until I hit the wall and fatigued with bad cramps in my legs and arms. It's disappointing because I was up to fourth til over halfway when I started to struggle. Once I was dehydrated the second-last and last laps were so hard. I backed right off the pace and told myself to keep going because the main goal is to finish. Last night we were pouring in the energy drinks and stretching in the motel pool trying to get the cramps to go away but this morning I was pretty second-hand to be honest and struggled mentally. Backing up was a huge ask and even though I actually felt okay on the bike the times weren't there. I hope to do a lot better in the next one."
For more information on KTM motorcycles visit www.ktm.com.au or www.facebook.com.KTMAustralia
Yamaha Australian Off Road Championship rounds 1-2, Bulahdelah:
3-Hour Cross Country Outright Seniors:
1. Chris Hollis 3:14:17:274
2. Toby Price 3:19:01:480
3. Daniel Milner 3:20:40:299
9. Ben Burrell 3:30:55:636
Sprint Outright Seniors
1. Toby Price – 1:02:13:646
2. Chris Hollis – 1:02:22:888
3. Daniel Milner – 1:03:22:097
4. Glenn Kearney – 1:03:43:481
5. Josh Green – 1:04:29:114
14. Ben Burrell – 1:07:57:905