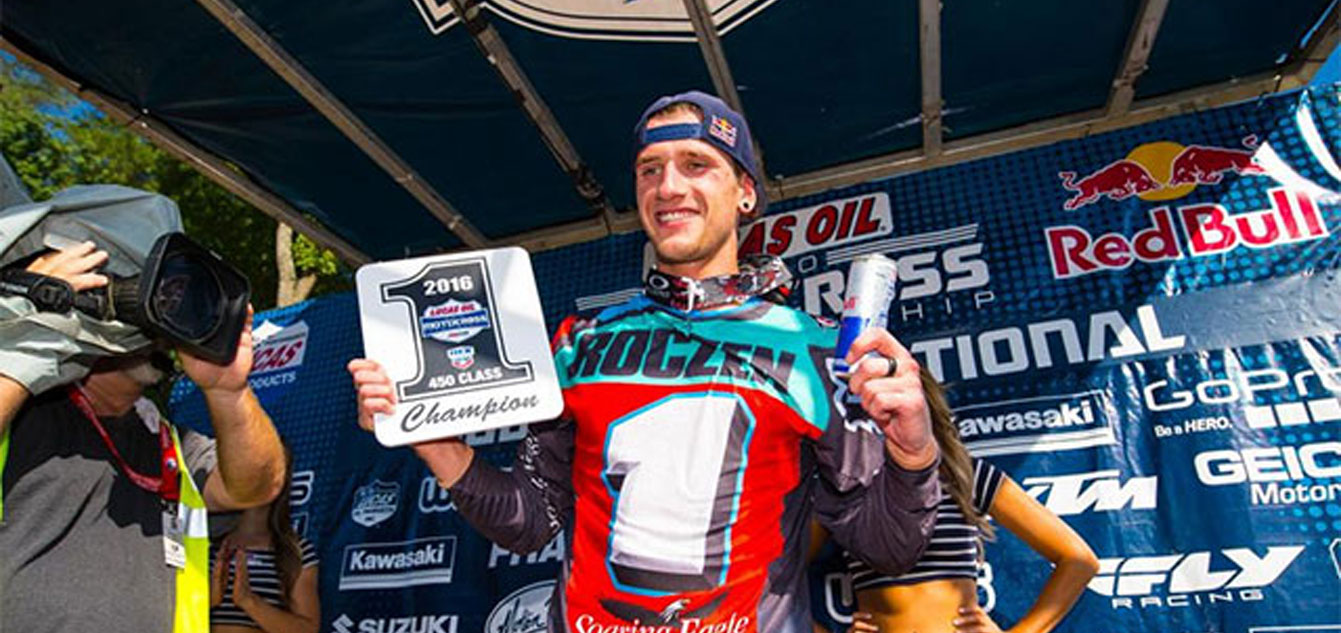 The pair have accrued unassailable leads in their respective classes with one round left to race.
By Hayden Gregory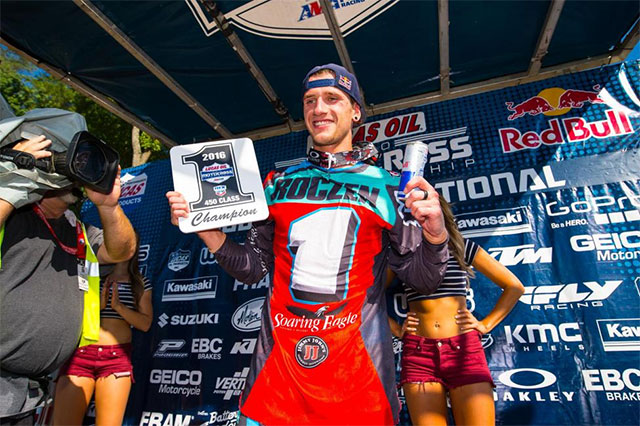 In 450 racing, Ken Roczen recorded yet another round clean sweep to secure his eighth overall victory for the season. The Suzuki rider clocked the fastest time in practice before carrying that speed into moto one, scoring the holeshot ahead of Andrew Short and Justin Barcia.
Roczen's only mathematical threat to the championship Eli Tomac suffered a disastrous start, crashing hard on the opening lap and remounting all the way back in 39th place. The red plate holder continued to pull away out in front ultimately leaving the others to battle it out for the minor positions.
Barcia and Marvin Musquin settled into second and third with the Frenchman moving into second place after a tremendous battle on lap nine. Kawasaki's Eli Tomac had climbed through the field to crack the top ten but little could be done to stop the dominance of Roczen in front. The German claimed his 17th moto win of the season by a staggering 16 second over Musquin in second and Barcia third. Tomac would climb as high as sixth to keep his very slim championship hopes alive.
In moto two, Matt Bisceglia was a surprise holeshot victor ahead of Short and Roczen. A few laps later and the championship leader once again had the race lead. Short fell victim to Tomac and Barcia who would begin to play out an entertaining battle for third.
Roczen remained unchallenged for the lead, scoring a convincing victory 20 seconds ahead of Tomac in second. The emphatic win, also provided another reason to celebrate with the Suzuki rider claiming his second 450 Motocross Championship title in three years.
"The Soaring Eagle/Jimmy John's/Suzuki Factory Racing machine has been working great all year. There are so many people I have to thank – my team, my family, my girlfriend and my trainer. We finally made it," said Roczen. "I don't really know what more to say right now. We have such a solid program that I'm just really happy with."
Justin Barcia finished second for the round with a consistent 3-3 scorecard while Musquin rounded out the podium in third after a strong 2-4 performance.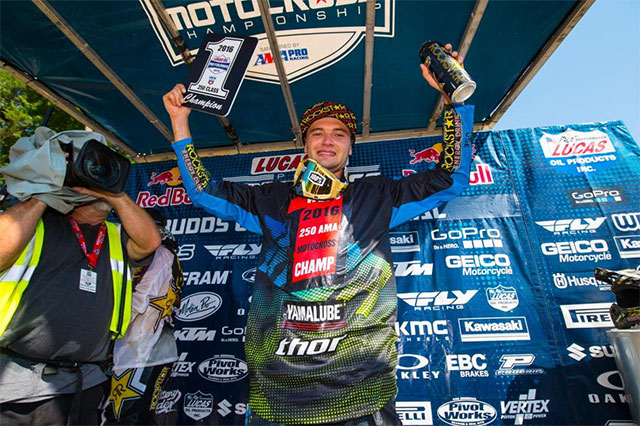 In 250 racing, Yamaha's Cooper Webb had a similar chance to wrap up the championship title a week early and he would do just that. Unfortunately for Webb it was not in the convincing fashion that Roczen displayed after a nasty first turn crash saw the youngster struggling deep in the pack. A second crash in the moto left him crossing the line in 26th place, a disappointing finish for someone of his standard.
Alex Martin would take moto one victory with a classy display, withstanding a late challenge from Adam Cianciarulo. Kawasaki's Joey Savatgy would cross the line in third followed by Zach Osborne and Austin Forkner.
In moto two, Webb would enjoy a much better race, finishing in third place just behind rookie Forkner and second time winner Osborne.  The overall classification ended in a tie between Martin and Osborne yet a higher finish in moto two saw Osborne handed his debut round victory from  53rd starts.
"My team rallied. We had a tough weekend last weekend with two DNFs and the past few weeks have just been tough for us," said Osborne. "I've worked at this a long time. I almost won a moto here at Budds Creek in 2006 and it started a lot of issues for my career. It's ironic and wholly gratifying to win here. I don't really even know what to say. I can't even come to terms with it, it's just an unbelievable feeling."
A fifth place finish was enough for Webb to secure the 250 Motocross Championships for 2016.
"I don't know what to say. I honestly didn't think I would be here at the start of the season with this [wrist] injury and everything like that, so to be able to do this in unreal, especially in front of my home fans and the home crowd," said Webb. "Unfortunately it wasn't the day we wanted [on the track], but we made it happen. That's what champions are made of. You get knocked down and get right back up. We showed them [the 250 Class field] how to do it." 
Alex Martin looks to be favourite for second place in the 250 Championship as he leads Savatgy by 23 points heading into the final round next weekend in Indiana.
Lucas Oil Pro Motocross Championship – GEICO Motorcycle Budds Creek National – Round 11 of 12 
450 Class Overall Results (Moto Finish)
Ken Roczen, Germany, Suzuki (1-1)
Justin Barcia, Monroe, N.Y., Yamaha (3-3)
Marvin Musquin, France, KTM (2-4)
Eli Tomac, Cortez, Colo., Kawasaki (6-2)
Phil Nicoletti, Cohocton, N.Y., Yamaha (4-6)
Dean Wilson, Scotland, KTM (5-5)
Fredrik Noren, Sweden, Honda (8-7)
Andrew Short, Colorado Springs, Colo., KTM (7-9)
Benny Bloss, Oak Grove, Mo., KTM (11-10)
Anthony Rodriguez, Venezuela, Kawasaki (10-11)
450 Class Championship Standings
Ken Roczen, Germany, Suzuki – 534
Eli Tomac, Cortez, Colo., Kawasaki – 458
Marvin Musquin, France, KTM – 365
Justin Barcia, Monroe, N.Y., Yamaha – 316
Christophe Pourcel, France, Husqvarna – 217
Benny Bloss, Oak Grove, Mo., KTM – 204
Phil Nicoletti, Cohocton, N.Y., Yamaha – 201
Andrew Short, Colorado Springs, Colo., KTM – 189
Justin Brayton Fort Dodge, Iowa, KTM – 173
Broc Tickle, Holly, Mich., Suzuki – 171
250 Class Overall Results (Moto Finish)
Zach Osborne, Abingdon, Va., Husqvarna (4-1)
Alex Martin, Millville, Minn., Yamaha (1-4)
Austin Forkner, Richards, Mo., Kawasaki (5-2)
Adam Cianciarulo, Port Orange, Fla., Kawasaki (2-5)
Cooper Webb, Newport, N.C., Yamaha (6-3)
Aaron Plessinger, Hamilton, Ohio, Yamaha (8-6)
Justin Hill, Yoncalla, Ore., KTM (10-7)
Mitchell Oldenburg, Alvord, Texas, KTM (11-10)
Joey Savatgy, Thomasville, Ga., Kawasaki (3-34)
Chris Alldredge, Powell Butte, Ore., Kawasaki (12-11)
250 Class Championship Standings
Cooper Webb, Newport, N.C., Yamaha – 457
Alex Martin, Millville, Minn., Yamaha – 384
Joey Savatgy, Thomasville, Ga., Kawasaki – 361
Austin Forkner, Richards, Mo., Kawasaki – 331
Jeremy Martin, Millville, Minn., Yamaha – 321
Aaron Plessinger, Hamilton, Ohio, Yamaha – 313
Zach Osborne, Abingdon, Va., Husqvarna – 296
Adam Cianciarulo, Port Orange, Fla., Kawasaki – 235
Mitchell Oldenburg, Alvord, Texas, KTM – 215
Arnaud Tonus, Switzerland, Kawasaki – 213