Yamaha Motor Australia is excited to announce the release of a brand new large capacity fuel tank to suit a wide range of popular new Yamaha off-road machines.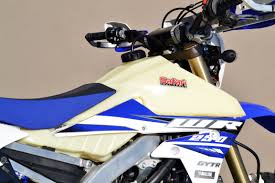 Boasting 15 litres capacity, the new fuel tank is entirely Australian designed and manufactured by leading Australian brand Safari Tanks. The new tank offers a huge increase in fuel capacity over the standard fuel tanks – double! – thus delivering a corresponding increase in fuel range, allowing owners to ride harder, for longer, between fuel stops.
Designed to closely replicate the standard bike's ergonomics, the new tank replaces the standard air box cover but retains the standard radiator shrouds. Air flow to the radiators is not affected.
The tank is available in Clear or Grey finishes and is supplied with mounting hardware and instructions.
The new fuel tank fits the following Yamaha models:
– 2016 Yamaha WR450F
– 2016 Yamaha YZ450FX
– 2015-2016 Yamaha WR250F
– 2015 Yamaha YZ250FX
– 2014-2016 Yamaha YZ250F
– 2014-2016 Yamaha YZ450F
Part numbers and RRP as follows:
2GB-24110-15-CL – Safari Tank 15L Clear – $649
2GB-24110-15-GY – Safari Tank 15L Grey – $649
The 15 litre fuel tank is now available at authorised Yamaha dealers and via the YShop online store: http://yshop.yamaha-motor.com.au