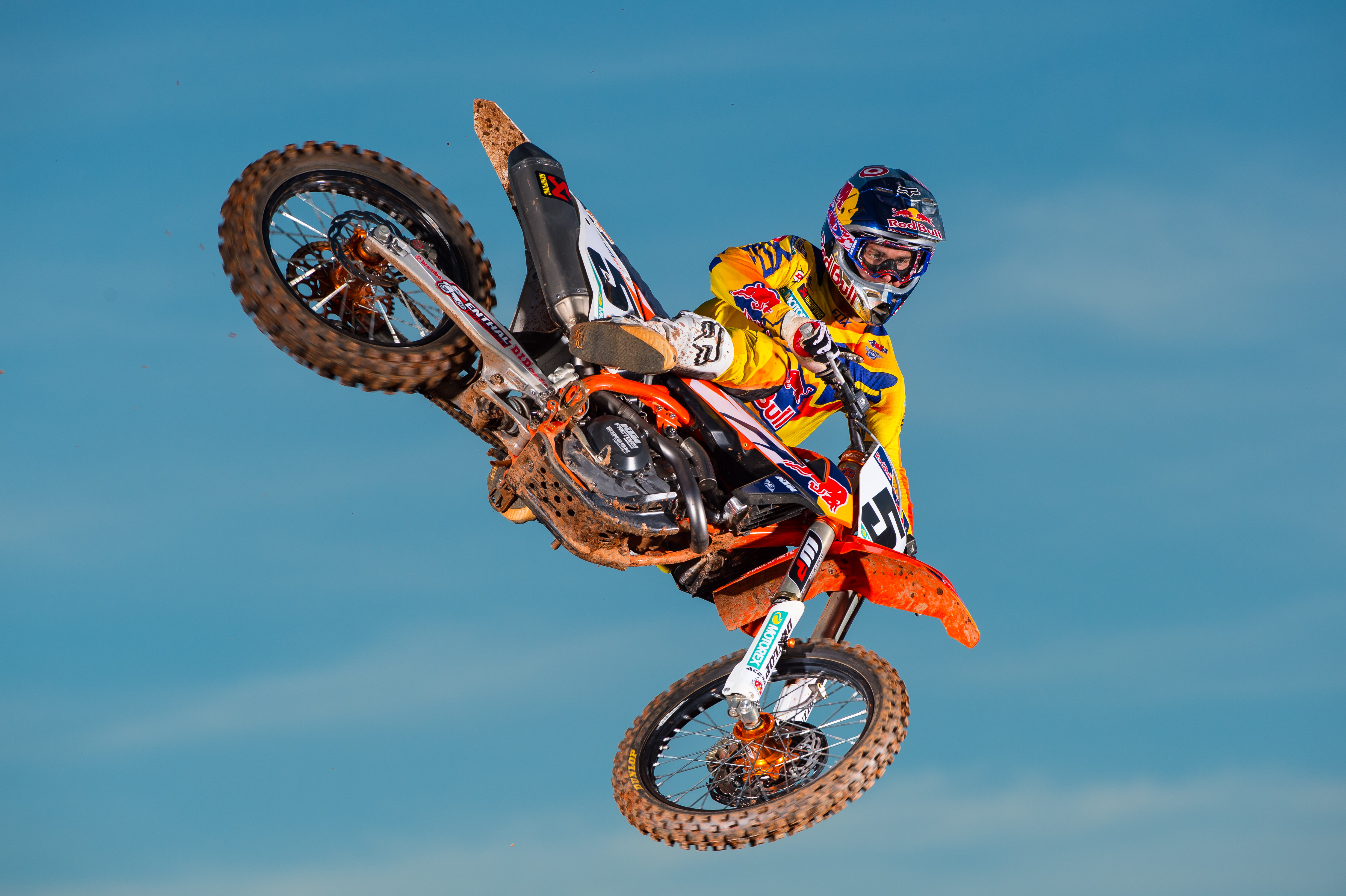 Utah was host to the 2015 Lucas Oil Pro Motocross Championships over the weekend which saw Red Bull KTM's Ryan Dungey win his third 450 class title in six seasons.
Story by Hayden Gregory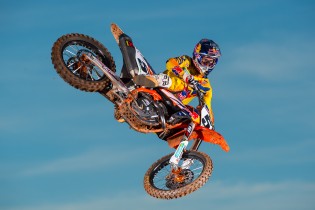 Dungey completed his sixth win of the season with an undefeated day at Miller Motorsports Park, his first career victory at the venue. Dungey's performance has given him an unassailable 93 point lead heading into the final round of the championship.
"This is absolutely a dream come true, to be a champion. This is what you work so hard for but more than anything it takes a strong group around you, with the team, family, trainer and everything," explained Dungey.
The battle for second and third places remains tight with Justin Barcia currently leading Ken Roczen by five points. The two have been highly competitive for the entire season and we look forward to the clash continuing into the final round.
Despite the current standings, Roczen finished second in the round edging out Barcia in third.
In the 250 class, defending champion Yamaha's Jeremy Martin claimed his fifth win of the season to hold onto a slim two-point lead in the championship standings.
Second placed KTM rider Marvin Musquin cruised to the first win of the day ten seconds ahead of Cooper Webb. Despite starting outside the top 20, Martin incredibly fought back to finish in third with the help of a crash on the last turn by RJ Hampshire.
With all three overall riders there abouts, the stage was set for an exciting final moto. Webb looked determined early on passing Musquin on the first lap before the attention turned to Martin who was flying through the field.
Following a small mistake by Musquin, Martin was able to capitalise making the pass into second place on the eighth lap. Before long, Martin had also reeled in Webb to take the lead and ultimately pull away from the pack. Martin was unable to be chased down, winning the race by eight seconds over Webb with Musquin finishing in third.
"My bike was on point today, but things didn't go how I planned in the first moto off the gate," said Martin. "But I knew I had to make it up [to the front] and I was able to. [RJ] Hampshire crashing on the last lap definitely helped [me finish third].
"In the second moto I got to the front initially, but then we had the red flag. My restart didn't go as planned but I just knew I had to catch that KTM [of Marvin Musquin], and we were able to get all the way up there and grab the win. It's definitely coming down to the wire [for the championship]."
The equal results from Martin(3-1) and Musquin (1-3) have ensured they remain tied atop of the overall standings. All eyes now move to the final round next weekend at Ironman Raceway in Crawfordsville, Indiana.
2015 Lucas Oil Pro Motocross Championship
Round 11 – Miller Motorsports Park, Utah
450 Class overall results:
| | |
| --- | --- |
| 1st | Ryan Dungey (1-1) |
| 2nd | Ken Roczen (2-2) |
| 3rd | Justin Barcia (5-3) |
| 4th | Blake Baggett (4-4) |
| 5th | Broc Tickle (3-7) |
| 6th | Trey Canard (7-6) |
| 7th | Dean Wilson (10-5) |
| 8th | Josh Grant (8-8) |
| 9th | Christophe Pourcel (9-9) |
| 10th | Phil Nicoletti (12-10) |
450 Class championship standings:
| | |
| --- | --- |
| 1st | Ryan Dungey – 500 |
| 2nd | Justin Barcia – 407 |
| 3rd | Ken Roczen – 402 |
| 4th | Blake Baggett – 333 |
| 5th | Christophe Pourcel – 291 |
| 6th | Broc Tickle – 287 |
| 7th | Jason Anderson – 283 |
| 8th | Phil Nicoletti – 229 |
| 9th | Weston Peich – 223 |
| 10th | Fredrik Noren – 206 |
250 Class overall results:
| | |
| --- | --- |
| 1st | Jeremy Martin (3-1) |
| 2nd | Marvin Musquin (1-3) |
| 3rd | Cooper Webb (2-2) |
| 4th | Aaron Plessinger (4-4) |
| 5th | Matt Bisceglia (6-6) |
| 6th | Zach Osborne (9-5) |
| 7th | RJ Hampshire (7-7) |
| 8th | Alex Martin (8-8) |
| 9th | Joey Savatgy (5-11) |
| 10th | Jessy Nelson (11-9) |
250 Class championship standings:
| | |
| --- | --- |
| 1st | Jeremy Martin – 461 |
| 2nd | Marvin Musquin – 459 |
| 3rd | Joey Savatgy – 310 |
| 4th | Zach Osborne – 305 |
| 5th | Jessy Nelson – 288 |
| 6th | Alex Martin – 287 |
| 7th | Aaron Plessinger – 264 |
| 8th | Shane McElrath – 228 |
| 9th | Matt Bisceglia – 225 |
| 10th | Cooper Webb – 221 |