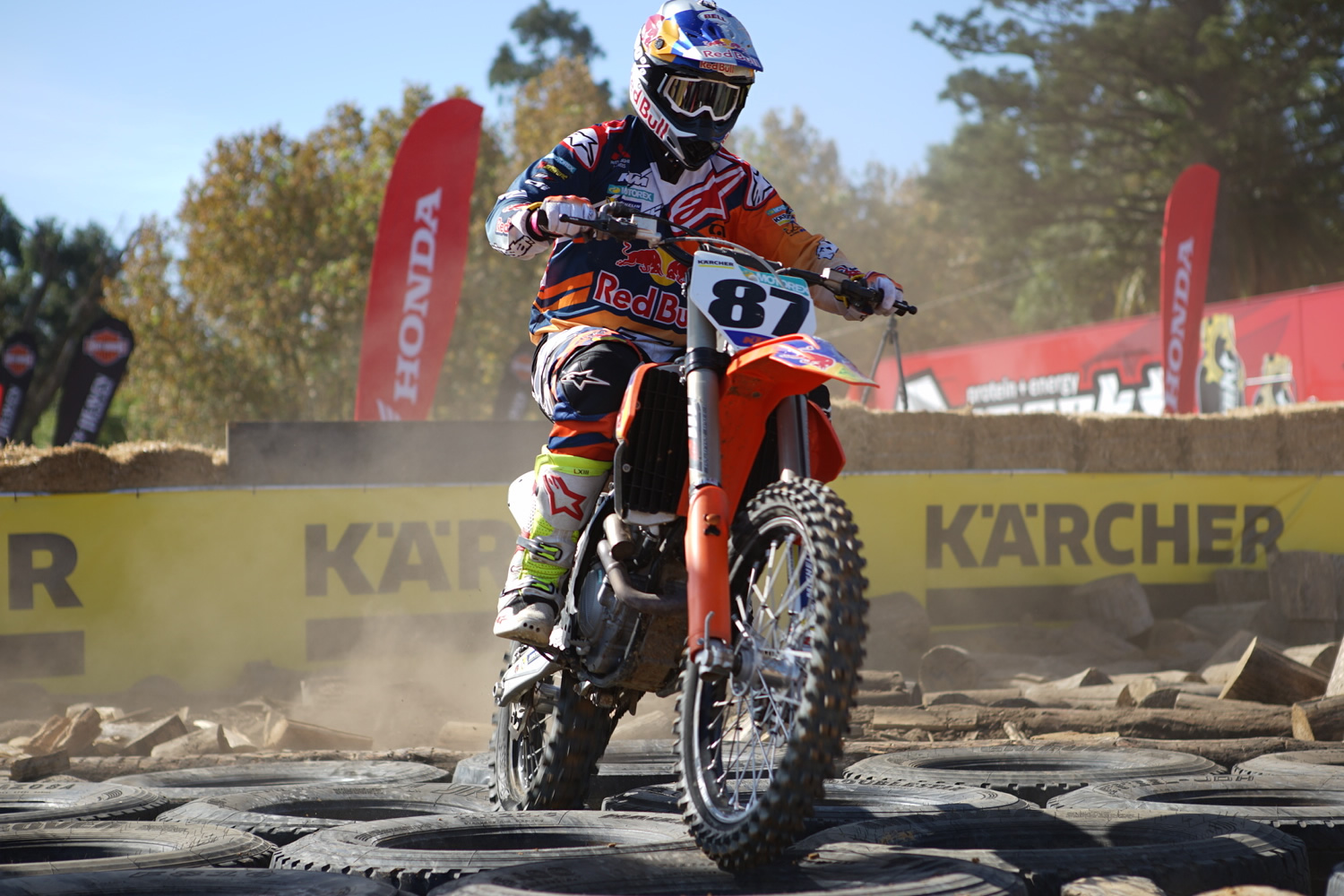 Toby Price has reached the podium on two wheels and four at the Adelaide Clipsal 500.
By Hayden Gregory
The 2016 Dakar champion was a very busy man on the weekend racing both the Enduro-X Cup and the Stadium Super Trucks competition. This was in between stints at the pits where his autograph was in high demand from all motoring revellers.
The Red Bull KTM  athlete finished runner up to Mitch Harper in the Enduro-X Cup before then going on to impress in the Super Trucks, claiming another podium.
"It was a flat out program but we got through it, definitely feeling pretty worn out today," Price said.
"The Clipsal 500 people offered the idea to put an Enduro-X there and I think the show turned out pretty good. The crowd response was good so hopefully we've started something pretty good.
"I was really looking forward to racing the Stadium Super Truck, so I definitely didn't want to crash on the motorcycle and throw away my driving the truck, plus I've got the first round of the World Rally Raid Championships coming up in Abu Dhabi in April so we needed to play it smart on the bike.
"I got through as best I could, and got to podium both on the bike and in the Stadium super truck, which I feel pretty dam pumped about, for the weekend.
"On day three we had a little bit of drama, one of the boys tagged me on the rear and spun me out so it was a bit of a bummer with that, but that's the way it goes, I'm still learning in the truck. For my very second drive and race, some of the boys said I had done a pretty bad-arsed job, because I was on the pace and faster than most of them. So hopefully that will lead to more drives.
"On the bike my starts let me down a little bit and I had to try and come through, but all the boys were riding really fast. I didn't even get onto an enduro cross track before the event, basically got the bike set up on the Wednesday before it came down here so it was all last-minute preparations for me. So to finish second on the main night was pretty cool, and I'm stoked to come away with podiums in both disciplines." 
The Clipsal 500 was a great showcase for Enduro-X giving our athletes a chance to perform in front of a massive crowd while also soaking up the experience of a huge moto event.