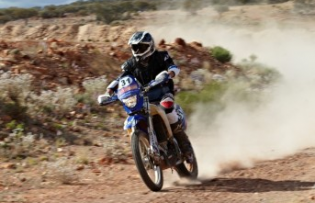 Despite a long and challenging day in the West Australian outback, the Yamaha supported duo of Rod Faggotter and Shane Diener continue to fight on and find themselves well entrenched in the top 10.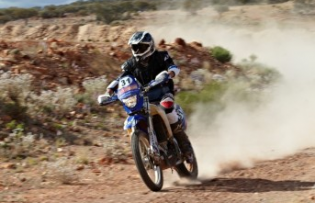 As day two of the 2011 Australian Safari wound its way from Mount Magnet to Sandstone, some 350 kilometres of racing, it wasn't without some drama and tension as the Yamaha team battled timing issues, crashes and injury.
Shane Diener made his presence felt on day two climbing several spots to finish the day fourth on the road and within eight minutes of the overall motorcycle lead. But all wasn't rosy for Diener as he was slapped with a time penalty before getting it reversed when a transport section was mistimed. Diener and a follow competitor were issued 30 minute penalties in the morning stage but that decision was overturned when the error in timing was found.
Diener motored to a third place finish in the afternoon session and now sits in an impressive fourth place  hoping to continue his climb up the leader board.
"I wasn't overly concerned about the original time penalty as I knew I hadn't done anything wrong. So I kept my mind on the job, stayed on the bike and kept trying to peg back the guys in front of me."
"Fourth on day two means I have made a solid start to the event, but there is plenty of riding and racing still to come so myself and the crew have to keep focus all the way to the finish if we want to win," Diener states.
Day two wasn't without its drama for Rod Faggotter either. Faggotter crashed heavily in the morning ride, injuring his hand and taking a good hit to the head. The tough Queenslander dusted himself off, picked up his bike and soldiered on to finish the day in seventh place.
"My hand doesn't feel too good and I'm not exactly sure what I have done to it. But I finished the day and plan on racing tomorrow so I just have to put it out of my mind and keep on rolling," Faggotter says.
"I'm not really sure how I even crashed. I know I ended up running off the trail and getting my hand stuck between my handlebars and Barkbusters so that's what caused the pain. But I must have hit something to end up off the trail," he ends.
Day three will see the riders go from Sandstone to Laverton. The course is well over 500kilometres making it the longest day in the saddle for the riders in the 2011 event.
Race Standings – Day Two
1st Todd Smith (Honda)
2nd Jacob Smith (Honda)
3rd Ben Grabham (KTM)
4th Shane Diener (Yamaha)
5th Matt Fish (KTM)
6th Cyril Despres (KTM)
7th Rod Faggotter (Yamaha)
8th Damien Grabham (Husberg)
9th David Schwarz (Husberg)
10th Ben Williams (Honda)