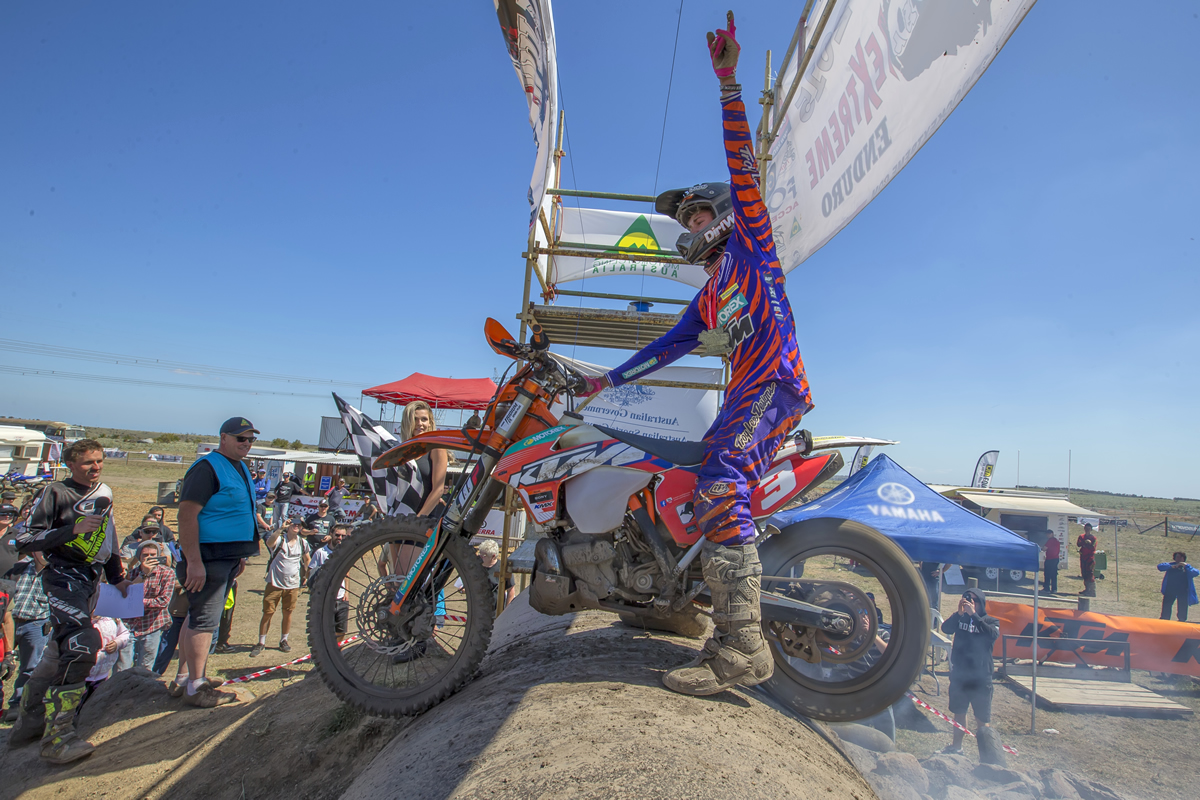 KTM's Daniel 'Chucky' Sanders has trumped the field to finish just ahead of teammate Matthew Phillips in securing the 2015 crown.
By Hayden Gregory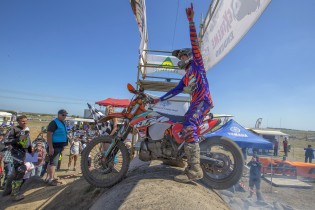 21 year old Sanders can add the enduro win to his E3 World Championship that he claimed earlier this year at the ISDE in Slovakia. Chucky powered off to a good start in the race before being challenged by Englishman Ben Hemingway. Not one to back down Sanders got on the throttle to recapture the lead and chase clean air all the way to the finish line. In a very impressive showing the Australian went on to win the title almost five minutes ahead of closest rider Phillips.
"It's the hardest race in Australia, a good challenge, and somehow I had fun out there, just because of the challenge aspect," Sanders said. "It's not really a race; you just soldier on through it. There were some big names there so it was good to beat them, and see that my fitness was right up there. I'll keep working on it over the off-season, it helped me to know where my weaknesses are and it will help the next year I reckon.
"I was winning it from the start, then Ben Hemingway led from the second lap, and then I passed him just before the third, so it is good to lead from there. I just had to concentrate so hard, and then the sun ended up coming out and started cooking my brain. A tough race.
"The bike was unreal, straight off the four-day Mick and Grabbo had to build it up, with all the protection, radiator braces and pipe guards disk protectors. And boy did I test the crash protection today, it went through hell today, she was upside down at times, everyone had some carnage at some point, and on the nasty hill you could be off the bike five times in 50 metres!"
Second placed Phillips was a late inclusion for the race after deciding to compete despite being nearly a month in to his off season. The spontaneous decision and lack of preparation did not seem to affect the former Wildwood winner who also posted the second fastest time in the competitions Prologue.
"We were having a bit of a relax in the shed on Friday night and decided at the last minute to come over and give it a crack," Phillips explained. "There's been no training build up – I've been at home doing plumbing so I've been pretty busy, but Dad was keen to go and it was a good chance to go to a race with him and the crew, so got off the boat this morning and went out to the track and got straight into it.
"I started off a little bit tight and lethargic, but I started getting the hang of it and had a good day. Chucky was just strong all day, he led from start to finish and looked really good so I'm really happy seeing him win.
"My run was all right, I had a bit of trouble in the rock garden but my bike ran very well and I had a good crew with me today with family and friends so it was a good fun day."
Third place was taken by another former Wildwood winner, Mitch Harper.
"Pretty stoked with how I went," Harper commented. "I haven't been riding all year because I haven't had a bike, so to come in 2 minutes behind Phillips who has been racing the World Enduro Championships all year after three hours is good. The guys who have been racing all year, their fitness has been right up and they've been in the know, so I reckon with more training I could do well.
2015 Wildwood Rock Extreme Final Results
1 Daniel Sanders,
2 Matt Phillips,
3 Mitcham Harper,
4 Ben Hemingway,
5 Broc Grabham,
6 Robert Nowak,
7 Chris Perry,
8 Dan Hemingway,
9 Tom Scott,
10 Ruben Chadwick,
11 Lachlan Stanford