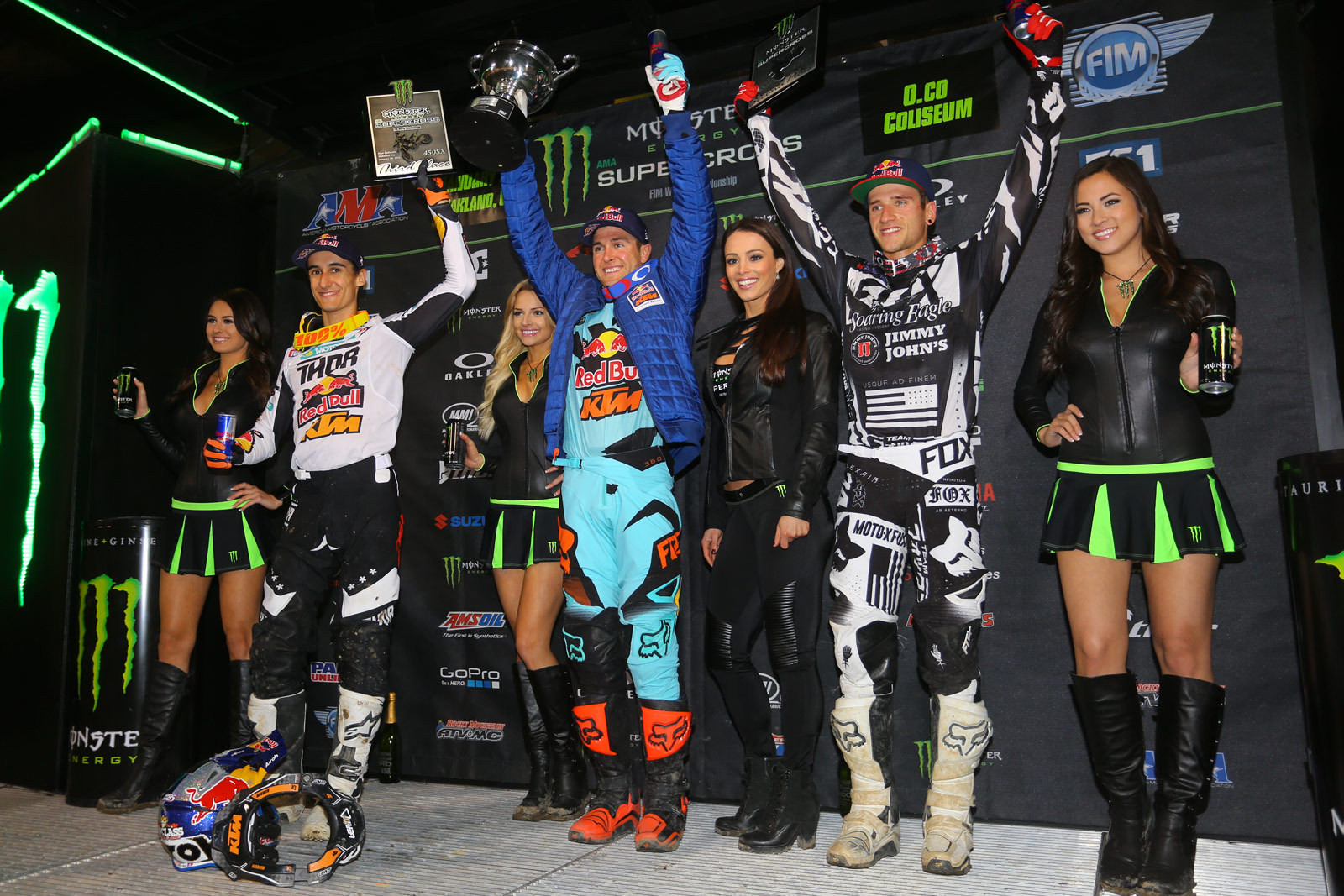 We hear from the stars of the show.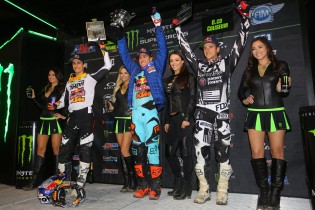 Ryan Dungey: (1st SX1) "It feels great to get another win. Being out front early allows me to ride my own race and stay focused. I am really happy for my teammate Marvin tonight. This is a big step for him to get his first podium of his 450 career. We train really hard together and I'm happy for him and the team to have us both on the podium."
Ken Roczen: (2nd SX1) "We're making steps in the right direction. I've been working really hard on my starts. We made an adjustment to the clutch, which seemed to work a lot better for me on the starts. I didn't get the holeshot but I was still somewhere up front and it felt really good not to get blasted [by dirt] the whole time.
"I have to give it up to Ryan [Dungey]. Three in a row is hard to do, especially with how deep the field is. He's been on point with his starts and doesn't make any mistakes. Bottom line is that he's doing really good at the moment. Last weekend we were third, now we're second. We're moving in the right direction."
Marvin Musquin: (3rd SX1) "Yeah, I actually started in third I think and then I got inside of [James] Stewart. I really wanted to get into second place right away to follow Ryan. I was like "here we are". (laughs) That was a good feeling. I was just happy to be right behind Ryan and I was even thinking about the team when I was riding. Roczen put a lot of pressure on me—obviously he was faster—and he passed me. I tried to hold on to third place and they weren't catching me from behind, so it was great. I made some mistakes and tightened up a little, but I tried to be consistent. I was actually by myself, so it was actually like training. It was a long main event for me and I was waiting for that white flag. (laughs) To get third, I'm pumped for the team and everyone that works for me.
Jason Anderson: (4th SX1) "I rode great this weekend. I came out with a 4th in the main. If I could just get a good start I could be battling for a spot on the box. I had a little bit of a sketchy moment with Reed on the double triple double. I thought he was going to go triple and I clipped his back tire and almost looped it. All in all I came out fourth so it's not a bad deal. I'm just going to keep moving forward."
Cole Seely: (6th SX2) "Yeah, a sixth is still a sixth. In a stacked 450 class, it is what it is. At the same time, I was in fifth and it took me a little bit longer than I wanted to get around [James] Stewart. Once I got into fourth it was such a big gap up to [Marvin] Musquin. I was trying to focus forward, but I was fighting myself, the bike, the track; I was fighting a lot of things. I went as hard as I could, for as long as I could and those guys [Jason Anderson & Chad Reed] were applying the pressure. I tried not to let it get to me and once Anderson threw a wheel in on me, I really didn't have any more after that. I had to just kind of lay down and take it—it sucked. We're going to go back, study the footage and see what we can make of it."
Eli Tomac: (7th SX1) "The day was up and down for me. We couldn't quite figure out bike set up on tonight's track which fought against us all day. Although, once the night show came around and we took the win in the first heat, I felt really good and was ready to drop the gate of the Main Event. Unfortunately, a small mistake getting out of the gate held us back from our goal. The team and I will continue to work and come back in Phoenix rejuvenated."
Wil Hahn: (10th SX1) "Overall, tonight was a huge improvement. My starts have improved which made my life a little easier in the Main Event, although my aggression was not quite up to par with my competition. We're going to continue to put our head down and keep improving every weekend.
Joey Savatgy: (1st SX2) "It's starting to settle in a little bit. A lot of it for me feels overdue. We've had the speed for a while, but I just I haven't put it together. We put ourselves in a good position last weekend, but I made an unfortunate mistake and went down—you can't win when you're on the ground."
"I put myself in another good position tonight with a good start in the main, and I was in the position to possibly win. Overall, I felt good. We were riding good and we were right there on Cooper's [Cooper Webb] rear wheel. I tried to stay there, but he got away in the middle of the race. I had a shifter problem from when I hit the haybale and I was stuck in second gear from lap six until the end. The man up above had this plan for me, we got the win and the red plate which is always a bonus (laughs). I have nothing to say, I'm happy."
Colt Nichols: (2nd SX2) "I passed Jordon Smith, then I'd seen that Christian Craig had fell. Right after that, I started to reel in Alex Martin a little bit and once he crashed, a lap after that I looked at the leaderboard to see how many laps we had left and it said we had eleven laps and I happened to see the big #69 was in third place. I was like, "No way, I'm going to podium!". Then I say that Coop's [Cooper Webb] bike had problems and I was like, "I'm in second place. This is unreal". Honestly, after that were the worst few laps I've ever rode. (laughs) I rode so bad, I made little mistakes, I got tight, but I guess that's expected for the first time. Now that we got that out of the way, I'm looking forward to next weekend to keep the ball rolling. My confidence is starting to build to I think where it needs to be, and everything is coming together for me."
Christian Craig: (3RD SX2) "I thought tonight was my night to win. Worked on my starts last week and was confident on those. I pulled the holeshot in the heat race, but Cooper [Webb] was just on another level there, he got around me. In the main event I knew I had to get a good start and just try to run away with it. I ended up pulling the holeshot there, my first holeshot in a main event, ever, so I was pretty happy with that. Just focused on myself and tried to pull away as fast as possible, and on lap five I threw it away in a corner all by myself. That was it. Went back to sixth, fought my way back up. After holeshotting, I thought I could finally do it. Unfortunately, mistake on my part, but I learned. I know I can win now, it's all just a matter of putting it together."
Mitchell Oldenburg: (4th SX2) "Tonight I finally felt like my speed really showed out there on the track. We've been working really hard and I can't wait to get back out there next week."
Zach Osborne: (5th SX2) "I started the night by crashing in my heat race. It was a tough night. I actually got a decent in the main, but ended up making an impatient pass and went down on the third lap. I came back to fifth. It's a little bit of a bummer because I could have taken advantage of Cooper's misfortune. I'm now only five points out of the points lead instead of 18th, which is where I was coming into this round, so it's not that bad. I just have to keep charging."
Jake Weimer: (8th SX2) "It was a good night,. A lot changed last week. In the heat race, I missed out from transferring straight into the main by one spot so I had to come through the semi. I got the holeshot in the semi, which was cool, had just a few mistakes but got into the main."
Jimmy Decotis: (9th SX2) "I struggled a little bit in practice and the heat, really struggled in the main event. Just couldn't get in a flow. So I'm going to regroup and get ready for next weekend, that's really all I can do now. Go punish myself in the gym this week, make up for it and get ready for next weekend."