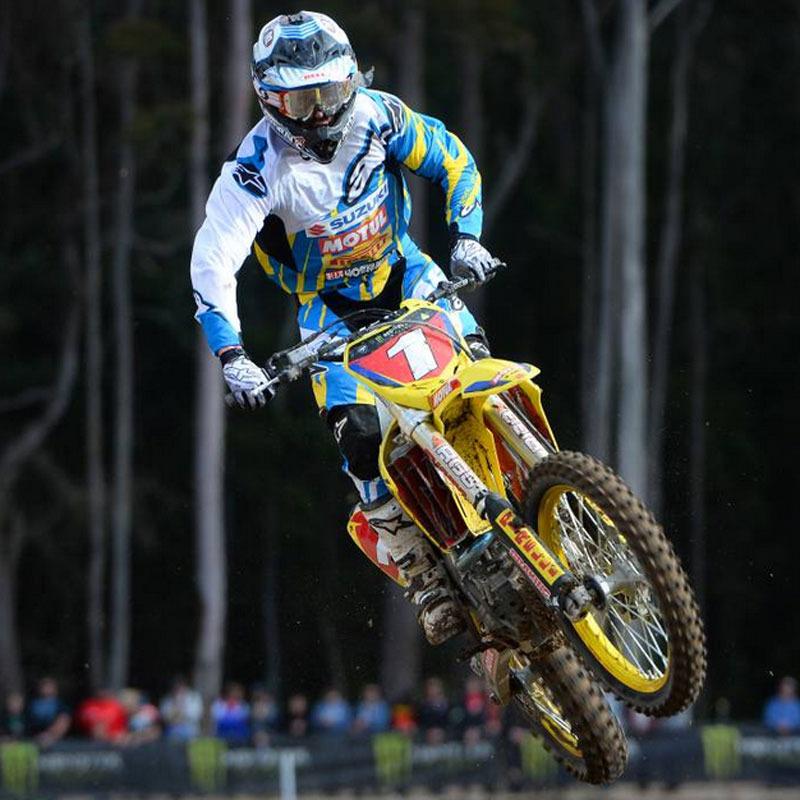 Moss increases lead, Wright records career first moto win
FOR IMMEDIATE RELEASE
3 August 2014: Raymond Terrace, Victoria
Motul Pirelli Suzuki's Matt Moss has well and truly kept his 2014 MX1 championship dreams alive – taking top spot on the podium at round eight of the Monster Energy MX Nationals at Raymond Terrace.
Moss was undoubtedly back to his old tricks in the Monster MX1 class, taking race wins in the first two motos and second place in the last, to wrap up his first overall win since round two of the series in Appin.
Go Pro Super Pole was taken out by CDR Yamaha's 19 year old guest rider Jacob Wright in spectacular fashion. The Yamaha rider also managing to take second spot on the podium for the day with a second, seventh and a career first moto win, ahead of team mate Billy Mackenzie (third, second, eighth).
KTM Motocross Race Team's Kirk Gibbs took fourth for the round, ahead of DPH Motorsport privateer Kade Mosig who finished the day in fifth.
Moto one saw a battle for the holeshot between Mackenzie and Berry Sweet Husqvarna's Brock Winston – Mackenzie managing to make the start stick and was the first bike through turn one.
However, Mackenzie's lead was only short lived as Moss managed to get by him on lap two and snatch the race lead.
Wright also managed to apply the pressure on Mackenzie, and impress new team manager Craig Dack – successfully passing his teammate on lap eight and launching Wright into second position behind Moss.
NPS Monster Energy Kawasaki rider Jake Moss went down on lap nine, pulling into the mechanics area and unable to return to racing in moto one.
In the final stages of the opening moto it was Matt Moss, from Wright, Mackenzie, Gibbs and Mosig in fifth – all within striking distance of each other and racing to the chequered flag.
When the flag flew on moto one, Moss crossed the line first collecting maximum points, and further extending his championship lead. Wright and Mackenzie crossed the line in second and third, while Gibbs and Mosig took fourth and fifth respectively.
In moto two, first out of the gate was race one winner Matt Moss followed by brother Jake Moss and CDR's Jacob Wright.
It was a move out of spectator vision that saw Mackenzie come from nowhere to take the race lead from Moss directly after turn one, which he would then hold for the majority of the moto.
Wright, was unable to hold his third position – after making a mistake on lap three that forced him back into seventh – a mistake that would not see him gain another place for the remainder of the moto.
While Mosig again showed his dominating form, passing (Jake) Moss who had moved into the gap left by Wright – (Mosig) settling into third position by lap three.
However the battle between Mosig and (Jake) Moss was not over. The fight for positions would continue for another fifteen minutes before the two would cement their final placings.
NPS Monster Energy Kawasaki's Adam Monea managed to find his form in the latter stages of the second moto; coming from fifth to pass Mosig and team mate Jake Moss before moving into third position on lap nine.
But yet again, crowds saw Matt Moss get by the Yamaha machine of Mackenzie – this time with only two laps of the moto remaining, making any late charge from the Scotsman close to impossible.
At the conclusion of moto two, Suzuki's Moss took his second race win for the day ahead of Mackenzie, who finished in second place followed by Monea taking third.
After a long battle to the finish, Mosig managed to take an impressive fourth ahead of Jake Moss who crossed the line in fifth.
The third moto of the day was where a fairytale came to life. Wright took a huge hole shot which kick-started him to his first ever MX1 race win.
Wright was followed by Raceline Pirelli Suzuki fill in Hayden Mellross, whose inexperience at the front of the pack would see him fade from second to seventh throughout the moto.
Gibbs, who had a less than satisfying opening two motos, managed to make the pass on Mellross and slot into second position on just lap two – setting himself up for his most impressive ride of the day.
Mackenzie, who had been sitting in third, stalled the bike in the last corner before the finish, which saw eight riders get by him. Leaving him in 11th position, and fighting to make up time before the 20-minute moto was over.
At the halfway point in moto three, Wright's lead had increased to close to four seconds over Gibbs, Matt Moss, Jake Moss, and DPH's Mosig rounding out the top five.
A mistake on the final lap meant Gibbs dropped back from second to fourth, removing all pressure from race leader Wright.
Wright comfortably maintained his lead all the way until the end. Flying across the finish line with both hands punching the air, and a smile that was visible even under his helmet.
Suzuki's Moss finished the moto in second position, which secured his round eight overall win ahead of brother Jake who took out third.
Gibbs crossed the line to come home in fourth ahead of Mosig in fifth.
With results at Raymond Terrace swinging heavily in Matt Moss's favour, the reigning champ extended his lead to a comfortable 40 points ahead of Gibbs, and 82 points ahead of Mackenzie with two rounds of the championship remaining.
The series now heads to Gladstone in Queensland for round nine, which takes place on August 24.
For a full list of results, visit www.mxnationals.com.au
MX1 CLASS:
MX1 Superpole:
1) Jacob Wright – 1:57.109 (5 points)
2) Billy Mackenzie – 1:57.183 (4 points)
3) Jake Moss – 1:57.857 (3 points)
4) Kade Mosig – 1:57.940 (2 points)
5) Matt Moss – 1:59.348 (1 point)
Round Results:
1) Matt Moss 102(35,35,32)
2) Jacob Wright 91(32, 24, 35)
3) Billy Mackenzie 85 (30, 32, 23)
4) Kirk Gibbs 81(28, 25, 28)
5) Kade Mosig 80 (26, 28, 26)
6) Adam Monea 77 (22, 30, 25)
7) Hayden Mellross 69
(25, 20, 24)
8) Sam Martin 66 (21, 23, 22)
9) Jesse Dobson 65 (23, 22, 20)
10) Joel Milesevic 62 (20, 21, 21)
Overall Championship Standings:
1) Matt Moss 653
2) Kirk Gibbs 613
3) Billy Mackenzie 571
4) Adam Monea 552
5) Jake Moss 479
6) Kade Mosig 468
7) Jacob Wright 460
8) Hayden Mellross 426
9) Sam Martin 391
10) Brock Winston 375
Photo Credit – Jeff Crow/Explorer Media
– ends –
Media Enquiries:

Andrew Weiss
: 0402 447 783

andrew@eskimomediagroup.com.au

www.eskimomediagroup.com.au