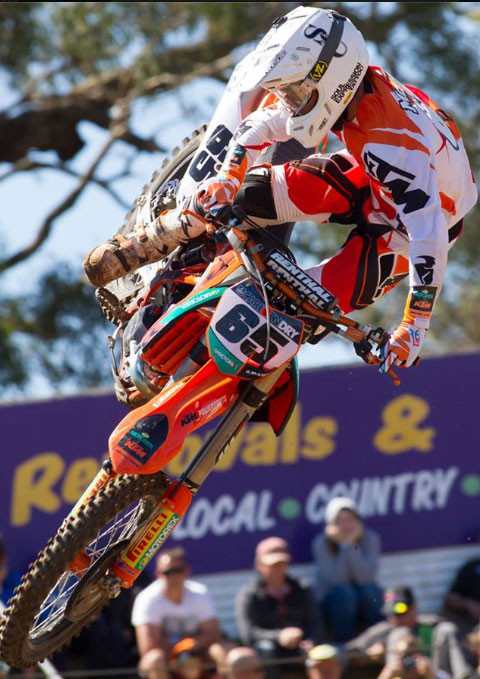 He gave it everything but Motorex KTM rider Kirk Gibbs was unable to give his home fans the show he wanted to at tonight's third round of the Australian Supercross Championship at Mt. Gambier in South Australia.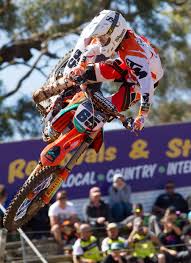 Gibbs crashed out of the night's main event and was taken to hospital with a possible punctured lung.
The race went to American rider Josh Hill from compatriot Weston Pieck with Jake Moss third.
Narrowly missing out on the podium was Motorex KTM's Daniel McCoy who was the fastest qualifier on the night, but was pushed wide at the first corner and had to come through the pack.
McCoy came from ninth through to fourth and was coming home like a train toward the podium finishers when the chequered flag fell.
In the SX Lites final Choice Motorsports KTM's Brenden Harrison made a welcome return to the podium finishing just 1.3 seconds behind winner Luke Styke, with Ryan Marmont third. Dylan Long (8th) and Kayne Lamont (9th) both grabbed top ten finishes while Tune Tech Racing KTM's Kale Makeham was unfortunate to suffer a shoulder injury in the first heat of the night.
The next round of the Milwaukee presents the Terex Australian Supercross Championships will be a double-header held at Victoria's Phillip Island circuit on October 18-20.
For more information visit www.ktm.com.au
SX-Open result Round 3, Mt.Gambier:
1. Josh Hill,
2. Weston Peick,
3. Jake Moss,
4. Daniel Mccoy,
5. Matt Moss,
6. Sam Martin,
7. Kade Mosig,
8. Jay Marmont,
9. Jacob Wright,
10. Hayden Mellross
SX-Open championship standings (after three of six rounds):
1. Matt Moss 66,
2. Jake Moss 62,
3. Weston Peick 58,
4. Josh Hill 56,
5. Daniel Mccoy 49,
6. Jay Marmont 48,
7. Kade Mosig 40,
8. Sam Martin 34,
9. Kirk Gibbs 31,
10. Lawson Bopping 28
SX-Lites result Round 3, Mt.Gambier:
1. Luke Styke,
2. Brenden Harrison,
3. Ryan Marmont,
4. Gavin Faith,
5. Taylor Potter,
6. Nickolas Sutherland,
7. Luke Arbon,
8. Dylan Long,
9. Kayne Lamont,
10. Tristen Cachia
SX-Lites championship standings (after three of six rounds):
1. Luke Styke 72,
2. Gavin Faith 65,
3. Ryan Marmont 58,
4. Luke Arbon 48,
5. Dylan Long 48,
6. Nickolas Sutherland 42,
7. Taylor Potter 40,
8. Kayne Lamont 39,
9. Brenden Harrison 31,
10. Kale Makeham 31