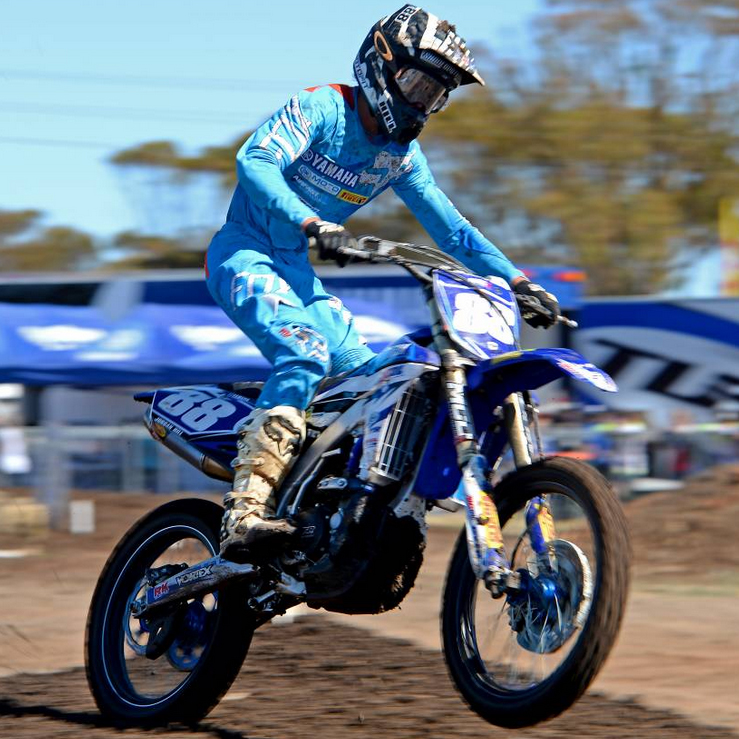 Hill takes round one victory in Pirelli MXD
FOR IMMEDIATE RELEASE
29 March 2015: Horsham, Victoria
The Pirelli MXD Class had their first outing for the year at a perfectly prepared Horsham track today, and despite only recording one official race, showed MX Nationals fans what the future of motocross looks like.
Being the third class out on an already rough a rutty circuit, the MXD class had their work cut out for them when they hit the track for their first moto of the day.
After claiming top qualifying position, the first MXD holeshot for 2015 also went to young gun Mitchell Evans – however his glory was short lived. After only one lap, Evans was forced to exit the race, pulling into the pits nursing his wrist and recording a DNF.
With Evans forced out of moto one, the opportunity for a new race leader was handed to Jordan Hill, Dylan Wilson, Jayden Rykers and Wilson Todd.
Todd made the most of Evans' misfortune moving quickly into the lead ahead of surprise second place holder, Yamaha mounted Jordan Hill.
However Todd was also unable to make the lead stick for more than five minutes, making a mistake that saw him drop back to fourth place handing Hill a comfortable lead.
With Hill now in full control of the first MXD moto for 2015, second place was taken on by fellow Yamaha rider Dylan Wilson, ahead of KTM's Jayden Rykers in third.
Hill celebrated as he crossed the line when the chequered flag flew, taking not only his first race win for 2015, but his very first senior racing victory. Wilson claimed second place deservedly ahead of Rykers who took out third position.
Race two for the MXD class got underway, however a critical incident saw the second moto red flagged, and the class did not return to the track for any further racing.
With the MXD class unable to complete moto two, round results have now been calculated based on moto one results only.
Williams Event Management will look to add an additional race to the MX Nationals program at one of the remaining nine rounds of the series, to ensure the MXD Championship is calculated correctly.
To check out how the rest of the Pirelli MXD class went today, and to re-watch all of the action from every race at Horsham, tune in on Wednesday night via www.nrgtv.com.au for all of the racing on demand!
Pirelli MXD round overall and Championship points
1) Jordan Hill – 35 points
2) Dylan Wilson – 32 points
3) Jayden Rykers – 30 points
4) Wilson Todd – 28 points
5) Wayde Carter – 26 points
6) Trent Wheatley – 25 points
7) Toby Stevens – 24 points
8) Jonte Reynders – 23 points
9) Bailey Coxon – 22 points
10) Connor Tierney – 21 points
For a full list of MX Nationals results head to www.mxnationals.com.au
Image – Jeff Crow/ Explorer Media
– ends –
Media Enquiries:


Misty Walton: 0448 725 229


misty@eskimomediagroup.com.au


www.eskimomediagroup.com.au