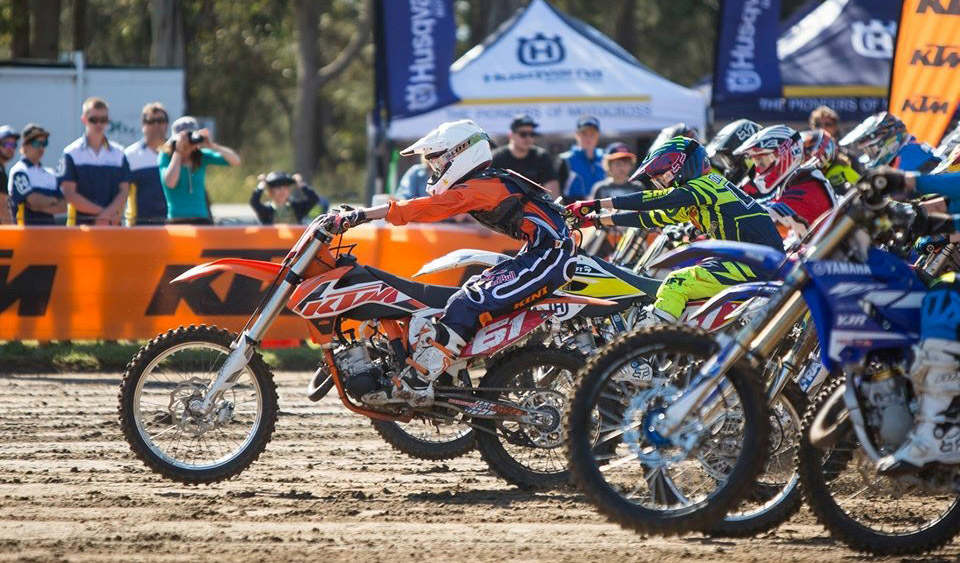 With the morning's races done and dusted, the afternoon crammed plenty of action into just a handful of races, once again seeing Australia's up and coming stars impress in challenging conditions.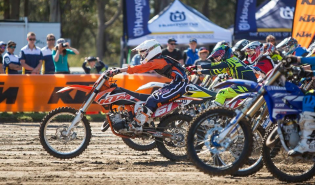 65cc Solo 11 years
As racing began to reach boiling point, the dwindling 65cc Solo 11 years class headed out for their final moto, with only four points separating championship leader Cody Chittick from Tyran Tomich.
However neither Chittick nor Tomich would lead the way, the pair unable to hold back the lightening fast Lawrence who moved into the number one position after only one lap, while Chittick and Tomich battled for second.
And when racing was all but wrapped up KTM's Lawrence once again crossed the line celebrating another race win, followed by Tomich in second, while Chittick raced to third, handing him the 65cc Solo 11 year's Australian title.
100cc to 125cc 2-stroke 15 years
When the big boys lined up for their last 100cc to 125cc 2-stroke 15 years class race, spectators eagerly watched on, to see whether Yamaha Junior Racing Team's Hunter Lawrence could take out the Aussie title undefeated.
When bikes screamed off the start it was KTM's Cooper Pozniak whose starting capabilities once again saw him take the holeshot. However Pozniak's lead was short-lived – after only one lap Lawrence moved in to the lead, leaving Wyatt Chase and Pozniak to cop his roost.
With Lawrence once again getting to a commanding 10 second lead by the halfway point, the focus shifted to the battle for third, with Pozniak and Justin Hart banging bars for the final podium position.
When the last lapboard came out, Lawrence had stretched his lead out to an unprecedented 24 seconds, with Hart holding down second position, followed by Wade Kirkland who had made his way in to third.
And when the chequered flag flew Queenslander Lawrence crossed the line with a perfect scorecard, making him Australia's 2015 100cc to 125cc 2-stroke 15 years class Champion, while Hart concluded the ten-minute moto in second, and Kirkland in third.
128cc – 150cc 2-stroke & 200cc – 150cc 4-stroke 13-u15 years
When the roar of 128cc – 150cc 2-stroke & 200cc – 150cc 4-stroke 13-u15 years class engines echoed through Shrubland Park, spectators rushed to the fence line in what promised to be one epic final moto.
When gates dropped all eyes were on the 32 machine of Taj Marshall who entered the final race with a 19-point championship lead. However it was New Zealander Trent Collins who once again got a ripping start, and moved in to the lead ahead of Callum Norton and Jake Williams.
And after only one lap, onlookers were dealt a treat, as a three-way battle for the race lead saw Collins, Norton and Marshall all going head to head on one seriously roughed up Shrubland Park circuit.
The focus then shifted to the fight for second, as Collins separated himself from the pack, leaving Norton and Marshall to battle behind him. It was Marshall however who had the strength to keep Norton at bay, moving in to second position, while Michael Driscoll moved in to third.
When the ten-minute moto was done and dusted Collins broke through to take an outstanding race win, while Honda mounted Marshall crossed the line in second and clinched the Australian title, followed by Caleb Grothues who fought hard to come back and finish the race in third.
65cc Solo 9-u11 years
When the littlies in the 65cc Solo 9-u11 years class lined up for their final time, the youngsters had a tough task ahead of them, as they headed out on one seriously rough and sandy circuit.
With one lap down the running order saw Mancinelli out in front, followed by Myles Gilmore, and Smerdon who had dropped back to third. But it wasn't long before Gilmore picked off Mancinelli too, moving in to the lead with plenty of racing to spare.
With only two laps to the finish, the battle for third position fired up, with Liam Atkinson coming back to snatch away the final podium position from Smerdon.
When the chequers came out, Gilmore wrapped up the 65cc Solo 9-u11 years final victorious, while Mancinelli held on for second, followed by Atkinson who wrapped up the final in third.
85cc 2 –stroke / 150cc 4 stroke all wheel Girls 12-u16 years
With a ladies championship to be decided in this race, the pressure was on, and Tahlia O'Hare proved she could handle the pressure and more, taking the holeshot on home soil ahead of Victoria's Danielle Foot.
And after one lap, O'Hare showed no signs of slowing down, keeping Foot at bay and holding down the race lead, while Tanesha-Rose Harnet settled in to third.
As the 85cc 2 –stroke / 150cc 4 stroke all wheel Girls 12-u16 years class final reached it's final stages, O'Hare managed to stretch out her gap to 11 seconds on Foot in second, while Harnet continued to maintain third.
When racing wrapped up, the order of positions remained the same, the main change being the 17-second gap between O'Hare crossing the line with the win, and Foot crossing the line in second, but doing more than enough to wrap up the Australian title.  In an outstanding performance Harnet held on to take the chequered flag in third.
128cc – 150cc 2-stroke & 200cc – 250cc 4-stroke 15 years
With the big boys being the last class out on track at this year's KTM Australian Junior Motocross Championship, spectators waited around to see the final champion crowned for 2015.
With many of the youngsters moving up in to seniors in 2016, the final moto for the 128cc – 150cc 2-stroke & 200cc – 250cc 4-stroke 15 years class would be the last hoorah for their junior racing careers.
With that said, when gates dropped, the talented pack of riders launched down the start straight with KTM's Cooper Pozniak once again taking the holeshot, before Yamaha's Hunter Lawrence moved in to the early race lead ahead of Justin Hart.
After a handful of laps, Lawrence was once again untouchable, stretching out his race lead on Hart, while Tasmania's Wade Kirkland maintained third position.
When the last lap board came out, Lawrence had a clear track in front of him, knowing that with a 19 second lead, that after one more lap he would be Australia's 128cc – 150cc 2-stroke & 200cc – 250cc 4-stroke 15 years class champion.
And when the chequered flag flew, Lawrence celebrated as he crossed the line, taking the final race win for the 2015 KTM AJMX, ahead of Hart in second place, while Kirkland wrapped up the ten minute moto in third.
65cc Solo 11 years Championship
1) Cody Chittick  – 161 points
2) Tyran Tomich – 159 points
3) Jett Lawrence – 158 points
4) Benny Novak – 140 points
5) Dylan Vivian – 122 points
100cc to 125cc 2-stroke 15 years Championship
1) Hunter Lawrence – 175 points
2) Justin Hart – 154 points
3) Wyatt Chase – 150 points
4) Wade Kirkland – 142 points
5) Cooper Pozniak – 133 points
128cc – 150cc 2-stroke & 200cc – 150cc 4-stroke 13-u15 years Championship
1) Taj Marshall – 165 points
2) Trent Collins – 141 points
3) Callum Norton – 140 points
4) Michael Driscoll – 135 points
5) Mason Semmens – 134 points
65cc Solo 9-u11 years Championship
1) Noah Smerdon – 160 points
2) Deegan Mancinelli – 154 points
3) Liam Atkinson – 151 points
4) Zachary Watson – 142 points
5) Lewos Callow – 130 points
85cc 2 –stroke / 150cc 4 stroke all wheel Girls 12-u16 years Championship
1) Danielle Foot – 169 points
2) Tahlia O'Hare – 166 points
3) Tanesh-Rose Harnet – 144 points
4) Britney boyce – 136 points
5) Kara Cats – 131 points
128cc – 150cc 2-stroke & 200cc – 250cc 4-stroke 15 years Championship
1) Hunter Lawrence – 175 points
2) Wade Kirkland – 156 points
3) Justin Hart – 152 points
4) Cooper Pozniak – 136 points
5) Brendon Walther – 131 points