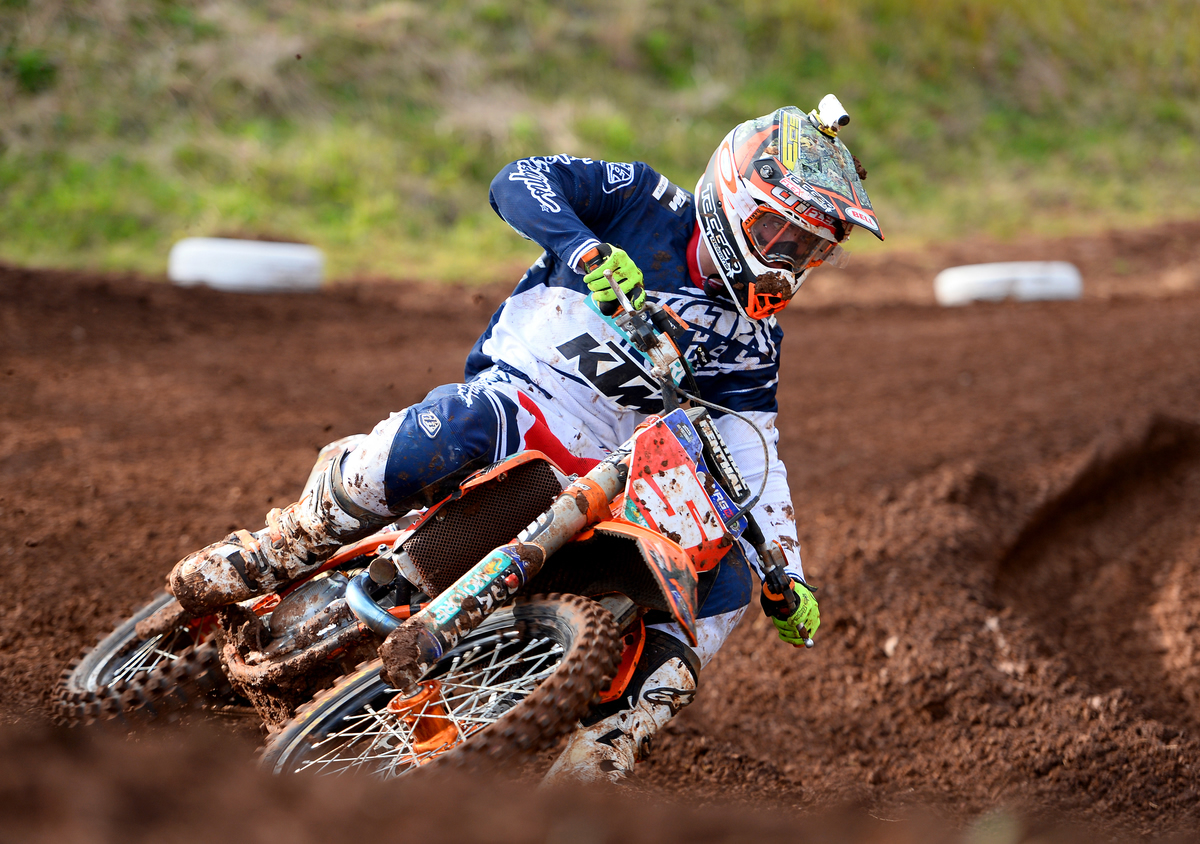 KTM Australia's Motocross Racing Team is preparing for a milestone weekend with Kirk Gibbs leading the charge for an MX1 championship.                                                      
Story by Hayden Gregory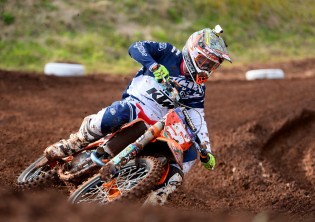 Kirk Gibbs is in the front seat to clinch KTM's first premier class championship since Craig Anderson in 2002. The rider has held the leader's red plate the whole year and boasts a 61 point lead over his nearest rival.
Gibbs has accumulated six moto wins this year and will be looking to increase his tally this weekend on board his new bike which debuted last week.
"I tested for a day yesterday with Danny and Luke and got a sand setting for the new bike," Gibbs said. "I want to go out and finish on a high – I want to go and get some wins before the end of the season. With one race on the new bike under my belt I'm even more comfortable on it, and I definitely think I ride strong at Coolum, so I know I can be very competitive. I just need to get a good start and I know I will because our new bike is very fast and it will hook up through that sand. I'm definitely looking forward to two good starts and two good results. This is something that I've been chasing for a long, long time."
KTM teammate Luke Styke will be trying to regain his runner up position after relinquishing the spot last round to Kade Mosig. Styke has had an impressive rookie year in the premier class and will be looking to finish with a strong showing.
"We spent a couple more days fine-tuning the new bike this week and I'm happy that we've come up with a good setting for Coolum," Styke commented. "The bike should be working pretty good I reckon. Obviously to get second in the championship is my plan this weekend. I think it's definitely reachable, so that's my only goal really – I've got nothing to lose so I can just go for it."
In the MX2 class, KTM Factory support rider Caleb Ward will be looking to continue his hot run of form. Ward has had a phenomenal second half of the season and only missed out on overall honours by a point in Toowoomba.  Coolum is a circuit favourite for the KTM rider who will head into the weekend as the reigning track champion, winning the overall back in June.
"It's been a good week for me, hopefully the rain clears up, but other than that it's generally good. I've just been having a pretty casual week just having a bit of fun and stuff. I really want go in and get another win, and hopefully go out on a high, that's always the goal anyway. I'm pretty much just there to win this one, I've kinda' got to try to keep up the whole sand reputation I guess! If I don't win it will probably look bad for me! (laughs)"
KTM will also be cheering on current championship number two Jayden Rykers in the MXD class. Trailing Wilson Todd by 22 points, Rykers will need a mix of skill and luck if he has any chance of securing the 2015 championship in Coolum.
"There's been a bit of rain around but that doesn't bother me," Rykers explained. "In 2012 at the junior Aussies at Coolum it came down hard in qualifying, and I went from being four seconds a lap slower than the fastest qualifier, to being the fastest qualifier by four seconds in the wet. It's pretty bad if you get a bad start though! I've kept it pretty chilled this week, just hanging out. My plan for Sunday is just to do my own thing. Anything can happen, but I can only control what I'm doing, so I'll just keep doing that. I'm just hoping to get another two race wins and continue the dominant streak."