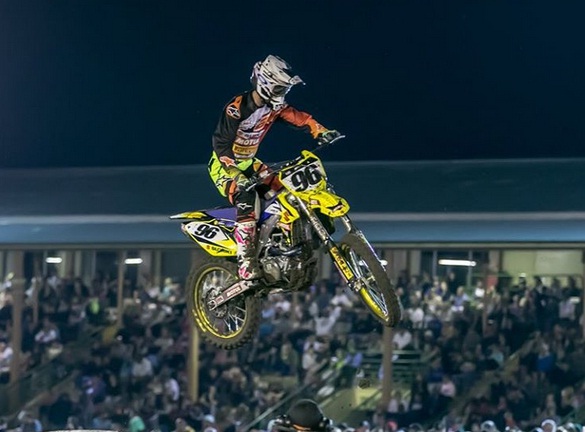 The Team Motul Suzuki rider will miss the second round of the 2015 Australian Supercross Championship after succumbing to an ankle injury he obtained in Bathurst. 
By Hayden Gregory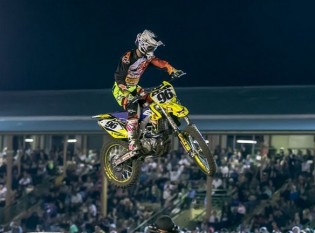 Makeham was left with the injury after he missed a timed rhythm section during practice for the opening round. The rider dismissed the injury at the time and went on to battle through the race for a 13th place finish. Since then, Makeham has failed to put any weight on the ankle discovering a small fracture alongside some ligament damage.
The injury has forced Makeham to sit out this weekend of racing but he is hopeful of a return for round three at Wayville.
"Unfortunately I won't be racing this weekend," Makeham commented. "At this point in time I have not been able to put any weight on my ankle"
"We have made the decision to sit out this weekend's race and hopefully will return for round three in a few weeks time." Makeham added.
In more positive news, Makeham's teammate Matt Moss will be seeking his eighth straight national supercross round victory in Queensland. Moss perfected a clean sweep of the 2014 season and he is on track for a similar result in 2015.
"I cannot wait to get back out on track this weekend," Moss enthused. "The aim will be the same as every time I get behind the start gate, Ill be aiming for another clean sweep on Saturday night and want to walk away with an increase in the points lead." 
"I am looking forward to racing on the Jimboomba track, we cut a few laps there at a press day a couple of weeks back and the layout was a lot of fun. With a couple of tweeks they have made to the track it should be perfect for racing"
"Scott and his team have gone all out to make this round the best Australian Supercross ever seen, is going to be a big night." Moss added.