Aussie dirt track legend Paul Caslick will lead the three rider team alongside Max Croker and Billy Van Eerde.
By Hayden Gregory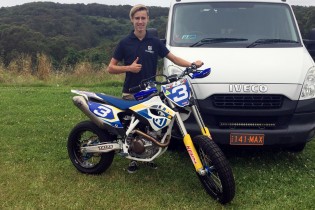 Veteran Caslick is a nine-time Australian champion and will spearhead the Husqvarna team leading the way for his younger team mates. In order to find a final team member, Caslick advertised the position on social media before narrowing down the field to five potential riders. A two-day fitness and selection trial followed which included mountain bike riding, swimming and discussions on nutrition and recovery.
In a very tough decision it was Croker who earned the final spot on the Husqvarna team on the back of his experience and professionalism. Last year the 17 year old Newcastle rider became the youngest ever competitor to race in the Moto 2 World Championship.
"Our short list included Max Croker, Sam Lachlan from Canberra, Bailey and Mitchell James from the Hunter Valley way, and Sam Davies from Kempsey, and every one of those kids is a credit to their families," Caslick said.
"If I had a budget of $150,000, I'd put each one of them on a bike. Max won the ride because of his experience, his commitment to fitness, his presentation and professionalism. He's already tasted international road racing, he has won Australian championships in three different disciplines, speedway, road race and dirt track. This kid is the real deal."
Croker will join Caslick and 13 year old rising star Billy Van Eerde on the 2016 team. Van Eerde is a Casey Stoner Cup winner and rides with support from Chris Watson motorcycles.
"A lot of people applied and I managed to get chosen so I'm very grateful to get this opportunity to get in there and give it a go," Croker explained. "Caso sure gave us a workout; a 2-hour mountain bike ride where a lot of it was uphill, then an hour session in the swimming pool and an interview session.
"I've done a bit of coaching with Caso in the past and he's taught me a fair bit about fitness and nutrition, so I'm very honoured to be working with him and also Husqvarna Australia – it's going to be awesome. I've just been invited to race in the Troy Bayliss Classic in the 450 class, and I'm very excited about that one. I got the invitation from Troy personally and it's a great opportunity, I can't wait!"