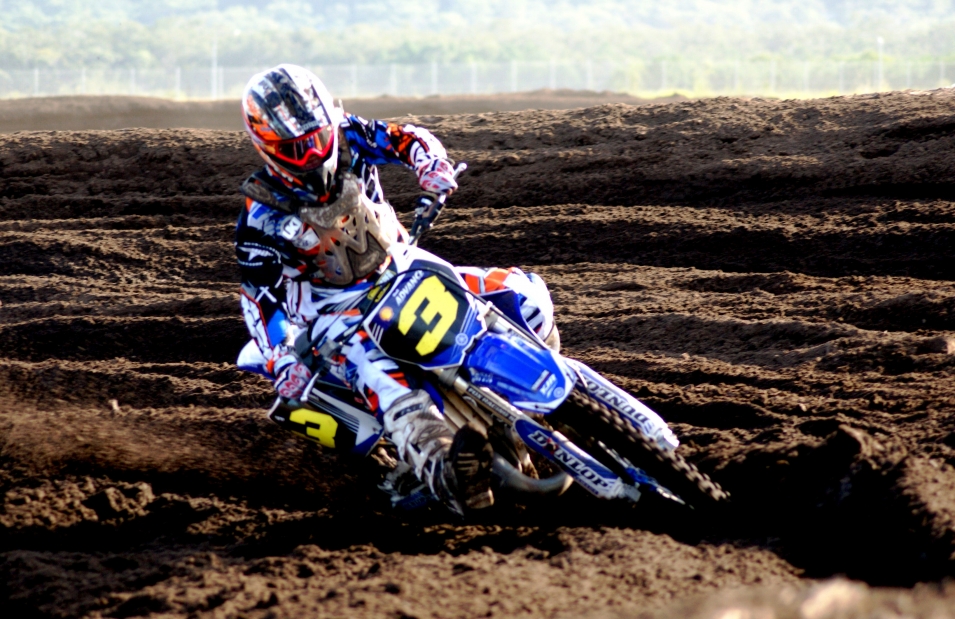 Joel Dinsdale re-stamped his authority in the Queensland junior motocross scene with a dominant display at round three of the Shell Advance Sunshine State Series held at Coolum over the weekend.
For Immediate Release: Sunday, April 22, 2012.
In partnership with team mate Wilson Todd and Yamaha supported Nathan Crawford, Yamaha currently lead all classes they are contesting as the series approaches the halfway mark.
Mackay based Dinsdale flexed his on track muscle taking all six moto victories from the six entered. Competing in the 15 years 250cc class, Dinsdale launched from the gates, rounded the first turn in front and didn't look back.
It was much the same in the 13 to 15 years 125/150 class, where Dinsdale holeshotted all three motos on his YZ125 and then put down laps that left the competition in his wake. He has now moved to second in the series despite missing the Bundaberg round on his 125.
The hit out on the rough, rugged and challenging Coolum circuit was just what Dinsdale needed and he feels he is just starting to hit some good form.
"I had been a bit slack the last month, but in the week leading up to this race, I refocused on my racing, got in some good practice and training and I felt pretty good on the track today."
"My bikes were also working great. Six holeshots is awesome and then late in the day the track was getting nasty but both bikes handled super," Dinsdale added.
Team-mate Wilson Todd rounded out his day in second place in the 12 to 15years 85cc class, posting some seriously fast laps along the way. Todd barnstormed his way to the front in moto one after a poor start to take the moto win, finished third in moto 2, then was running second on the final lap when a fall dropped him back a little. His 1-3- 5 results landed him in second for the round but he increased his lead in the championship.
Technical issues on his 125 keep him from the track in the opening two motos, but he bounced back with a fifth in the final race and now sits fourth overall in the series, in the 13 to 15 years 125/150cc class."It was a tough day and a bit frustrating but that's racing some days. I thought I rode pretty good, I just didn't get great starts on the 85."
With Nathan Crawford (Yamaha / WRD) winning the 13 to 14 years Lites and taking fourth on his 125, Yamaha supported riders now lead the 15 years 250, 13 to 14 years 250, 13 to 15 years 125 and the 12 to 15 years 85cc.
For a full list of results; www.orion-timing.com
The next round of the series will be at Toowoomba's Echo Valley in a fortnight's time.
SSMX – Round Three Results
Coolum

15 years 250cc
1st Joel Dinsdale (Yamaha)
2nd Nicholas Scott (Honda)
3rd Damien Harrison (Yamaha)
13 to 15 years 125/250
1st Joel Dinsdale (Yamaha)
2nd Egan Mastin (KTM)
3rd Aaron Tanti (KTM)
12 to 15 years 85cc
1st Dylan Heaton (KTM)
2nd Wilson Todd (Yamaha)
3rd Mitchell Evans (KTM)
Series Points – After Round 3
15 years 250cc
1st Joel Dinsdale – 225
2nd Damien Harrison – 163 (Yamaha)
3rd Jesse Madden – 155 (Yamaha)
13 to 15 years 125/150cc
1st Nathan Crawford- 158 (Yamaha)
2nd Joel Dinsdale – 147
3rd Caleb Ward – 136 (KTM)
4th Wilson Todd – 134
12 to 15 years 85cc
1st Wilson Todd – 197
2nd Mitchell Evans – 166
3rd Blake Colleton – 160 (Kawasaki)