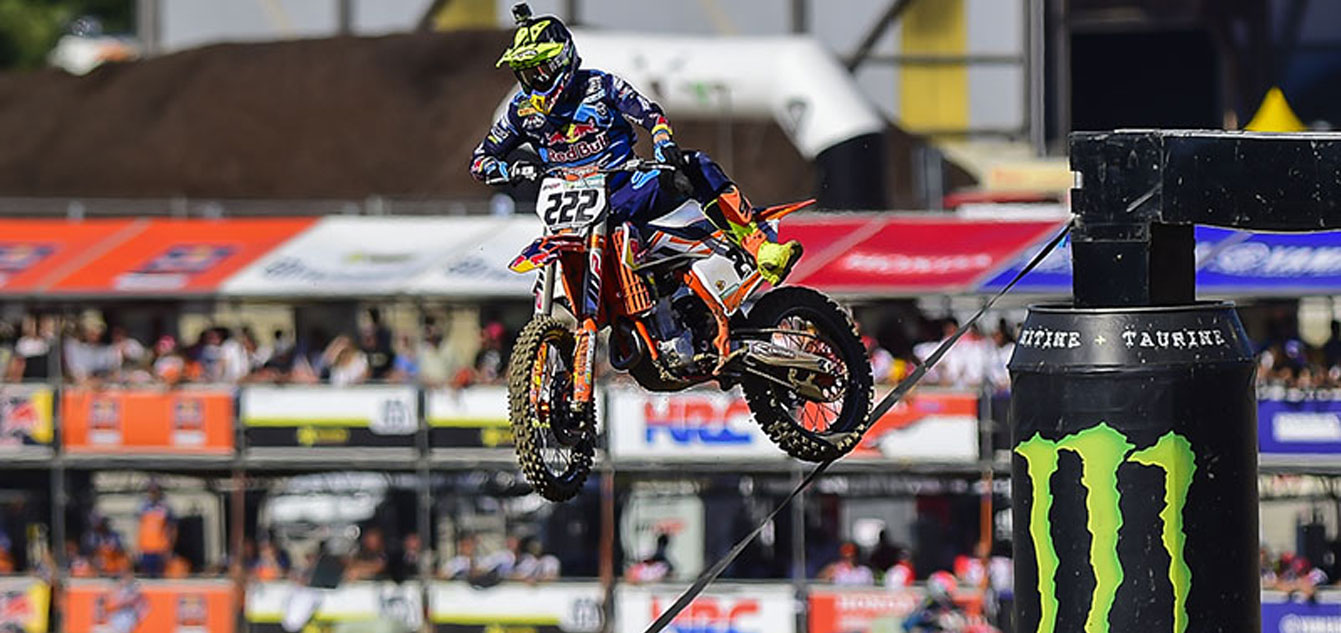 Antonio Cairoli has won his third Grand Prix of the season.
By Hayden Gregory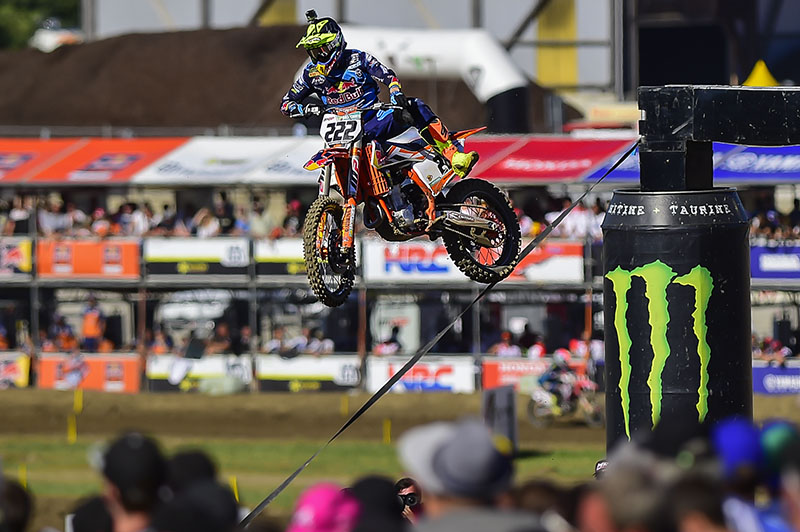 The Red Bull KTM rider pulled off an outstanding opening moto to set up MXGP victory in Switzerland. Cairoli wound back the clock to show the youngsters how it's done. In the second moto, the Italian could only muster fifth place which would still land him top spot for the round.
"I am happy with the overall, its been a long time, and now we have some weeks to prepare with both the 350 and 450," Cairoli said. "You know, it's a little bit, second moto, I am missing some laps, because I am not riding as much because of some little injuries, and second moto I don't have the strength, I had problems with a lapped rider, he closed the line and I had to break, and I crashed, and had my leg stuck under the bike, so I couldn't get up quickly. One mistake last lap. I was third and I went into a corner and the bike went into neutral and I crashed. I need to be more focused, because it's the second time I make a mistake late in the moto. I am looking forward to Assen."
Honda Garibolid's Tim Gajser finished second for the round after recovering from a huge crash in moto one. The rider bent his bars and destroyed his front brakes yet was able to charge from outside the top twenty to finish ninth. In moto two the youngster fared much better pulling away to secure his fifteenth race win of the season.
In third place defending champ Romian Febvre also struggled with risk and reward. The Frenchman finished eighth in the first race and second in race two to land on the final step of the podium.
Gajser remains convincing leader in the MXGP championship standings 101 points clear of Cairoli. Nagl holds onto third with Febvre looming in close striking distance.
MXGP – Overall
1 222 Cairoli, Antonio ITA FMI KTM 25 16 41
2 243 Gajser, Tim SLO AMZS HON 12 25 37
3 461 Febvre, Romain FRA FFM YAM 13 22 35
4 21 Paulin, Gautier FRA MCM HON 22 10 32
5 259 Coldenhoff, Glenn NED KNMV KTM 10 20 30
6 100 Searle, Tommy GBR ACU KAW 14 15 29
7 911 Tixier, Jordi FRA FFM KAW 15 14 29
8 89 Van Horebeek, Jeremy BEL FMB YAM 18 11 29
9 777 Bobryshev, Evgeny RUS MUL HON 9 18 27
10 25 Desalle, Clement BEL FMB KAW 20 5 25
11 24 Simpson, Shaun GBR ACU KTM 8 13 21
12 12 Nagl, Maximilian GER DMSB HUS 11 8 19
13 7 Leok, Tanel EST EMF KTM 7 9 16
14 92 Guillod, Valentin SUI FMS YAM 16 0 16
15 22 Strijbos, Kevin BEL FMB SUZ 3 12 15
16 77 Lupino, Alessandro ITA FMI HON 6 7 13
17 17 Butron, Jose ESP RFME KTM 5 4 9
18 149 Ullrich, Dennis GER DMSB KTM 0 6 6
19 71 Graulus, Damon BEL FMB HON 4 1 5
20 999 Goncalves, Rui POR FMP HUS 0 3 3
MXGP – Championship Standings
1 243 Gajser, Tim SLO HON 644
2 222 Cairoli, A. ITA KTM 545
3 12 Nagl, M. GER HUS 509
4 461 Febvre, Romain FRA YAM 499
5 777 Bobryshev, E. RUS HON 472
6 89 Van Horebeek, J. BEL YAM 446
7 92 Guillod, V. SUI YAM 308
8 259 Coldenhoff, G. NED KTM 307
9 25 Desalle, C. BEL KAW 298
10 22 Strijbos, K. BEL SUZ 279
11 24 Simpson, Shaun GBR KTM 277
12 100 Searle, Tommy GBR KAW 254
13 21 Paulin, G. FRA HON 225
14 23 Charlier, C. FRA HUS 198
15 17 Butron, Jose ESP KTM 187
16 911 Tixier, Jordi FRA KAW 168
17 7 Leok, Tanel EST KTM 168
18 8 Townley, Ben NZL SUZ 128
19 32 Potisek, Milko FRA YAM 119
20 77 Lupino, A. ITA HON 103