The Hervey Bay round of the Monster Energy MX Nationals series has ensured an exciting end to the 2013 championship with Motorex KTM's Todd Waters showing in no uncertain terms that though he may have relinquished the red plate, he's still very, very much in the hunt to be champion.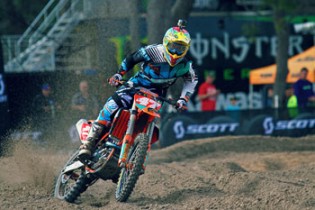 Waters lies just two points behind new series leader Matt Moss and just a few days into his return to proper training following a collarbone injury, he's already showing a heap of pace and stamina. Waters dominated the first three rounds of the 2013 series before injuries forced him to fight a rearguard action and watch his 44-point lead evaporate ever since the fourth round.
At Hervey Bay he may have suffered in the sandy start gates, but Waters demonstrated he is already right on the pace of the front runners, and hungry to fight for his first MX1 national championship. After qualifying for Super Pole, Motorex KTM's Kirk Gibbs suffered a poor start in the first race and a fall early in the second to come away without a top-five result for the first time in three rounds.
Rob Twyerould Team Manager: "It wasn't a bad result for us today but it could have been a lot better with good starts. Both boys qualified for Super Pole which was great. In the first moto though they would have come out in 15th and 17th and for the first ten minutes Todd and Mossy went head to head, banging bars hard. Todd would have passed him three times before pulling a lead and working his way toward the leaders. At the end he was hauling them in at three seconds a lap and he passed Cooper and got right onto the back of Mackenzie for fourth. Kirk kept moving forward all moto before finishing sixth. In the second moto Todd got a terrible start and Kirk fell at Turn Two. Todd worked his way through and was unlucky not to get third at the end. Three and a half weeks ago Todd was getting a plate screwed in and he's been back into solid training for just three days, so I think he rode very well and his fitness was very impressive. Overall I can't be disappointed; both boys showed good speed today and when Todd got to ride side by side with Mossy Todd ran away from him. We'll let someone else take the weight of the red plate for now and see how they go, with three rounds to go this championship is anything but over."
Todd Waters: "I rode pretty well today even though the results probably didn't show it. We're working together Rob and I, and it's a great help to have him on my side. I wouldn't have been able to do it without him. Bad starts were a problem today but I was able to come from behind, I was surprised with my fitness today and that I was able to run the guys down – if I'd have had longer I would have got to the front. But I am sore. I've had a lot of time off the bike so it was a bit of a shock to the body giving it long motos in the sand. I'm buggered now, but I'll get back into the routine. I feel good, not back to where I was, but I'm at everyone else's level which is good. We're still in the hunt and I'll be trying my hardest. It'll be a good championship."
Kirk Gibbs: "The day started off well with third in the Super Pole then in the first moto after a bad start I rode tight and pumped up and had a tip over. I went into survival mode a little to make sure I finished and ended up seventh. I started a lot better in the second but went hard into Turn Two and got a bit of roost in the goggles and went through a berm and crashed. I came from last and rode pretty well to finish eighth. I'm a bit disappointed but I'll look at the positives of how I rode and go away and work on some things."
MX2 & MXD
In the MX2 category, KTM 250SX-mounted Kale Makeham holds second in the championship after finishing second overall at Hervey Bay, while the KTM of Brock Winston moved into third in the championship with sixth on the day.
In the MXD category, the KTMs of Hamish Harwood and Jack Simpson sit one and two at the top of the table despite finishing second and fourth on the day.
2013 Monster Energy MX Nationals, Round seven – Hervey Bay, QLD:
MX1 overall results:
1. Billy Mackenzie 65,
2. Matt Moss 64,
3. Jake Moss 64,
4. Gareth Swanepoel 61,
5. Todd Waters 58,
6. Cody Cooper 51,
7. Kirk Gibbs 50,
8. Lawson Bopping 45,
9. Jay Marmont 45,
10. Cody Mackie 42
Monster Energy MX1 championship standings after seven of ten rounds:
1. Matt Moss 436
2. Todd Waters 434
3. Billy Mackenzie 405
4. Cody Cooper 382
5. Lawson Bopping 365
6. Jake Moss 343
7. Kirk Gibbs 343
8. Adam Monea 323
9. Jay Marmont 286
10. Tye Simmonds 273
Motul MX2 championship standings (after 7 of 10 rounds):
1. Luke Styke 473
2. Kale Makeham 382
3. Brock Winston 354
4. Josh Cachia 305
5. Geran Stapleton 304
6. Ryan Marmont 297
7. Luke Clout 285
8. Takeshia Katsuya 280
9. Dylan Long 274
10. Rhys Carter 255
Pirelli MXD championship standings (after five of eight rounds):
1. Hamish Harwood 307
2. Jack Simpson 279
3. Jay Wilson 257
4. Joel Dinsdale 256
5. Jesse Dobson 249
6. Corey James 226
7. Joel Wightman 221
8. Logan Blackburn 205
9. Jake Emmanuelli 180
10. Nick Scott 176