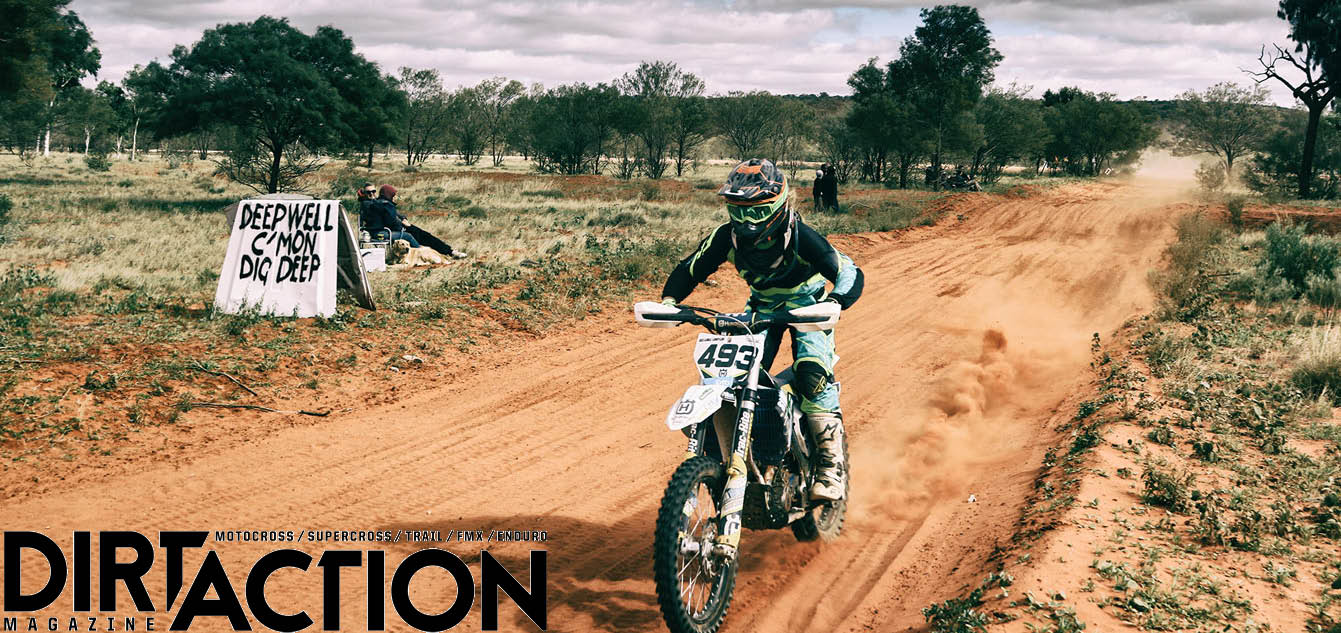 As if we could doubt him. After Toby Price managed to bring his car into Finke in fifth place he then flew back to the start line and proceeded to blow everyone away on his KTM carding a brilliant time of 01:53:19. TP was followed into Finke by his teammates Tye Simmonds (01:55:53) and David Walsh (01:57:07)  with Simmo and Walsh set to have a epic battle back to Finke tomorrow.
Honda's Daymon Stokie backed up his excellent prologue with a good run down and tops his class (01:57:25) making it two local riders in the top five. Ivan Long (02:00:53) has a fight on his hands with Jacob Smith (02:01:26) breathing down his neck and Yamaha's Beau Ralston (02:04:24) there to take advantage of any mistakes.
Another ride worth noting was that of Jack Simpson who brought his KTM250SX into Finke in 12th place (02:14:52) which is an epic effort against the 450 and 500s ahead of him. Nathan Trigg also showed yet again how fast he is on a two-stroke with a 13th place finish (02:15:30). We wouldn't be surprised to see both those riders climb further up the finishers list and both will almost certainly take class wins.
It's hard to describe what the top ten look like as they blast passed you on the track. Toby doesn't jump every hill, preferring to stay grounded and keeping the power to the ground. The Honda boys can certainly fly whenever there's a rise big enough.But they all keep the bike's pinned over terrain that the average bloke struggles struggles to build up any sort of speed on. This race is like no other and tomorrow might be one of its more epic days in 41 years.
All photos: Damien Ashenhurst
| | | | | | | |
| --- | --- | --- | --- | --- | --- | --- |
| 1 | 2 | 1 | PRICE, TOBY | ABERGLASSLYN, NSW | KTM 500 EXC | 01:53:19 |
| 2 | 2 | 2 | SIMMONDS, TYE | BOURKE, NSW | KTM 500 EXC | 01:55:53 |
| 3 | 2 | 299 | WALSH, DAVID | ALICE SPRINGS, NT | KTM 500 EXC | 01:57:07 |
| 4 | 5 | X99 | STOKIE, DAYMON | ALICE SPRINGS, NT | HONDA CRF 450R | 01:57:25 |
| 5 | 2 | 6 | LONG, IVAN | MURRAY BRIDGE, SA | KTM 500 EXC | 02:00:53 |
| 6 | 5 | 4 | SMITH, JACOB | CONDOBOLIN, NSW | HONDA CRF 450R | 02:01:26 |
| 7 | 5 | 7 | RALSTON, BEAU | KURRI KURRI, NSW | YAMAHA YZF 450 | 02:04:24 |
| 8 | 5 | X85 | SMITH, TODD | CONDOBLIN, NSW | HONDA CRF 450 | 02:08:38 |
| 9 | 2 | 295 | HAYES, LUKE | ALICE SPRINGS, NT | KTM 500 EXC | 02:09:14 |
| 10 | 5 | 10 | COSSENS, RYAN | NUMURKAH, VIC | HONDA CRF 450R | 02:11:54 |
| 11 | 5 | X96 | AURICHT, CALEB | ALICE SPRINGS, NT | HONDA CRF 450R | 02:13:39 |
| 12 | 4 | 473 | SIMPSON, JACK | CRANBOURNE, VIC | KTM SFX 250 | 02:14:52 |
| 13 | 1 | 11 | TRIGG, NATHAN | GLENELG, SA | KTM 300 EXC | 02:15:30 |
| 14 | 2 | 255 | COLLINS, KENT | MT GAMBIER, SA | KTM 500 EXC | 02:16:24 |
| 15 | 4 | 499 | TURNER, NICHOLAS | ALICE SPRINGS, NT | YAMAHA YZ 250F | 02:22:58 |
| 16 | 2 | 250 | LANE, RICKY | MT ISA, QLD | HUSABERG FE501 | 02:24:06 |
| 17 | 5 | 592 | SMITH, JAKE | KALGOORLIE, WA | HONDA CRF 450R | 02:24:22 |
| 18 | 7 | 747 | KIENHUIS, BRANDON | PLENTY, VIC | HUSQVARNA FC 450 | 02:24:56 |
| 19 | 4 | 20 | GROVE, MARK | BACCHUS MARSH, VIC | HONDA CRF 250 | 02:25:49 |
| 20 | 5 | X79 | ARMSTEAD, ROBERT | ALICE SPRINGS, NT | KTM 450 SXF | 02:26:28 |