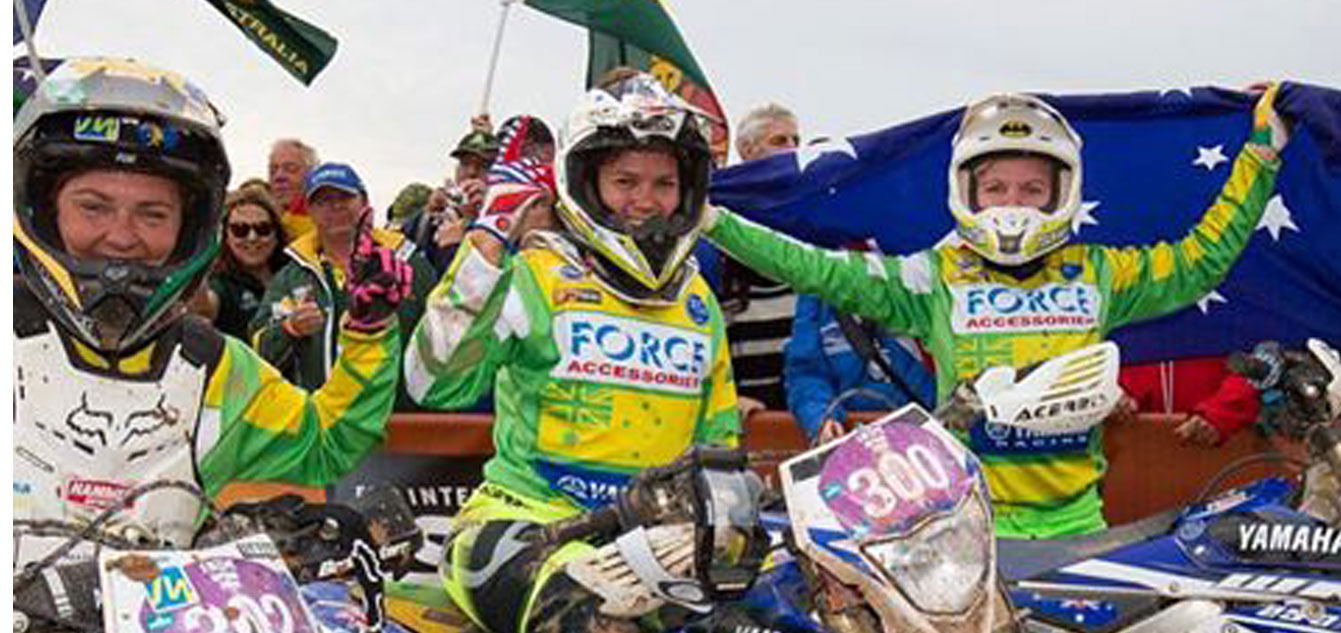 The Yamaha Blu Cru Australian Women's team have won their fourth consecutive ISDE title.
By Hayden Gregory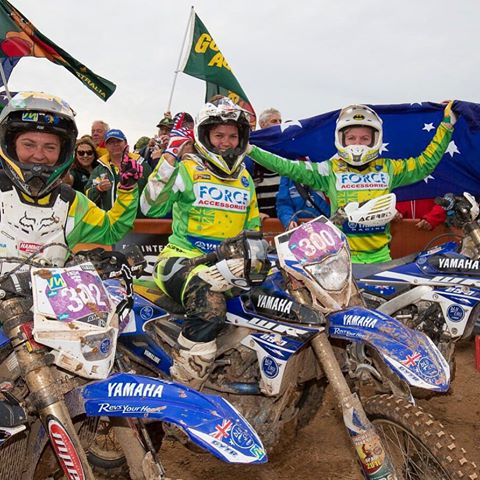 Tayla Jones, Jemma Wilson and Jessica Gardiner are literally on top of the world after successfully defending their world title in Spain. Heading into the final stage with a three and a half minute lead the girls knew that conservative and smart riding should see them through.
Jones pulled away to lead the females home for the last time ahead of Germany's Maria Franke and USA's Tarah Gieger. Fellow Aussies Gardiner and Wilson finished in seventh and ninth places respectively.
The results were enough for Team Australia to claim overall victory ahead of rivals Spain and Germany. In the individual ranks Germany's Franke claimed outright honours ahead of Spain's Laia Sanz in second and Aussie Tayla Jones in third. Jemma Wilson finished fifth and Jessica Gardiner in 17th capping of a huge six days for our girls.
In the Senior Men's Trophy classification, Team USA created history with their very first ISDE victory. Taylor Robert, Kailub Russell, Thad Duvall and Michael Layne battled all week long to finally score the international break through.
"Words don't explain just how much this means to us," told Robert. "We've been trying and trying for so long but finally this has been our week. This win is massive."
Great Britain ended the contest in second overall with the Czech Republic rounding out the podium.  Team Australia were never in the fight after losing two riders in the opening two days.
Individually, Australia's Daniel Sanders proved a shining light finishing in second place behind American Taylor Robert.
"I've been so stressed the last few days, this is a huge deal for me and for the USA," exclaimed Taylor Robert.
"I kept trying to tell myself that everything would work out, but I know anything can happen during the final motos. This is my sixth ISDE and it feels so good to have won with team USA and also to have got the overall individual result. My final moto went well, I got a good start and quickly worked my way into the lead. Then half an hour after my race was over was the worst because I was waiting for a phone call to tell me how Daniel Sanders got on, to find out if I'd got the overall. The team's been great, we've been getting closer and closer to this year-on-year. This one's for Kurt Caselli."
In the junior class, Team Sweden scored victory thanks to Albin Elowson, Jesper Borjesson and Mickael Perrson. Teams USA and Italy finished second and third after clinching strong results in each stage. The Aussie trio of Tom McCormack, Jack Simpson and Nic Tomlinson finished in a very respectable sixth place.
Final Standings ISDE 2016
1. Taylor Robert (USA), KTM, 3:22:46.65 h (E2 class winner)
2. Daniel Sanders (AUS), KTM, +17.90 sec (E3 class winner)
3. Josep Garcia (ESP), Husqvarna, +46.24 (E1 class winner)
4. Giacomo Redondi (ITA), Honda, +1:14.05 min (E3)
5. Luis Correia (POR), Beta, + 1:28.70 (E3)
7. Kailub Russell (USA), KTM, +2:35.86 (E2)
9. Nathan Watson (GBR), KTM, +3:50.62 (E1)
Final Standings Women ISDE 2016
1. Maria Franke (GER), KTM, 3:51:58.61 (E1 class)
2. Laia Sanz (ESP), KTM, +52.35 (E1)
3. Tayla Jones (AUS), Yamaha, +2:26.71 min (E1)
4. Tarah Gieger (USA), Honda, +14:51.97 (E1)
5. Jemma Wilson (AUS), Yamaha, +14:54.33 (E1)
Final Standings World Trophy ISDE 2016
1. USA (Kailub Russell, Michael Layne, Robert, Thad Duvall), 13:46:40.93 h
2. United Kingdom (Daniel McCanney, Jamie Lewis, Watson, Jamie McCanney), +3:38.66 min
3. Czech Republic (Ondrej Helmich, Patrik Markvart, Jaromir Romancik, Jiri Hadek), +29:42.34
Final Standings Women's World Trophy ISDE 2016
1. Australia (Jessica Gardiner, Tayla Jones, Jemma Wilson), 7:57:39.29 h
2. Spain (Sanz, Mireia Badia, Sandra Gomez), +3:48.67 min
3. Germany (Maria Franke, Vanessa Danz, Heike Petrick), +18:08.46