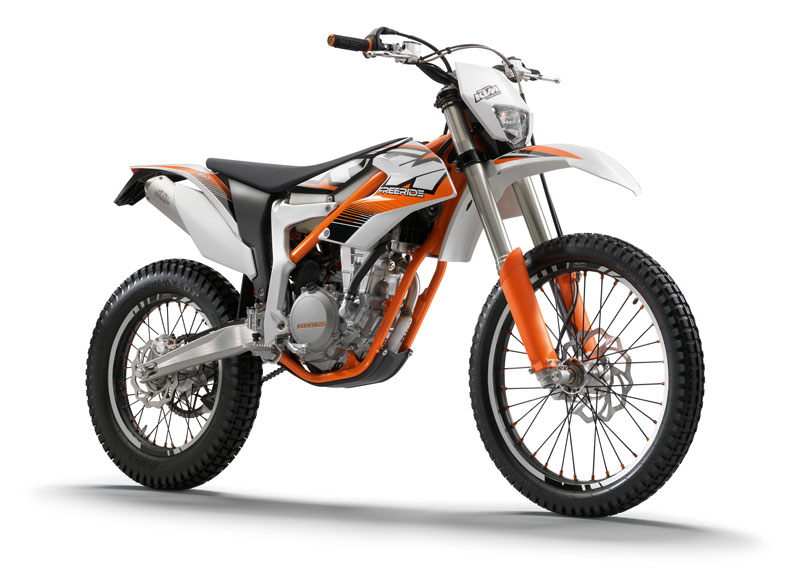 Free at last: KTM release what could be the most important bike on the market today
Story by Damien Ashenhurst| Photos by iKapture and Tuffy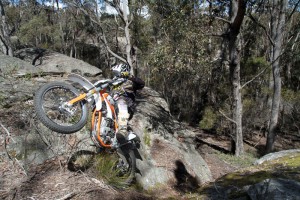 I have to start this story by thanking KTM for not being total dicks. They have a bike that's a lot like two different bikes and yet they never once used the word hybrid in the presentation.
Everything is a friggin' hybrid this or an iThat these days and I was braced to hear that word thrown about like confetti at a Greek wedding. It wasn't heard at all and I'm not going to use it here, either. (Car companies should take note — or are they just working up to the Toyota iHybrid?)
At some point at KTM headquarters, a bloke in a white lab coat must have mused on how fun it would be to trailride a trials bike with a proper seat. His boss evidently replied, "Machen Sie ein und wir finden heraus." (Translation: "Make one and we'll find out.")
The Freeride 350 is equal parts trail and trials, with the best bits of each preserved and compromises found at each point in between. The result is a bike unlike anything you've ever ridden before. It's a new type of bike.
I was pretty ambivalent about the whole thing from the early press photos alone. And the tech info didn't really paint a picture of the bike, in a way, so when the launch date came around I was a little underwhelmed about the whole thing. For my mind, KTM already has a light and fun bike in the brilliant 200 EXC — so why mess with the 350 formula to try make it fit the same brief?
There is in fact a lot more to the concept than just bringing the rock hoppers and bush bashers together. The Freeride 350 is built with sustainable riding in mind. Not only does it meet strict European emission standards but it also comes in as one of the quietest bikes you'll ever hear. The dual pipes, both running catalytic converters, are so quiet that at one point in the ride I could hear the number plate on the bike in front of me rattling loose.
Add to this the fact that the trials tyres (no knobbies on the Freeride) leave such a small footprint, at times on the ride it was hard to spot exactly which way the other riders had gone. And this is why the Freeride is so important. If you live in an area where there are no complaints about dirtbikes then you're in the minority. The sport needs to be as clean and quiet as possible to survive, just as the personal watercraft market found a few years ago, and the Freeride is a positive step in that direction without compromising on the fun and thrills of riding.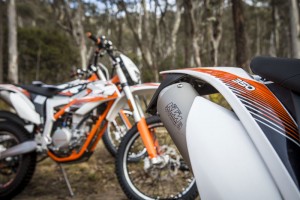 Belly of the Beast
At the heart of the Freeride is the familiar 350 EXC-F engine, now a common sight on the tracks and trails. There have been changes made though to make it a better fit for the new concept. The rev ceiling has been dropped to 10,000rpm and the casings are die cast, not sand cast. The EXC-F's titanium valves have been replaced with steel units and the kickstarter removed completely. The Freeride's engine weighs in at about 1.2kg lighter than the EXC-F version, which goes some way to helping the bike tip the scales at just 99.5kg.
The frame is a new design and is itself pretty trick. Made from mainly chrome-molybdenum, it morphs to an aluminium centre section and then finally a plastic subframe, the design of which is reminiscent of the Husabergs. With the exception of the engine, pretty much everything you see on the Freeride was designed for this bike alone and not borrowed from anywhere else. The chassis, the 3.2-kilo swingarm, the brakes, the linkless PDS shock and 43mm WP fork are all examples of Freeride-only gear and further indication that this is no cobbled-together machine but an honest effort at offering something new.
The clutch and brakes aren't the Brembo units we're so used to seeing on the Kato; instead they're made by a company called Formula. Mountain-bike guys will know the name as Formula manufactures brakes, suspension and wheels for the peddlers, but it's a name that's relatively new to the moto world.
The footpeg mounts are a good example of how the Freeride was built with versatility in mind because they come with brackets that can be moved 8mm back, the better to cater for techniques used in straight trials riding.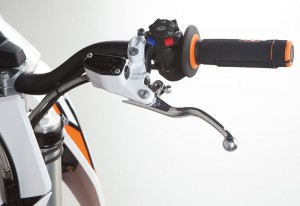 What's This All About?
The first thought that came to mind when I sat on the Freeride was, "Well … this is odd." I never claimed to be a deep thinker. The bike is thin, low and — well, odd. It feels like a trials bike with a long seat, it feels like a mountain bike and it feels like an 85. There is no single bike I can point to and say it's just like that.
On the trail, the bike stayed something of a mystery for a good 30 minutes. It's weighted differently and reacts like a trials bike more so than an enduro bike. The clutch is light-switch quick and the front end comes up in a flash. Jumping it off any tiny rise is simple and fun and I'm pretty sure I got a little air off an ant's back leg.
The trials tyres take some getting used to as well — particularly the front, which pushes on turns where you lean the bike because there aren't any knobs on the sidewall like you expect from an enduro tyre. Soon you learn to adjust the way you ride to work better with the Freeride and once this happens a whole world of possibilities presents itself. The fast, open track loses its appeal but the steep, rocky hill looks like fun. You start to look past banked turns or berms and see big logs and rock shelves or impossibly tight trails.
The Freeride is a new bike that had me riding in a new way. The overall feel is pretty stiff and the seat's a bit of an arse buster but you get the best from the bike when you stand up and, while I'm a chronic sitter, I adapted and actually took on a more correct technique and again got more out the bike that way.
The engine is built for torque, not top speed, and while you can cruise at about 90km/h the best work happens way low down. The level of traction the Freeride gets is off the scale. It's easy to be impressed going uphill but this thing hooks up going down the craziest, slipperiest slope. My brain actually had trouble reconciling the things we were riding up, down and over with the amount of grip I was getting. Loose rocks and tree roots just don't even register, let alone steep shelves and rutted downhills. It's the ultimate climbing bike for the trails; on this thing you'll make your mate look like a goose as he digs holes and kicks dust in the summer heat.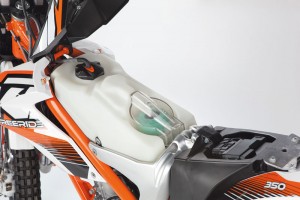 Should you buy one?
You could amuse yourself for an hour on this bike with just a good-sized backyard to play in. And your neighbours won't care. You can explore places you've never been because it looked like too much hassle to lug your bike in or up. On the Freeride, you'll see the bush in a different way.
I wouldn't replace what I have with this but I'd love one to compliment my enduro bike. At under $10,000 it's not an expensive bike in the grand scheme of things and it comes fully ADR compliant so rego is no problem.
KTM has already sold more than was first thought and a second shipment was ordered to meet demand. It is in fact already one of KTM Australia's biggest-selling bikes. Whether you'd want one or not would come down to the riding you do. From the tightest of trails to endurocross, the Freeride can be ridden and even raced — but if you seek out jumps and berms, the bike isn't for you.
It doesn't have an answer for everything but it is a bike that will change the way you ride, where you ride and what gives you the most pleasure on a bike. It's also a bike that can stave off any further complaints that dirtbike riding is essentially mechanical environmental vandalism. We are up against zealots with power when it comes to the use of our own lands and it isn't a problem endemic to Australia. Europeans and Americans have to fight to ride in the face of opposition from misinformed green jerks.
The Freeride is a real bike, not an electric pipe dream that promises 30 minutes of fun before the battery dies. It's a capable bike that can go places you probably never thought of going before. On top of that, it's quiet and clean and leaves almost no soil turned. It may even make you a better rider. This is an important bike.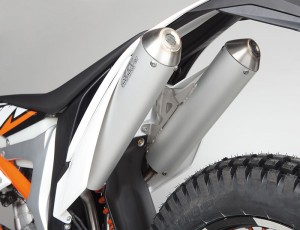 Curtains match the carpet 
We know you KTM tragics out there will want to go full orange and with the Power Wear catalogue the Austrians are proving to the rest of the world that they don't just spend their days at beer festivals wearing lederhosen.
You can stay in KTM gear on and off the trails but we'd thought we should stick to the on track clobber here. Imagine how impressed your wife would be if you went for a ride in all-matching bike and gear?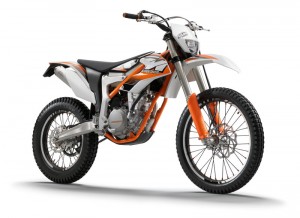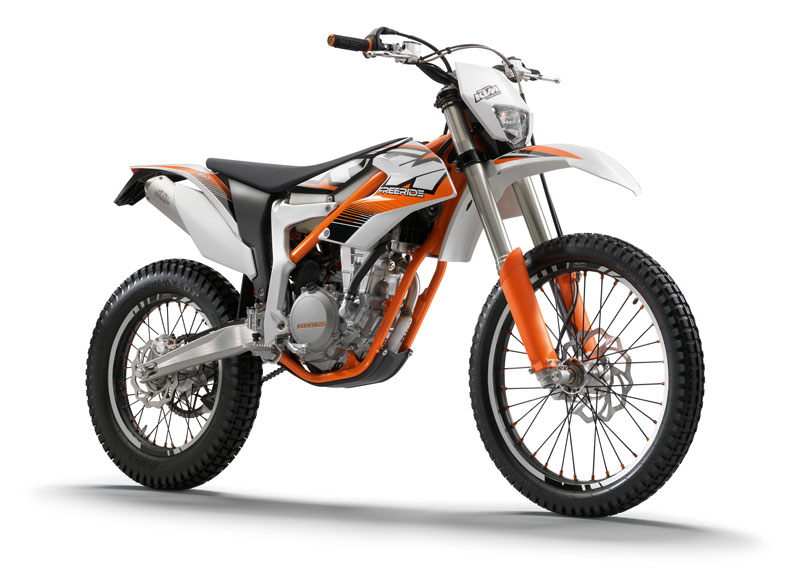 Get some parts to power
If we were to make any changes to the stock Freeride it would be to add handguards, a bashplate and in some small way make the seat a little more comfortable.
Both the handguards and bashplate are available from the KTM Power Parts range and while you're there, have a look at a rear disc guard and just for fun, the very cool black and white graphics kit.
The bike comes with a stock gearing of 11:48 and if you want to find a bit more outright pace then look at making changes there instead of dismantling the exhaust system.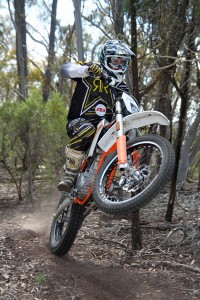 Hello little fella
KTM has had a bike that's been offering something akin to the Freeride for some time. The 200 EXC is one of the greatest off-road bikes on the market and is far too often overlooked.
At 97kg it's lighter than the Freeride and obviously more competition oriented but, when it comes to tackling tricky sections or fast lap times on tight courses, the 200 is a weapon. It's also more fun to ride than should be legal in some states.
If you like the idea of the smaller and lighter bike that won't let you down when you need to mumbo, have a fresh look at the 200. Buying bikes has become a bit of a wanky numbers game but CCs don't guarantee speed or pleasure.