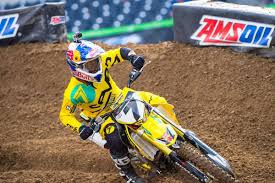 Bake Baggett and James Stewart have both been ruled out of competing this weekend.
By Hayden Gregory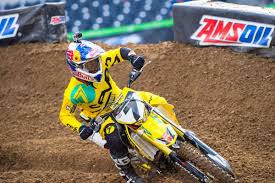 Baggett returned to racing last weekend in San Diego, failing to qualify for the main due to more shoulder complaints. The team discovered this week it is a result of an inflamed shoulder joint forcing Blake off the tracks once again. The Suzuki rider has only raced at one other round this season in a frustrating start to the year.
Team manager Mike Webb is hopeful Bagget won't miss too much more racing with the injury.
"The extra stress put on the shoulder on Saturday was just too much," said Webb. "We don't have a certain timetable on Blake's return. It depends on how he reacts to treatment, but he hopes to be back after he sits out a few rounds and gets some rehab in."
Suzuki stalemate James Stewart will also give Texas a miss as he continues to recover from post concussion syndrome. While Stewart returned to the training track this week there is no rush for him to compete as his health takes number one priority.
"James wants to get some laps on the bike this week and next before he tries to come back," Webb explained. "Right now it's just a matter of getting laps in to get his fitness level back up to where he can feel comfortable for an entire race. He's shooting for an Atlanta return, but that's not set in stone. Obviously it's been a difficult supercross season for us, but injuries are part of the sport and we want our riders to be healthy and confident that they are ready to go before trying to race."