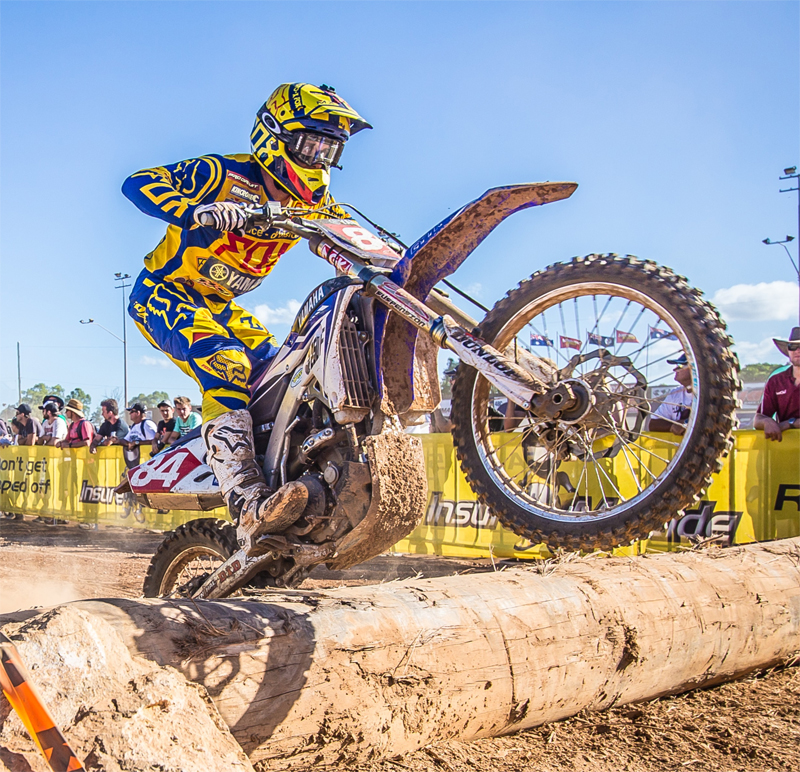 HOLLIS AND MILNER GIVE CDR YAMAHA DREAM START
For Immediate Release: Monday, February 3, 2014.
Hollis and Milner celebrate the CDR Yamaha 1-2
Chris Hollis and Daniel Milner gave CDR Yamaha Off Road the perfect start to the 2014 season claiming a 1-2 finish at the opening round of the Australian Enduro –X championships, held in Brisbane over the weekend.
Held in balmy conditions inside Archerfield Speedway and with a good crowd on hand to witness the season opener, Hollis not only made the perfect start to his season but also his debut race with the CDR Yamaha Off Road team.
Hollis qualified comfortably through to the three race final and was confident of a good showing in the all-important finals which were ran back to back with just a handful of minutes break between each race.
"It was a good way to start the year both for myself and the team," Hollis said. "I was able to get good starts in all three races, not make too many major mistakes and race the conditions the best I could and fortunately that was good enough to win.
"This style of event can be hard as you have to be aggressive but also look after the bike as it is easy to wreck your race by charging too hard. The YZ250F was perfect all day and I don't think it has a scratch on it which is a nice way to finish and also gives the guys back at the race shop a slightly easier week.
Hollis took second place in the opening two motos showing good speed and consistency. The final moto ended up being a shootout between the team mates with Hollis fighting his way past Milner and taking the race win and the combined 2-2-1 results gave him the overall round victory.
"It's great to get the win and the CDR Yamaha team really put in the hard yards so it's important to reward them with good results. Hopefully this is just the beginning," he ends.
Daniel Milner made it a team 1-2 as he finished right in the shadow of Hollis after the points were added up. Milner launched his YZ250F into the lead in every race again proving just how good the new 2014 model machine is.
A fall in race one while leading cost him dearly as he could only managed a fourth place finish after his picked up his machine and charged to the finish. Race two saw him lead from wire to wire and rebound well for the race win, while race three saw Milner and Hollis battle it out with Hollis making the pass late in the race to claim the win.
Milner finished with 4-1-2 results and took a well-deserved second place for the round.
"Finishing on the podium is always the goal of any rider at the opening round of the season so it's good to hit that mark and put myself in championship contention. It's only a short championship held over three rounds so no rider can afford to make a mistake and have any hope of winning.
"It was good fun out there and I had some good battles with Chris. He got the win today and deserves his result but I look forward to racing with him again and next time going one better," he laughs.
On hand to see his team kick off the year in fine style was owner, Craig Dack. Since taking the reins of the factory Yamaha Off Road team, Dack has scene enormous success and enjoyed his very first Enduro- X experience.
"Racing Enduro-X is not easy and at times it can be quite brutal out there with some daunting looking obstacles. Because I come from a motocross back ground, we really had to rely on the riders to tell us what they wanted from their bikes and to their credit they told us exactly what was required for them to get the job done.
"Both riders did an exceptional job and our off road technical knowledge is continually growing. The team is gelling well as both riders worked together today on lines and have forged a good relationship with the entire crew. The result today is a good jump start to the year.
"I look forward to the next round," Dack ends.
Round two of the Australian Enduro-X championship moves to Parramatta Speedway on February 16.
Round 1 Results
Pro Class
1st Chris Hollis – CDR  Yamaha YZ250F
2nd Daniel Milner – CDR Yamaha YZ250F
3rd Toby Price – KTM
4th Peter Boyle – KTM
5th Stefan Granquist – Active8 Yamaha YZ250
For more information on Enduro-X; www.enduro-x.com.au and to follow the CDR Yamaha team on Facebook;www.facebook.com/cdryamaha or in Instagram: @cdr_yamaha
Chris Hollis works the log section
Daniel Milner took second place at the opening round
Credits: Four Oh Four