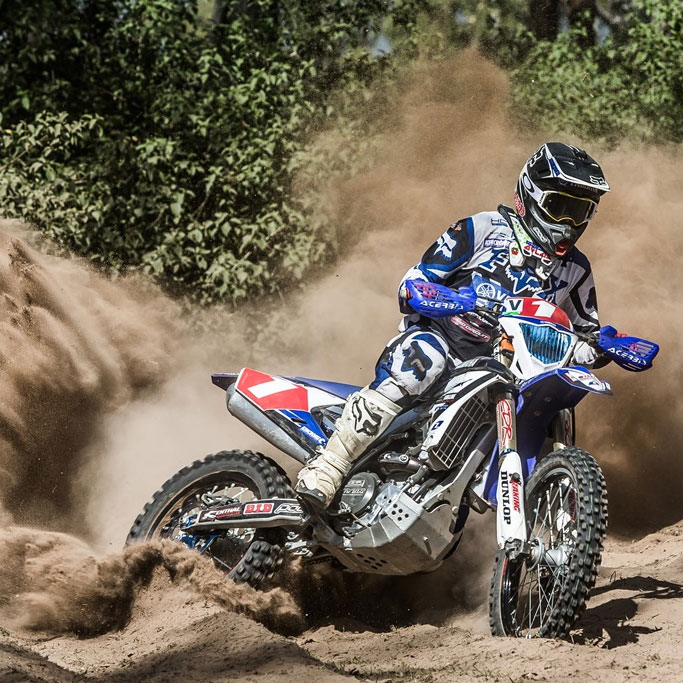 CDR Yamaha Off road racer, Daniel Milner, has moved into the championship lead after a dominating performance at rounds three and four of the Yamaha Australian Off Road championship (AORC), at Boyland Queensland, over the Easter weekend.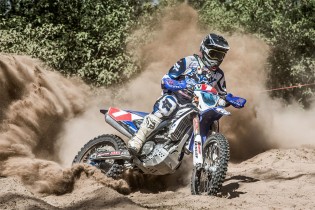 After an inconsistent start to the championship at rounds one and two, Milner wanted to stamp his authority on the championship early in the piece and came out all guns blazing at the double header round.
In hot and dusty conditions, Milner was the master of his YZ450F and won both rounds Outright as well as taking class honours in the E2 division. He was on song right from the get go and had the pack chasing his dust all weekend and the double header victory, added to his win at round two, now has Milner on top of the leader board after four rounds.
"The weekend went well and pretty much drama free. It looked moist and loamy when we first rocked up but it was dry and dusty underneath making conditions difficult at times," Milner explains.
"My riding and training in between rounds two and three had been good and I spent a bit of time riding with some good young motocross guys in Victoria and I think that helped my speed it the special tests.
"It was good to win on the weekend and the CDR Yamaha team have again done a fantastic job. They make racing real easy. I might even make it a little harder next week as I'm thinking about doing the MX National round at Wonthaggi for a bit of fun," he concludes.
The weekend got off to a rugged start for team mate Chris Hollis who fell heavily in the first test of Saturday morning and lost over a minute in one foul swoop. From there, Hollis was playing catch up all weekend and while he did stem the flow, he certainly wasn't his usual self after the fall.
He finished an uncharacteristic 14th outright on Saturday while he upped the ante on Sunday and came home fifth outright. After four rounds, he now sits in sixth place Outright but still maintains second place in the premier E2 division.
"It wasn't my best weekend," Hollis stated at the conclusion of racing. "I took a pretty big digger on Saturday morning and lost a bunch of time and in this style of racing, it is next to impossible to make up.
"Sunday was better but still not great. I clawed back a few points and managed to maintain my position in class but with a two week break before rounds five and six I hope to get back to 100% and ensure I'm ready to go."
Rounds five and six of the AORC will take place at Hedley in Victoria on May 3 and 4. For more information on the AORC, www.ma.org.au
To follow the CDR Yamaha team on Facebook: www.facebook.com/cdryamaha
Championship Standings – After Round Four
1st Daniel Milner – 85 (CDR Yamaha)
2nd Glenn Kearney – 74
3rd Josh Green – 70 (Active8 Yamaha)
4thy Toby Price – 69
5th Lachlan Stanford – 62
6th Chris Hollis – 61 (CDR Yamaha)
7th Jarrod Bewley – 59
8th Tom McCormack- 49 (Active8 Yamaha)
9th Daniel Saunders – 49
10th Geoff Braico – 48
Class – E2
1st Daniel Milner – 90
2nd Chris Hollis – 76
3rd Josh Green – 76