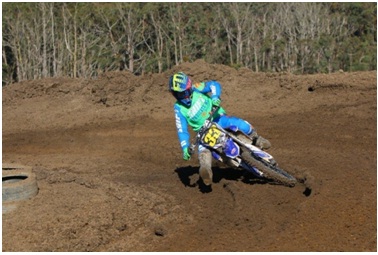 In the final round of the Victorian Junior Motocross Championships, Cody Dyce has taken out the 125 and 250F titles. The penultimate round was held in miserable conditions by the Blue Rock Motorcycle Club.
Story by Hayden Gregory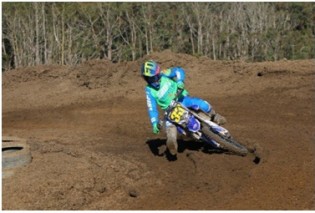 Saturday's program was reduced to 2 rounds as the Melbourne winter came into full effect. This ensured tight racing and minimal mistakes would be the key to victory. Cody entered the day defending a 15 point lead on his YZ125. Despite a small fall in each race, Cody won both battles extending his lead and securing the first of his two championships.
Fellow Yamaha Junior Racing rider Liam Andrews also battled through the diabolical conditions on his YZ85. Liam lost his goggles in both races but fought on to finish in fifth place for the day. His results were enough to finish the series a well deserved third.
"What a day," Liam said. "I was super nervous and really wanted to hold on to third overall in my first year on the bigger 85 class. It was such a tough day but I'm so happy to reach my goal of a overall podium, I can't wait for next year to jump up a few steps."
As Sunday arrived so did a nice change in the weather. Track crews worked through the night to ensure a much improved track was presented for the final day of racing. Cody boasted a 14 point lead on the 250s and his final day proved why he was out in front. In what was a near perfect 3 wins the Junior Yamaha rider secured his second championship for the weekend.
Dyce was ecstatic with the results following his great run of form. "I could not be happier right now. Two championships in the one year and my first on the 250. My bikes were just awesome this weekend with great starts making life much easier. I really have to thank everyone involved in the team, especially my family."
2015 VIC Junior MX Champs- Final Standings
| | | | |
| --- | --- | --- | --- |
| | First | Second | Third |
| 125cc | Cody Dyce (YJR) – 370 | Wade Kirkland – 343 | Callum Norton – 319 |
| 250cc | Cody Dyce (YJR) – 389 | Wade Kirkland – 366 | Callum Norton – 342 |
| 85cc | Bailey Malkewicz – 353 | Tom Bell (YJR) – 274 | Liam Andrews (YJR) – 274 |