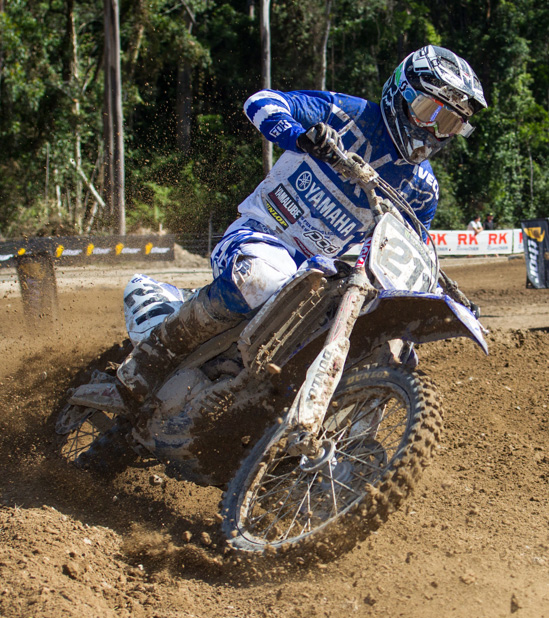 New CDR Yamaha recruit, Billy Mackenzie, overcame a challenging opening moto to land on the podium in his first Australian race at the opening round of the 2013 MX Nationals Championships held at Raymond Terrace over the weekend.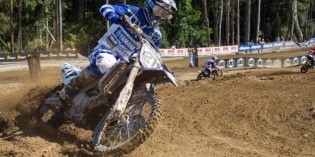 Mackenzie slotted his YZ450F into the top five during qualifying and then improved that position in the Superpole event where the top five riders face off for the top five picks of the gate and a handful of valuable points.
He put in a top class flying lap to jump from fifth to second place and felt confident heading into the opening moto.
After a promising start, Mackenzie struggled to find the same flow he had during qualifying and started to drop positions. He battled on to finish a disappointing ninth place but determined to bounce back in race two.
And he delivered. He managed to claw his way to third place early in the race and then he took advantage of a mistake from the rider in front and moved into second which he maintained to the finish. His combined 9-2 finishes and with the four points earned in superpole, he rounded the day out in third place.
"It was a real struggle in the opening race as I couldn't get into my flow and made a lot of small mistakes. But after talking a few things over with the team and channelling some frustration from the first race, I was able to get a much better result in moto two.
"I must thank the team today for their support and encouragement and it's a nice feeling being up on the podium again… it's been a while," Mackenzie recalls.
Lawson Bopping looked good throughout the day and produced two rock solid motos to get his title chase off on a good foundation. Despite a fall early in moto one, Bopping was able to climb his way back through the field to finish seventh in a gutsy ride.
Moto two saw Bopping lock onto a top five position and maintain through to the finish where he crossed the finish line in fifth place. His combined 7-5 results netted him seventh overall for the round in a very tight points table.
"Like most riders, I tried to get through the opening round without too many dramas, review my racing and bike and then improve as the series goes on. Today was good without being great and the up and down results of a few of the other guys has kept the points pretty tight.
"All up, it wasn't too bad and I will be looking for improved results at the next round in Murray Bridge," Bopping said.
"It's a cliché but it still rings true, about you can't win the championship in the first round, but you can lose it," says team owner Craig Dack. "Both guys have some work to do, but we are off to a good start and both riders are in good spirits. The next few rounds come in pretty quick succession with Murray Bridge, Wonthaggi and Broadford all in the next five weeks so we have to get into stride pretty fast from here on and keep the pressure on," Dack explains.
For more information and results from round one, visit www.mxnationals.com.au
To follow the CDR Yamaha team on Facebook, www.facebook.com/cdryamaha or on Instagram cdr_yamaha.
Round 1 Results – MX1
Raymond Terrace
1st Todd Waters 75 – KTM
2nd Cody Cooper 60 – Suzuki
3rd Billy Mackenzie 58 – CDR Yamaha
4th Jay Marmont 54 – Kawasaki
5th Matt Moss 53 – Suzuki
6th Tye Simmonds 52 – Yamaha
7th Lawson Bopping 50 – CDR Yamaha
8th Jake Moss 47 – Suzuki
9th Adam Monea 46 – Kawasaki
10th Ford Dale 43 – Honda