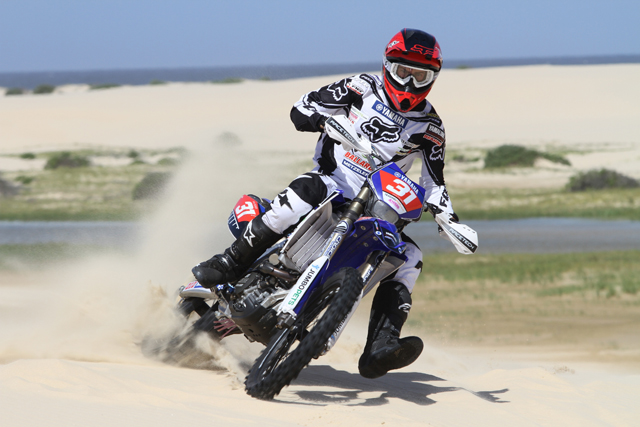 Seven of the Outright top-10 positions went to riders on Yamaha machines today at round six of the Yamaha Australian Off-Road Championship (AORC), held at Coonabarabran (NSW).
And the Outright wasn't the only place the boys in blue took charge. Two of the three premier championship class wins again went to Daniel Milner (YZ250F) and Matt Phillips (WR450F).
Milner, from Lang Lang (VIC) claimed his sixth consecutive win in the Championship E1 Class.
The 20-year-old, who rides a YZ250F for the Ballard's Yamaha Park and Fly Off-Road Team, finished second Outright both days. Phillips came third on his WR450F.
"I started off a little rough in the morning on Saturday," Milner said. "But I got into the groove.
"The whole weekend I think I had one crash and a few silly mistakes; I over shot a couple corners and hit a couple of trees, but nothing too bad.
"The event was good, they put a lot of effort into the track, which got really rough. But everyone was there helping to sort the track out, so it was enjoyable.
"The little YZ250F didn't miss a beat all weekend. One of the tests on Saturday was really tight, so it worked to my favour.
"I was loving it."
Milner said he was looking forward to rounds seven and eight of the Yamaha AORC, being held in his home state on May 19th and 20th.
Milner's teammate and big-bore WR450F pilot, Stefan Merriman, also had a successful weekend, taking home third both days.
In the Outright, Merriman finished eighth, while fellow Yamaha riders Josh Green and Jarrod Bewley claimed fifth and sixth respectively.
Byron Bay rider Tom McCormack finished ninth Outright on his YZ250F. Stefan Granquist rounded out the top-10 on his WR450F.
The Ballard's Yamaha Park and Fly Off-Road Team is proudly supported by: Ballard's Off-Road, Yamaha, Park and Fly, www.jumbopets.com, www.tradingpost.com.au, Trakka, GYTR, Kustom, Choice Suspension, FOX, Endura, Metzeler, Go Pro Cameras, Uni Filter, Talon, DID, Tag, Scott and Braking.
Rounds seven and eight of the Yamaha AORC will be held at Broadford, Victoria, on May 19th and 20th.
For full results from the weekend, or for more information on the Yamaha AORC, please visit http://www.ma.org.au/index.php?id=1417
For more information on Yamaha, please visit http://www.yamaha-motor.com.au/
Yamaha AORC Round Six
E1
1st Daniel Milner      YAMAHA
2nd Josh Green         YAMAHA
3rd Ben Burrell
E2
1st Matt Phillips       YAMAHA
2nd Glenn Kearney
3rd Jarrod Bewley       YAMAHA
E3
1st Toby Price
2nd Stefan Merriman          YAMAHA
3rd Scott Keegan
Outright Top-10
1st Toby Price
2nd Daniel Milner     YAMAHA
3rd Matt Phillips       YAMAHA
4th Glenn Kearney
5th Josh Green        YAMAHA
6th Jarrod Bewley   YAMAHA
7th Ben Burrell
8th Stefan Merriman YAMAHA
9th Tom McCormack YAMAHA
10th Stefan Granquist YAMAHA