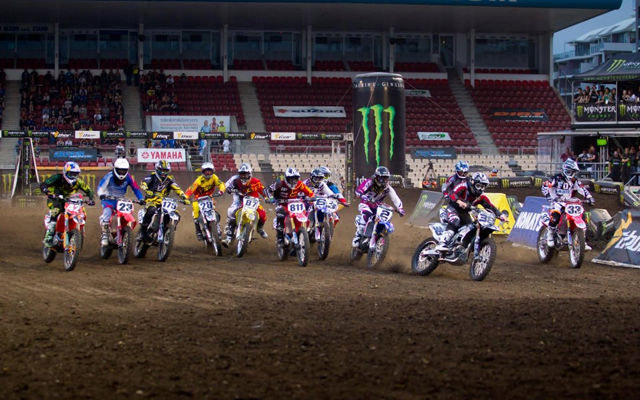 Round two of Monster Energy Super X was held last night at WIN Stadium, returning to Wollongong for the first time since 2008. Unfortunately, 15 minutes before the finals, a huge thunderstorm hit Wollongong causing a 45 minute delay in proceedings.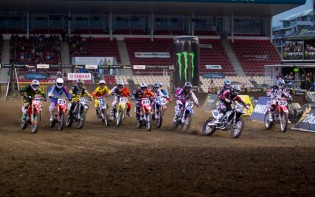 As a result of the storm, the Under 19's and Michelin Junior Development Series' finals were cancelled, and the formats for the opens and lites final were changed to a 15 lap final in each class. It proved a masterstroke with two classic finals.
Team Motul Pirelli Suzuki's Daniel McCoy prevailed in the treacherous conditions, also taking the Championship lead in the process. Monster Energy Kawasaki's Billy MacKenzie took the holeshot and led for the first six laps before going down in the slippery conditions. Once McCoy passed MacKenzie he was never run down, although he was pushed right to the end by JDR Motorex KTM's Dan Reardon, who finished with an impressive second place.
Hometown hero CDR Rockstar Yamaha's Jay Marmont worked his way back through the pack after a disappointing start to finish in third.
JDR Motorex KTM's Matt Moss took the holeshot in the Lites and led from start to finish making it two from two wins and taking a commanding lead in the Lites championship. Team Motul Pirelli Suzuki's Steven Clarke improved on his sixth place in round one to finish second and Moss' team-mate Brendan Harrison rounded out the top three.
Unfortunately two title contenders failed to poll any points with Moss' team-mate, Josh Cachia crashing out in the heats and Monster Energy's Kawasaki's Dean Ferris going down on lap one of the final and heading straight back to the pits.
No points will be awarded for this round in both the U19's and Michelin Development Series.
Round three of the Australasian Supercross Championship will take place at Campbelltown Stadium next Saturday November 5.
Dan McCoy
"To be honest I have never really enjoyed the mud. With such a short series you need to be near or on the podium every week."
Dan Reardon
"I don't consider myself a mud rider. I'll definitely take these points."
Jay Marmont
"I could hear the crowd screaming for me. I didn't even know I finished third until I crossed the line. Please no rain next week!"
Race Director/General Manager Kevin Williams
"The crowd showed they wanted to see some racing, so we had to give it to them, and considering the conditions, they weren't disappointed with two great finals."
 Matt Moss
"The track felt pretty grippy, so I decided to just pin it and win it."
OPEN top ten results – Round 2
1. Dan MCCOY – Team Motul Pirelli Suzuki: 25
2. Daniel REARDON – JDR Motorex KTM: 22
3. JAY MARMONT – CDR Rockstar Yamaha: 20
4. LAWSON BOPPING – Raceline Pirelli Suzuki: 18
5. Todd WATERS – Carlton Dry Thor Honda Racing: 16
6. Tye SIMMONDS – JDR Motorex KTM: 15
7. Michael PHILLIPS – Carlton Dry Thor Honda Racing: 14
8. CRAIG ANDERSON – Berry Sweet Lucas Oil Honda Racing 13
9. Billy MACKENZIE – Monster Energy Kawasaki: 12
10. Jake MOSS – CDR Rockstar Yamaha: 11
OPEN Championship standings
1. Dan MCCOY – Team Motul Pirelli Suzuki: 41
2. Tye SIMMONDS – JDR Motorex KTM: 40
3. Daniel REARDON – JDR Motorex KTM: 34
4. Billy MACKENZIE – Monster Energy Kawasaki: 34
5. JAY MARMONT – CDR Rockstar Yamaha: 33
6. RYAN MARMONT – JDR Motorex KTM: 30
7. Todd WATERS – Carlton Dry Thor Honda Racing: 30
8. Michael PHILLIPS – Carlton Dry Thor Honda Racing: 29
9. Cheyne BOYD – Carlton Dry Thor Honda Racing: 27
10. Jake MOSS – CDR Rockstar Yamaha: 22
LITES top 10 results – Round 2
1. Matt MOSS – JDR Motorex KTM: 25
2. Steven CLARKE – Team Motul Pirelli Suzuki 22
3. Brendan HARRISON – JDR Motorex KTM: 20
4. Gavin FAITH – Carlton Dry THOR Honda 18
5. Luke STYKE – Serco Yamaha: 16
6. Luke ARBON – GYTR Rockstar Yamaha – 15
7. Adam MONEA – Team 07 Axis Motorsport: 14
8. Casey TURNER – Mega Motorcycles – 13
9. Matt RYAN – Scrivens Racing: 12
10. Keiron HALL – Axis 07 Motorsports: 11
LITES – Top 10 Championship standings
1. Matt MOSS – JDR Motorex KTM: 50
2. Brendan HARRISON – JDR Motorex KTM: 40
3. Luke STYKE – Serco Yamaha: 38
4. Steven CLARKE – Team Motul Pirelli Suzuki: 37
5. Adam MONEA – Team 07 Axis Motorsport: 28
6. Gavin FAITH – Carlton Dry THOR Honda: 27
7. Casey TURNER – Suzuki: 25
8. Kirk GIBBS – Serco Yamaha: 22
9. Matt RYAN – Scrivens Racing: 20
10. Luke ARBON – GYTR Rockstar Yamaha: 20
UNDER 19s top ten results – Round 1 / Championship standings
1. Errol WILLIS – Raceline Pirelli Suzuki: 25
2. Joey SAVAGTY – Raceline Pirelli Suzuki: 22
3. Matthew PHILLIPS – Ballards Offroad Yamaha: 20
4. Corey LUCAS – Hart & Huntington, ONE Industries, Ringmaster, Novik, Torc 1: 18
5. Geran STAPLETON – Thor Honda Smart, Breese High Performance, Dragon, 2112, BLS: 16
6. Jake WILLIAMS – WPS, ECM,J-Design, Hart & Huntington:15
7. Jay WILSON – Coastal KTM, Avanti, Motorex: 14
8. Tristen CACHIA – Coastal KTM, Advanti Motorex KTM, Hart & Huntington:13
9. Jarrad DAVIS – Fox, Dunlop, Motul, Davis Bikeworx, Alpinestar: 12
10. Kale MAKEHAM – The Collective, JDR Moss Institute Suzuki, EBT, Thor, One World: 11
Michelin Development Series top ten results – Round 1 / Championship standings
1. Blake BLACKWELL – Blackwell Bros Excavation,City Coast MC: 25
2. Billy JACKSON – Yamaha Junior Racing:22
3. Joel WIGHTMAN – Pro-Moto Suspension, Mudgee Honda Centre:20
4. Timothy O'BRIEN – Graham Rye Kawasaki: 18
5. Jordan NOLES – Honda: 16
6. Joel DINSDALE – Yamaha Junior Racing: 15
7. Lenny MAGYAR: 14
8. Damon HILL – Yamaha Junior Racing: 13
9. Scott MANN – GMR Motorex KTM: 12
10. Nathan DENNY – Wodonga KTM: 11