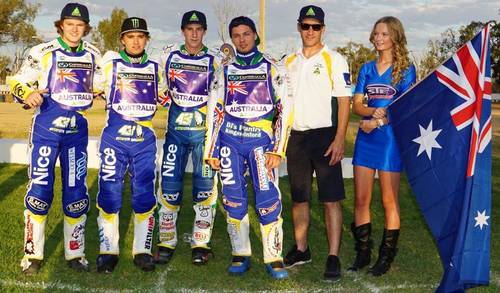 Australia's under 21 speedway team have won the bronze medal at the 2015 World Championships.
By Hayden Gregory

The team consisting of Nick Morris, Max Fricke, Brady Kurtz and Jack Holder had an unfortunate start to the event suffering mechanical issues while team Poland capitalised finishing their opening four heats undefeated.
The Aussies regrouped and led an impressive charge back through the pack ultimately finding themselves locked in a battle with Germany for third place.
At one stage the boys looked like they could close the gap on second placed Denmark however it wasn't to be. Poland secured their eighth gold medal in the team cup era ahead of Denmark and home team Australia.
"All the boys tried really hard," Fricke said. "We had a bit of bad luck along the way, and a few of us, especially myself, would have liked to have done a touch better. 
"But it was still a really good effort by the boys and it was good to come away with a medal and it was a really good experience.
"I rode a number of good races all night. I would have liked to have made some better starts but that wasn't the case and we were always battling away for second and third the whole time."
Fricke said it was a thrill to ride in front of hometown fans for the first time during a World Cup Final.
"It was good. Everyone really enjoyed the hometown support. It'd be great if we could host another World Cup Final. It's a real possibility."
Team Captain Morris also enjoyed riding an FIM event in Australia and was very appreciative of all the fans that turned out to cheer them on.
"It was great to see the crowd get all up and about when I won; the feeling was pretty amazing," he said.
"It's a shame we couldn't all get victories but that's speedway."

2015 FIM U21 Speedway World Cup Final Championship – Final Standings
1. Poland – 50 points
2. Denmark – 39 points
3. Australia – 29 points
4. Germany – 6 points