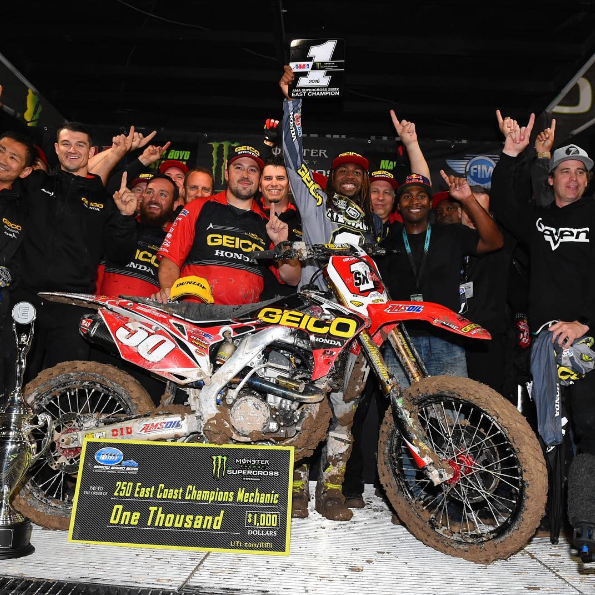 Joey Savatgy clinched the all in 250 main while Ryan Dungey collected his ninth win of the season.
By Hayden Gregory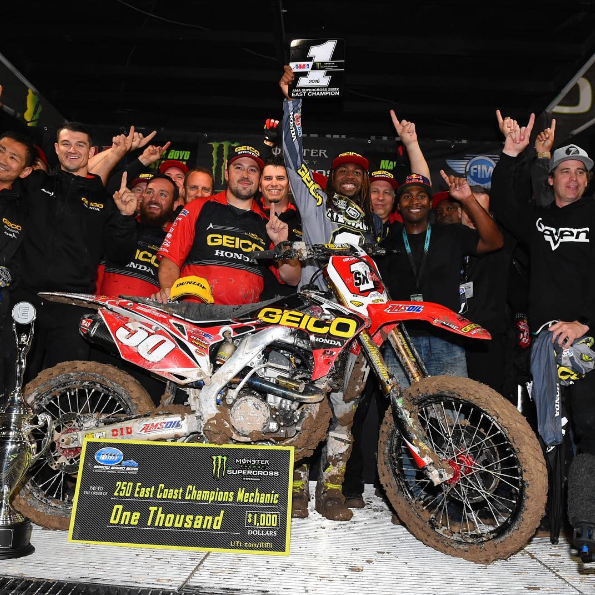 Treacherous conditions met the riders for the season finale at Sam Boyd Stadium. A day of rain ensured a difficult and muddy track which left a number of riders struggling to keep it on two wheels.
In front of a packed crowd the 250SX annual East/West shootout was set to be an absolute cracker with a number of riders still in contention for their respective titles. With the race shortened to 12 laps riders were out to make an early statement and Joey Savatgy emerged with the Supercrosslive.com holeshot award ahead of Chris Alldredge and Malcolm Stewart.
Savatgy was in serious contention for the 250 West title and was looking good early as championship leader Cooper Webb found himself way back in 17th. To take the crown the Yamaha rider needed to finish 12th at worst if Savatgy was to win the moto.
Over the space of the next lap Colt Nichols would make a charge forward passing Savatgy for a brief moment before he hit back. From that point on The Monster Energy Kawasaki rider would not look back, dominating the harsh conditions to claim his third win of the season.
Nichols would run into a number of problems while circling in second place, first stalling in the whoops before losing control and heading off track just a lap later. The benefactor was Rockstar Energy Husqvarna rider Zach Osborne who was able to move past both Stewart and Nichols in a determined ride. Osborne would find the finish line seven seconds after Savtagy while Malcolm Stewart would edge out Aaron Plessinger for third.
Unfortunately for Savatgy, Cooper Webb was able to clinch the championship title despite finishing in 11th place.
"It was a good race [but] it's setting in now [that I didn't win the championship] and it's a little disappointing," said Savatgy. "We ended the year on a good note and we did what we had to do [tonight]. Cooper [Webb] came in here and did what he had to do as well, and hats off to him. It's just good to end the year in this way." 
Webb found himself in twelfth place for the majority of the race before a late pass allowed him to move into the championship lead and claim back to back 250SX titles.
"It definitely wasn't easy [to win the title], but we fought for it and that's why we're up here [with the number one plate]," said Webb, who admitted to dealing with an injury on the podium. "We fought hard all season and I wasn't going to let an injury hold me back. I had a crash [while training for the race] but I had to come here and get it done." 
A third place by Stewart was also enough for him to claim the heavily contended 250SX East title. It was the first career championship for Mookie who needed to finish top ten to claim the crown.
"That was crazy right there, what a race," exclaimed Stewart. "Everything I've gone through with myself and James [Stewart] this year, it's been an up and down season for both of us. I feel like I owe half of this [championship] to him. I'm just speechless right now. All I know is I have this number one plate right now and I want to cry." 
In 450SX racing, Ryan Dungey capped off last week's title with a last round victory. It was the Red Bull KTM rider's ninth win for the season and a fantastic note to end on.

Dungey got the main underway with his seventh holeshot of the season before showing early command on the muddy track. Jason Anderson and Ken Roczen trailed the champion, determined to put up a last round fight.
Chasing three consecutive victories, Roczen moved past Anderson before setting his sights on Dungey. The pair battled for a number of laps before the Suzuki rider once again got his man. A short time later however Roczen made a costly mistake coming up short on a jump and crashing into the dirt.
Dungey would make contact with the downed Roczen also hitting the ground before recovering quickly to assume the lead. Dungey would stretch away to a last round victory whilst Roczen was unable to recover ultimately pulling off the track with a DNF. The move allowed Anderson to take out second place with Eli Tomac securing third.
 "We really focused on the last couple races of the season to get the championship," Dungey said. "We wanted to end the season strong and that was the goal tonight. "These were definitely the toughest conditions of the season.
"Ken [Roczen] was putting on a charge and riding well, but he made a mistake and I had nowhere to go. Thankfully I was able to get up and get going again, and finish strong. I'm really glad we came out on top tonight."
Despite finishing in 20th place Ken Roczen would hold onto second in the championship standings with Jason Anderson claiming third. Australia's Chad Reed finished fourth in the Vegas finale capping off a strong year with fifth overall.