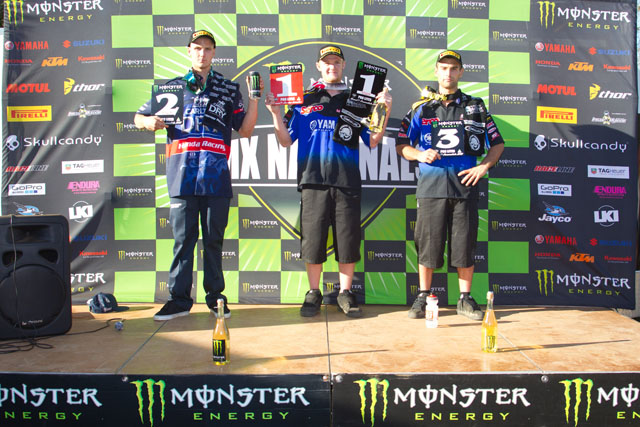 For Immediate Release: Sunday, 1 April 2012
New Zealand's former world champion Ben Townley took a clean sweep in the opening round of the Monster Energy MX Nationals, Australian Motocross Championship, at Conondale in Queensland today.
The Carlton Dry Honda Thor Racing rider was relentless in his Australian motocross debut, winning all three races contested during the opener in what may be his lone appearance of the season. Townley will race for Australian Chad Reed's TwoTwo Motorsports team in American Motocross this year.
In motos one and two to commence the round it was all Townley, dominating from the front and asserting his authority early in the series before the lunch break. Those motos were back-to-back, making for an exciting start to the 2012 series.
Townley won moto one from teammate Brad Anderson, with CDR Yamaha's Josh Coppins third. Completing the top five were Aussie rising stars Todd Waters (Motul Pirelli Suzuki) and Coppins' teammate Lawson Bopping.
The second moto was again a Townley show, winning over Anderson and Coppins in a tight battle between those two, while Waters was again impressive in fourth and privateer Jake Moss (Campbell Mining/TLD/Maxima Honda) was fifth.
Moto three was the longer of the three in a more traditional length of around 30 minutes, and it was once again 27-year-old Townley who starred. He took victory after turning laps up to three seconds per lap faster than his rivals during the moto.
"It feels great to win and I felt that my form is as good as it's ever been," Townley said. "I've been doing a lot of winning in New Zealand, but coming here today was a step up from what I've been doing back there. I'm really thankful to the Carlton Dry Honda team and I feel I brought a lot to the team during the pre-season – it showed today."
Behind Townley in the final moto was Coppins ahead of Scottish standout Billy Mackenzie (Monster Energy Kawasaki), Waters and Moss, who was exceptional as top privateer finisher in fourth overall for the round.
Coppins' consistency sealed him the runner-up position overall, while a mechanical problem ruled Anderson out of the final moto and forced him to settle for fifth overall. His troubles handed the final podium placing to Queenslander Waters, who was top Aussie with another fourth in the final moto.
Defending four-time champion Jay Marmont endured a trying start to his career with Monster Energy Kawasaki, battling injury during the round and claiming seventh overall behind Bopping.
In the Motul MX2 class it was Serco Yamaha Metal Mulisha Racing's Kirk Gibbs who took out the overall, from Carlton Dry Honda Thor Racing's Ford Dale and Gibbs' teammate Luke Styke.
Sunshine Coast local Dale won the opening two back-to-back motos convincingly in a spectacular start to his season, however a crash in the third and final moto hindered his assault for the round as he was forced to settle for ninth in the moto.
Gibbs finished second in moto one and fifth in the second, before a solid win in the third moto sealed him the overall victory by one point for the round. The South Australian was stoked with the result to open his account for the season.
"It's a great way to start the season and consistency paid off today," Gibbs said. "I have been working hard and the Serco Yamaha Metal Mulisha Racing team has been as well. I couldn't be happier and can't wait to keep the ball rolling."
The Pirelli MXD Under 19s category saw a number of newcomers rise to the occasion in Queensland, with Choice Motorsports KTM's Dylan Long taking out the round win ahead of fellow KTM rider Kayne Lamont and GYTR Yamaha's Sam Martin.
Moto one was taken out by Long before Kiwi contender Lamont upstaged him in the second, and then the third moto saw Long take the win to go on and capture the overall round win for the weekend.
"It's awesome, the Choice Motorsports KTM team backed me all the way to get the win," Long said. "I finished the day strong and that allowed me to take the overall win. I just want to finish as close to the front that I can the whole season and hopefully it will end up good."
The series will continue at Coonabarabran, New South Wales, in a two-day event on 14-15 April.
2012 Monster Energy MX Nationals
Round One – Conondale, QLD
MX1 Overall Results:
1. Ben Townley 75
2. Josh Coppins 62
3. Todd Waters 54
4. Jake Moss 46
5. Brad Anderson 44
6. Lawson Bopping 41
7. Jay Marmont 41
8. Cody Cooper 38
9. Tye Simmonds 38
10. Billy Mackenzie 34
MX2 Overall Results:
1. Kirk Gibbs 63
2. Ford Dale 62
3. Luke Styke 57
4. Josh Cachia 56
5. Adam Monea 50
6. Justin McDonald 48
7. Kade Mosig 44
8. Cheyne Boyd 35
9. Lewis Woods 35
10. Brock Winston 31
MXD Overall Results:
1. Dylan Long 72
2. Kayne Lamont 58
3. Sam Martin 49
4. Jay Wilson 48
5. Dylan Leary 47
6. Kale Makeham 45
7. Mitch Norris 43
8. Dion Picard 41
9. Mitch Budd 38
10. Joel Milesevic 34
MX1 winner Ben Townley (101) leads the MX1 field. Image Simon Makker.

Townley was joined by Josh Coppins and Todd Waters on the MX1 podium. Image: Simon Makker.

The MX2 podium was topped by Kirk Gibbs ahead of Ford Dale and Luke Styke. Image: Simon Makker.
About the Monster Energy MX Nationals:
The Monster Energy MX Nationals, Australian Motocross Championship, is the leading motocross series in Australia. The series is promoted and operated by Williams Event Management (WEM), a Victorian-based event management company whose goal is to raise awareness of the sport nationwide.
The series is sanctioned by Motorcycling Australia (MA), the premier professional motorcycle racing organisation in Australia. Further information on the Monster Energy MX Nationals can be found on the official series website at www.mxnationals.com.au.