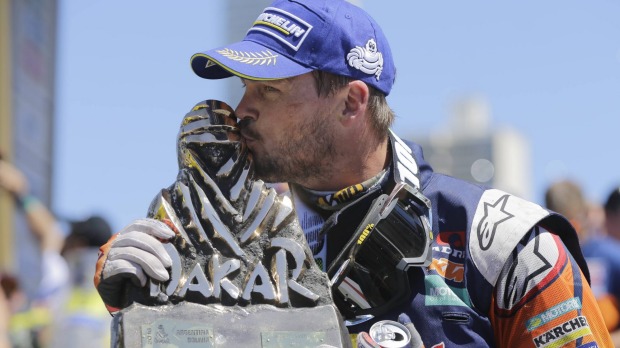 Price made history on the weekend as he took out the 38th edition of the prestigious Dakar Rally.
By Hayden Gregory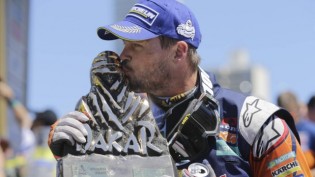 The KTM Factory Red Bull rider showed incredible navigational skills to secure the feat in only his second ever attempt. With a total of five individual stage wins Price was evidently the form rider in the race and did extremely well in the blistering conditions.
The Maitland born rider was declared overall champion with a time gap of 39 minutes and 41 seconds over second placed Stefan Svitko. Finishing the final stage in fourth place, Price was wary of his lead time and just needed to stay cool, calm and collected to secure the title.
"I don't know what to say, I don't know what to think, I'm in shock, I never would've thought I could win this race in my second participation." Price said after crossing the finish line.
"This is incredible for my family, my friends and my fans back in Australia! Winning in my second participation is awesome, but being the first Australian to win the Dakar is just insane. 
"I would've never imagined this two years ago. Finishing the rally is already a triumph. Winning it is amazing! 
"I tackled the race in true Aussie style. I attacked when I had to, when the time was right, and I kept an eye on my bike during the all-important marathon stages. I also navigated rather well. I hope this is just the start, to win again. 
"It won't be easy, so I've got to savour this victory." Price concluded.
Slovakian rider Stefan Svitko continues to improve at Dakar finishing second in his seventh attempt. A last stage win by Pablo Quintanilla landed him third place overall which remained hotly contested by a number of riders.
"The last stage was extremely hard." Quntanilla stated. "There was a lot of tension and nerves before the start. 
"The entire race came down to this one stage. I started fast and, thanks to today and the team's work we defended our third place. I'm delighted. It was such a tough Dakar that we had to fight for the podium the last day, which is usually an opportunity to kick back and relax. 
"For me, the last stage was the toughest, the most nerve-wracking one in the entire rally. I was hurt before the rally, but professional work helps you overcome that. The investment paid off today. I'll go on a well-deserved holiday and we'll then sit down with the team to talk about this season's calendar."
In response to Price's maiden Dakar victory Motorcycling Australia CEO David Cottee congratulated the rider and exclaimed that this was one of the greatest achievements in Australian motorcycling history.
"Wow, just wow. I heard the news of Toby's win this morning and I really couldn't be more proud to be an Australian than at this moment," Cottee shared.
"As a rider myself, I could not imagine just what Toby has had to put his mind and body through over the last two weeks, and this victory really is a testament to what a hardworking, tough and exceptionally talented rider he is.
"To not only take the Dakar win in the bike category, but to be the first Australian to do it, is an absolutely outstanding achievement, and I know myself, and the rest of the country have been behind Toby one hundred per cent over the last two weeks."
Stage 13 Results
1. QUINTANILLA (CHL) – 01:51:27
2. BENAVIDES (ARG) +00:01:41 –
3. RODRIGUES (PRT) +00:02:37
4. PRICE (AUS) +00:04:22
5. SVITKO (SVK) +00:06:24
6. FARRES GUELL (ESP) +00:10:52
7. CERVANTES MONTERO (ESP) +00:11:50
8. BRABEC (USA) +00:12:43
9. VAN BEVEREN (FRA) +00:14:09
10. PATRAO (PRT) +00:14:43
Final Standings After Stage 13 of 13
1. PRICE (AUS) – 48:09:15
2. SVITKO (SVK) +00:39:41
3. QUINTANILLA (CHL) +00:48:48
4. BENAVIDES (ARG) +00:54:47
5. RODRIGUES (PRT) +00:55:44
6. VAN BEVEREN (FRA) +01:46:29
7. MEO (FRA) +01:56:47
8. FARRES GUELL (ESP) +02:01:00
9. BRABEC (USA) +02:11:27
10. MONLEON (ESP) +03:27:49