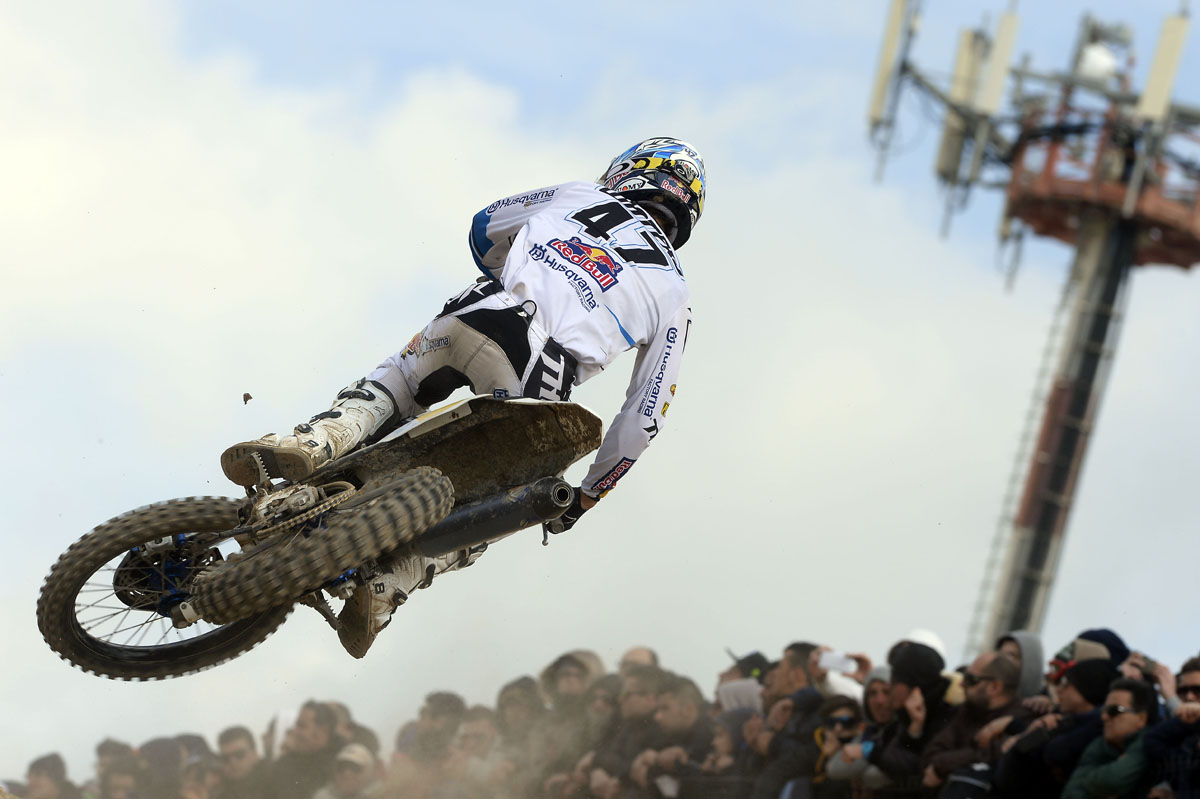 Ensuring Husqvarna Motorcycles remain at the forefront of the Motocross World Championship, Wilvo Nestaan Husqvarna Factory Racing's Romain Febvre finished in a determined third place in the final MX2 race to secure fifth overall at the MXGP of Thailand.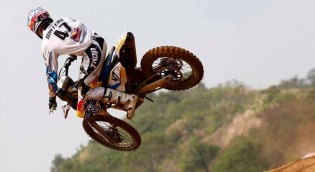 Unfazed by the intense heat and humidity at the Pinthong circuit in Si Racha, Febvre entered the GP of Thailand intent on building on his podium success from the opening round of the series in Qatar last weekend. Boxed out off the start in the first MX2 race, the Husqvarna rider found himself outside the top ten on lap one. Despite crashing twice during the first couple of laps, he soon settled into the race and fought back to finish ninth. Focused on improving his moto one result, Febvre ended the opening lap of race two in sixth. With the course now at it's roughest, Febvre pushed hard catching and passing Glenn Coldenhoff in the closing stages of the race to finish third – his best race result of the series.
Delivering two solid results in Thailand, Febvre's teammate Aleksandr Tonkov finished seventh overall. Seventh in race one following a close three-rider battle, the Russian slipped back one position in race two to eighth as the humidity began to take it's toll. Holding firm in the final laps, Tonkov secured another top ten overall result in MX2.
For Red Bull IceOne Husqvarna Factory Racing's Todd Waters the MXGP of Thailand was a much-improved performance over round one in Qatar. Tenth in the opening MXGP race, the Australian saved his best for race two. Beginning to find his confidence in the Motocross World Championship, Waters charged his way to a career best sixth place. Growing stronger as some of his nearest rivals faded in the heat, he crossed the finish line just one-second behind fifth placed Evgeny Bobryshev to end his day seventh overall.
Stepping in for the injured Tyla Rattray, Austria's Pascal Rauchenencker faired well on his MXGP debut with Red Bull IceOne Husqvarna Factory Racing. Working his way from outside the top 20 in race one, the 20-year-old placed 16th. Backing that up with another 16th in race two, Rauchenencker ended the MXGP of Thailand in 15th overall.
The FIM Motocross World Championship continues with round three in Beto Carrero, Brazil on March 30.
Romain Febvre: "I'm really happy to come away with third place in the second MX2 race. My day was a bit up and down but I showed my speed was good by working my way into third. After my podium result in Qatar I was hoping for a similar result in Thailand but I crashed twice in the first race and that ruined my chances. I got a great jump off the gate and then got pushed wide in the first corner. It dropped me outside the top 10 and as I pushed forward I ended up crashing twice. In this humidity I could only recover to ninth. In race two I started much better. Towards the end of the moto I upped my pace and passed Coldenhoff for third. It felt great to get that result and end the race on a high."
Aleksandr Tonkov: "Coming from Russia I struggle with this level of humidity so my main focus was to just get through the day and score some decent points. In race one I had a nice rhythm going and finished seventh, which surprised me a little. It was hard to breathe in the second race but I gritted my teeth and placed eighth for ninth overall. Thailand is the toughest race of the season in terms of weather conditions so I'm pleased with how I rode."
Todd Waters: "I feel like I've made a lot of progress this weekend. I'm beginning to settle into racing at world championship level and growing in confidence. The first race went ok but it was one of those rides where you struggle to get a decent pace going. I got into my groove a lot better in race two and was enjoying the conditions. My FC 450 was flawless in the extreme weather and I was able to charge all the way to the chequered flag. Despite just missing out on fifth place by one second I'm chuffed with sixth. It's been a good end to the GP of Thailand."
Pascal Rauchenencker: "I got a phone call on Monday to race in Thailand so you could say I wasn't perfectly prepared coming here. But I really feel like I've done well. I knew I wouldn't be 100 per cent but two 16th place results is good. Thanks to the team for giving me the opportunity to race in MXGP – it's been a fantastic experience working with them."
Results – Motocross World Championship 2014, Round 2 Thailand
MX2 Overall
1. Jeffery Herlings (KTM) 50pts; 2. Glenn Coldenhoff (Suzuki) 40pts; 3. Max Anstie (Yamaha) 37pts… 5. Romain Febvre (Husqvarna) 32pts… 9. Aleksandr Tonkov (Husqvarna) 27pts…
MXGP Overall
1. Antonio Cairoli (KTM) 50pts; 2. Clement Desalle (Suzuki) 44pts; 3. Jeremy Van Horebeek (Yamaha) 40pts… 7. Todd Waters (Husqvarna)… 15. Pascal Rauchenencker (Husqvarna) 10pts…
Championship Standings (After Rnd2)
MX2
1. Jeffery Herlings (KTM) 97pts; 2. Dylan Ferrandis (Kawasaki) 74pts; 3. Glenn Coldenhoff (Suzuki) 69pts; 4. Romain Febvre (Husqvarna) 66pts… 7. Aleksandr Tonkov (Husqvarna) 58pts…
MXGP
1. Antonio Cairoli (KTM) 92pts; 2. Max Nagl (Honda) 76pts; 3. Gautier Paulin (Kawasaki) 75pts… 9. Todd Waters (Husqvarna) 43pts… 20. Pascal Rauchenencker (Husqvarna) 10pts…