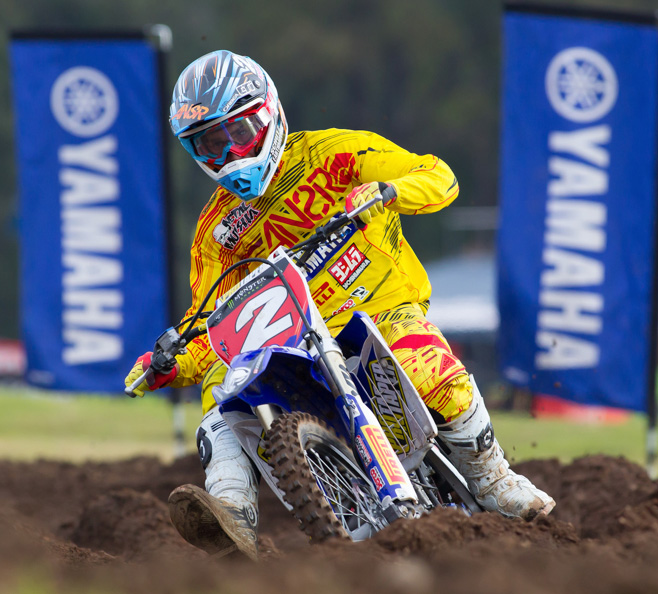 Serco Yamaha's Luke Styke nailed his fifth round win out of the six contested so far with another polished performance at round six of the Monster MX Nationals at Appin Raceway, Sydney, over the weekend.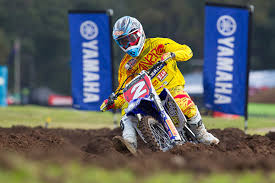 Styke shook off some early cobwebs after the six week break between the rounds to take second in the opening moto but bounced back to his best in race two to take a commanding start to finish victory to snare another round win.
His success at the weekend, combined with injuries to his nearest rivals including team mate Luke Clout, now means Styke has a whopping 83 point lead in the MX2 championship with four rounds remaining.
"My first race was pretty average," Styke shrugs. "I was riding a bit tight, got some arm pump and didn't flow that well but I was able to turn that around in race two and get the win and take the round win.
"The track was tough to ride today with the corners having lots of ruts and even the shape of the ruts made it a challenge.
"It's good to get the win here as a lot of my friends and family came out to watch and with the bad luck to the other guys, my lead is pretty good. But, my goal is to keep winning races and keep improving as a rider so I will be working just as hard for the final four rounds as I was for the first four," Styke ends.
As reported last week, Luke Clout broke his femur in a training incident and will sit out the remainder of the MX Nationals. He underwent surgery and is expected to make a full recovery but the Serco Yamaha team have given Clout all the time he needs to be 100% before making his return to racing.
"At this stage, Serco Yamaha won't be getting a replacement rider for the MX Nationals," states team manager, Michael Marty. "We have decided to invest all our energies in securing this championship with Luke Styke and will make a decision on what we do for the Australian Supercross Championship as the time nears."
Round seven MX Nationals action picks up at Hervey Bay in Queensland on July 28. The sandy based circuit is a favourite among the riders and the racing is always exciting.
To follow the Serco Yamaha team on Facebook; www.facebook.com/sercoyamaha or on Instagram: @sercoyamaha
Round Six Results – Appin Raceway
MX2
1st Luke Styke – 67 (Serco Yamaha)
2nd Kale Makeham – 65
3rd Kade Mosig – 62
4th Geran Stapleton – 56
5th Rhys Carter – 50
6th Takeshi Katsuya – 48
7th Ryan Marmont – 48
8th Brock Winston- 44
9th Keiron Hall -41
10th Wade Hunter – 41
Championship Standings – After Round Six
1st Luke Styke – 403 (Serco Yamaha)
2nd Kale Makeham – 320
3rd Josh Cachia – 305
4th Brock Winston – 302
5th Luke Clout – 285 (Serco Yamaha)
6th Geran Stapleton – 264
7th Takeshi Katsuya – 260
8th Ryan Marmont – 244
9th Dylan Long – 227
10th Rhys Carter – 209